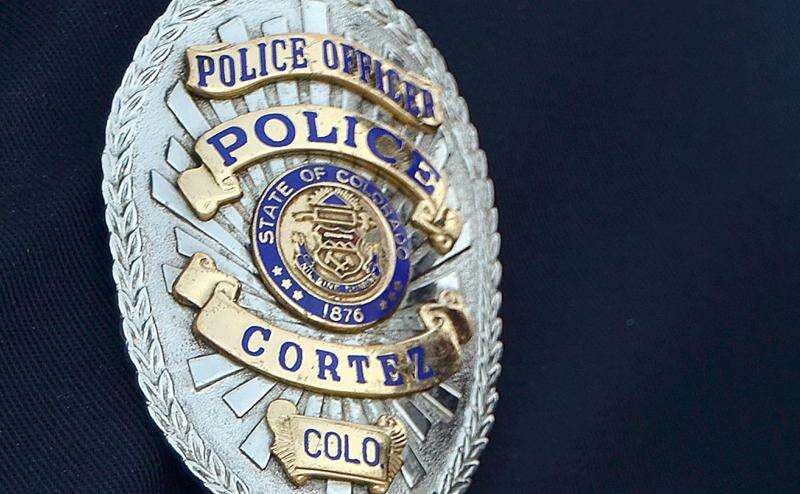 Friday, Sept. 24
9:07 a.m. A man reported his tricycle missing, valued at $750.
12:32 p.m. Officers took a woman into custody who had a warrant for her arrest at Happy Valley Mobile Home Park. The woman stated she wished to die and wanted the officers to shoot her.
2:44 p.m. A couple spoke to police about leaving personal documents, including a Social Security card and birth certificates, at the Department of Motor Vehicles in Cortez. Someone took them, and tried to set up bank accounts in the woman's name.
7:07 p.m. An accident occurred at the westbound intersection of Main and Chestnut streets when one man in a GMC Sierra pickup rear-ended a Dodge Grand Caravan at a red light. There was minor damage to the front bumper of the pickup, but significant damage to the rear hatch of the Dodge. Both vehicles were driven from the scene.
Saturday, Sept. 25
10:19 a.m. A collision occurred at Beech and Main streets after a black vehicle, later found to be an Acura, rear-ended a Chevrolet Tahoe traveling east in the construction zone. The Tahoe driver was taken to the hospital for neck pain. The driver of the black vehicle left the scene, but a witness followed the car and got the license plate number. The suspect was instructed to go to the police station to be issued a citation, after originally hanging up on the officer who called him.
11:45 a.m. A woman reported damage to her truck from a hit-and-run but did not know where or when the incident occurred. The rear and front right fenders had damage and white paint transfer.
1:13 p.m. Police responded to the hospital for a report of a dog bite, although the injured man said this was not usual behavior for his dog. As the man was sleeping around 4 a.m., he swatted his dog away while the dog was licking his feet, and the dog bit his face. The owner said the dog just needed to be let out.
6 p.m. An officer responded to a report of two females fighting in the grass at Veterans Park. He found a circle of four women, one of whom had a warrant out for her arrest. Appearing intoxicated, the woman was medically cleared at the hospital, then taken to jail. She was later found to have smuggled a knife and a small bottle of 99 Root Beer Liqueur into her cell.
6:44 p.m. An officer responded to City Market for a report of harassment. A worker said her ex-boyfriend pushed her against a display of candy and then forcefully put his mouth on her neck. She also said he had shared a video on Facebook messenger of them having sex, which he allegedly filmed without her knowledge. The man had changed her Facebook account information so she wasn't able to log in. The officer spoke to the man, who said he visited the woman to see if the relationship was really over. He said the kiss wasn't forceful and that he hadn't filmed her or shared anything online, but did admit to having a photo of the woman with her ex "doing stuff." The man was arrested on suspicion for domestic violence, third-degree assault and posting a private image for harassment.
Sunday, Sept. 26
1:16 p.m. An intoxicated man passed out on the side of Walmart. He was found to have been trespassed from Walmart last year. An asset protection manager at the store requested that the responding officer also trespass a man who was lying in a grassy hill in the northwest corner of the parking lot after stealing beer.
5:36 p.m. Officers responded to a report of domestic violence at Happy Valley Trailer Park. A woman and man at the scene denied anything happening, instead saying they were having issues with a neighbor. The man was found to have a warrant for his arrest for aggravated motor vehicle theft and was arrested.
8:41 p.m. A man allegedly assaulted an employee at Chronic Therapy at 1020 South Broadway, and was found walking south without a shirt and "speaking as if he was God." He was found to have an arrest warrant, and was taken to jail, as well as trespassed from the store.
8:35 p.m. Police responded to a report of a man and woman fighting in the 200 block of South Maple Street near a vehicle, before traveling southbound, and then backing up the wrong way returning to the intersection of Maple and Second streets. Officers found the car parked near a curb, and a man was seen exited the running vehicle. He was asked to perform voluntary roadside maneuvers, which he did not do satisfactorily, and was taken to jail, where a breath test displayed his blood alcohol level as 0.167. He was charged with a DUI.
8:47 p.m. A hit-and-run was thought to have occurred on the 10 block of South Market Street after a man returned to his parked rental car from eating at a restaurant and found it to be damaged. The responding officer observed a blue front bumper in the roadway directly behind the vehicle.
Monday, Sept. 27
8:28 a.m. A woman reported vandalism on a Conex shipping container at the BMX track at 1425 E. Empire St. An anti-police message was spray-painted in black on the container.
3:43 p.m. An officer on duty at the Duck Pond at 515 N. Mildred Road saw a man whose ID he had been meaning to return. Dispatch informed the officer that the man had a warrant for his arrest. He was found to unlawfully have a knife while being handcuffed. He was also found to have marijuana and marijuana paraphernalia in his backpack. He was medically cleared and then taken to jail.
11:25 p.m. A intoxicated man looking for a place to sleep would not leave his mother's apartment on East Main Street. He did not cause any property damage, but his brother was concerned he might damage vehicles in the area because he had done so in the past. The man was medically cleared and then transported to the jail.
Tuesday, Sept. 28
11:41 a.m. A woman reported two mountain bikes stolen. She had footage of them being taken by a team of three just before 5 a.m.
12:45 a.m. A woman called police after a man she had over at Sleeping Ute Apartments became aggressive after consuming alcohol, throwing her to the ground and dragging her toward stairs on the patio. The man ran at the sight of police, but soon surrendered. The man said the woman attacked him after hitting herself, and pulled down his pants and underwear, saying he wasn't going anywhere. He told police he wasn't supposed to be at the apartment. He said the incident began because the woman accused him of sleeping with other women at the complex. He was found to have a warrant out for his arrest out of Lakewood for domestic violence, and had restraining orders against the woman and possessing or consuming alcohol or controlled substances. The man was medically cleared, then taken to jail, where he faced charges of domestic violence, harassment, third-degree assault and protection order violation.
12:53 p.m. Officers responded to a report of an assault at Veterans Park. While searching the area for suspects, an officer found two people drinking . One had a protection order against possessing and consuming alcohol or controlled substances and being in Montezuma County parks. She was medically cleared, then taken to jail, where her a breath test displayed her blood alcohol level to be 0.507.
3:38 p.m. An officer transported a man detained at Montezuma County Combined Courts to jail.
9:16 p.m. A man reported eye damage from a green laser shined by neighbors into his and his dog's eyes on the 200 block of South Market Street. The responding officer had previously investigated a similar incident at the same location with the same people. The officer spoke with neighbors, and he believes that they did not shine a laser into the man or his dog's eyes. The man originally requested medical attention, but when medics arrived, he declined to be checked out.
The Journal