Automotive students learn Ford-specific technology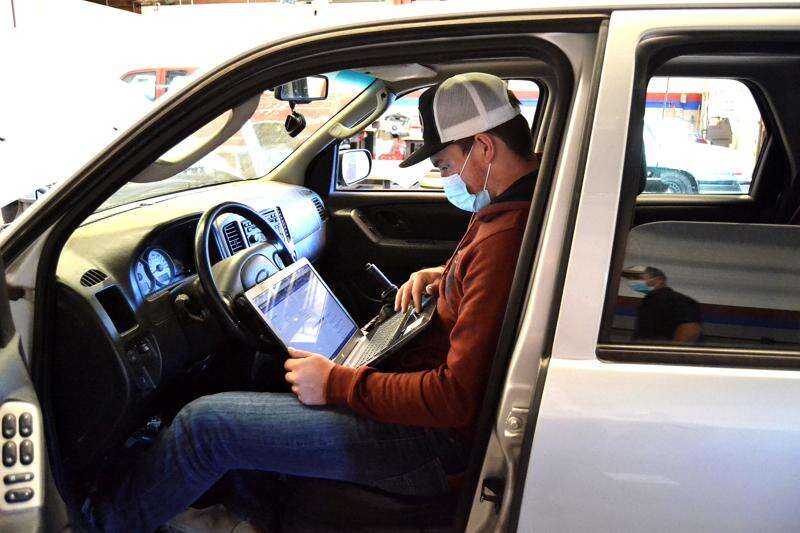 Pueblo Community College is partnering with Ford Motor Co. to create a program on the campus in Mancos, giving automotive students the same training as Ford technicians.
Students learn how the systems in Ford vehicles work, such as steering, suspension, alignment and air conditioning.
The partnership also opens doors for employment at Ford dealerships in Durango, Pueblo and Cañon City.
"It gives them vehicle-specific instead of generalized information," said Joe Jaburg, a member of PCC Southwest's automotive faculty.
The program was incorporated into the core automotive curriculum at the college. It is free to students enrolled at the school.
Students can pursue a certificate or associate degree in automotive technology and services at the college.
PCC Southwest student Johnny John said he has enjoyed the online program because it "has good animations and the text is very descriptive and informative."
The program also accepts high school students, who receive dual credit and graduate with both a high school and an associate degree.
A shortage of automotive technicians nationwide has made it more important for dealerships to have a source of qualified employees who understand the technology, Jaburg said.
Vanessa Thompson, a regional recruiter for Ford, said 76,000 qualified car technicians are needed each year to replace those that retire or leave the profession. But right now, the number of technicians entering the workforce is about half that, according to the news release from PCC.
"We just haven't pushed for hands-on careers," Jaburg said. The partnership with Ford will "help get people back into the field."
The college also has a web-based program that teaches students the first two levels of the Subaru company's automotive service training.
The median salary for auto technicians in Colorado is $49,000, according to the Bureau of Labor Statistics.
Jaburg said about 20% to 30% of the automotive students pursue it as a career, but it is a "good skill to have too."
In order to work on cars, mechanics also have to be technicians now, and understand electronics, Jaburg said, especially for hybrid and electric vehicles.
ehayes@the-journal.com