Vehicle at Hillcrest Golf Club is only one of its caliber in Four Corners
Durango resident Bruce Stolts was born with spina bifida, a spinal defect that causes paralysis from the waist down. As a result, he has spent much of his life on the sidelines while his dad, brother and friends played golf or other sports.
The ParaGolfer is helping change that. The $34,000 vehicle allows people with paralysis, amputations and other impairments to stand upright to swing a club.
"Being able to golf, especially in the last few years, and with this ParaGolfer, has expanded those opportunities to where we can build memories as a family," Stolts said.
The ParaGolfer was purchased in December 2021 by the Adaptive Golf Program, a program designed to bring the game of golf to Durango-area residents who are disabled. It is being kept at Hillcrest Golf Club and is the only vehicle of its caliber in the Four Corners.
Durango-area resident Andrew Asmuth, founder and director of Adaptive Golf Program, said he began looking to purchase a ParaGolfer about a year ago. After extensive fundraising and a bit of a wait for a machine to become available, he finally received one in December.
Asmuth said it is essential to provide Adaptive Golf Program participants with as much freedom on the course as possible. The ParaGolfer is similar to its counterpart, called the SoloRider, but it is more nimble and provides greater accuracy and independence in the game of golf.
"Coming through what I've been through and knowing a lot of disabled people in the community – that's their goal, they want as much independence as possible," Asmuth said.
Asmuth suffered a traumatic brain injury in a major car crash at age 5. Doctors said he would never walk or talk again. But after 20 years of physical therapy, Asmuth has regained his mobility.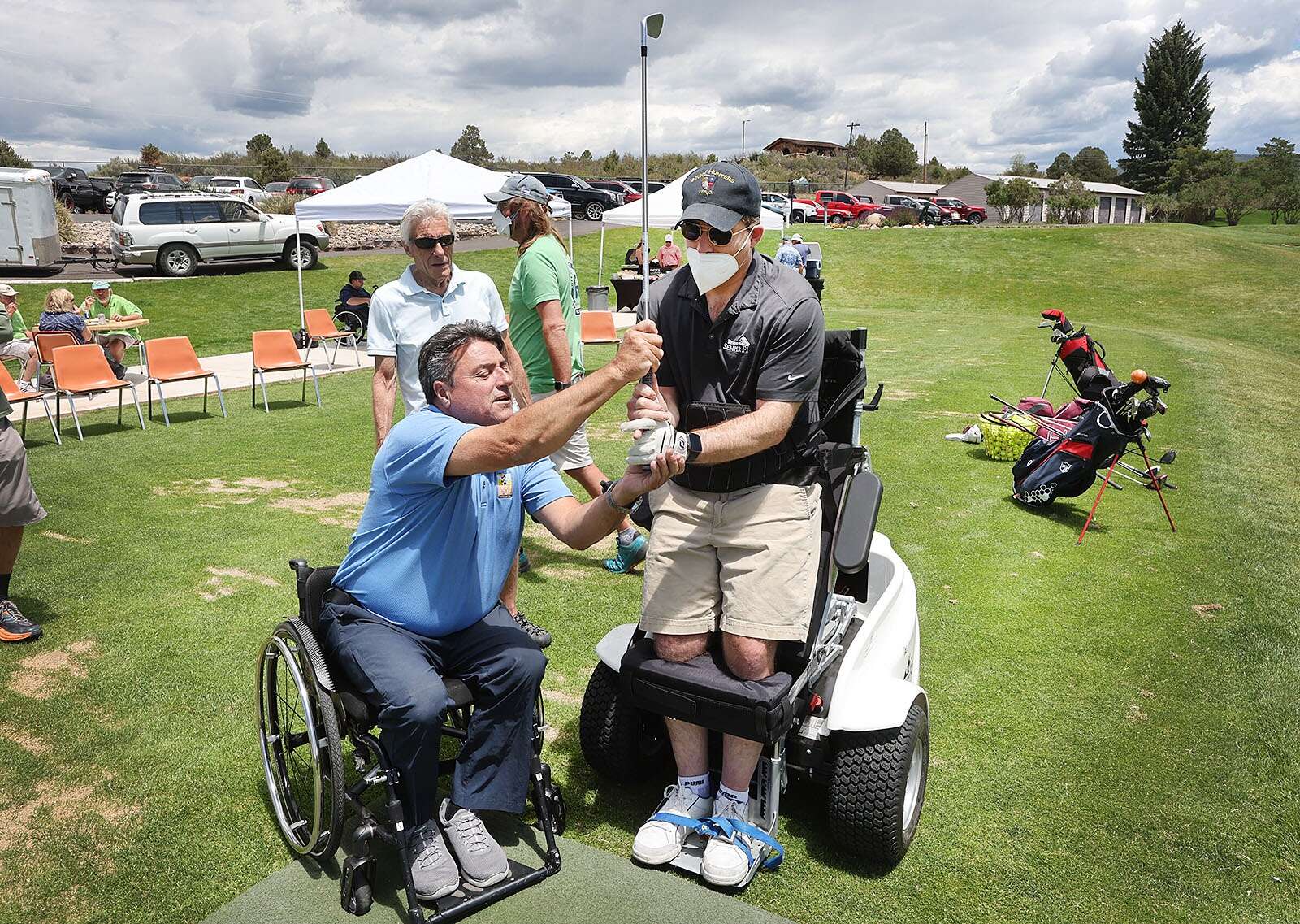 "I figured I could help people recover, too, that are told they can't," he said.
Asmuth worked with the Adaptive Sports Association Ski Program in Durango for 13 years, but also played golf.
"Golf for me, especially with this group, has a real cognitive aspect that other sports and other things may not, and it really helps break through some of those barriers," he said.
Asmuth started the Adaptive Golf Program with four participants in 2013 and officially got it certified as a 501(c)3 nonprofit in 2017. Since then, the program has continued to grow, with 60 participants and 465 lessons in 2019. The program was shutdown during the height of the COVID-19 pandemic, but has since returned.
Asmuth hopes the ParaGolfer can draw people with greater limitations to come out and give it a try.
"We're trying to make golf inclusive," he said. "I've seen that throughout the years – that is a serious problem, they don't make it accessible. We're doing our best to help make it accessible to everybody."
Molly Mabie, a board member with Adaptive Golf Program, says the ParaGolfer's standing feature is her favorite aspect of the vehicle. Unlike the Solorider, the ParaGolfer can provide full weight-bearing support for amputees, paraplegics and others with no function in their legs.
"We've got a girl and she hadn't stood in forever, and the teachers went bonkers when she got to stand for the first time," Asmuth said. "She can't communicate, but they know how she communicates and they were like, 'This is the happiest she's been, ever!'"
Another regular user, Brendan Pederson, was medically retired from his job as a Navy pilot in 2018 when a progressive neurological condition began to limit his ability to speak and walk.
Pederson was a golfer in high school and college. His parents say the ParaGolfer has been a tremendous help in allowing him to return to the sport.
"It has provided Brendan another sport to participate in, which has of course helped him out. But it has also helped us out because we like to golf, as well," said Pederson's father, Larry Pederson. "It just added a whole new dimension to our ability to get outside and play sports together."
The ParaGolfer is free to use for golfers and non-golfers who just want to stand up. Adaptive Golf Program raised money for the vehicle through golf tournaments and sponsors, including PGA Colorado, Ballantine Family Fund, Summit Church and others.
Mabie donated her mother's memorial fund to the program.
"My mom was so proud of the little program, and it's grown," she said. "So, I thought, 'Well, that's where we should put the money.' That's what my dad and I decided."
The ParaGolfer at Hillcrest Golf Club is the only one of its kind in the Four Corners. But inventor Anthony Netto wants to change that.
"The future is going to be that every golf course that is accessible will have one of these units," he said in an interview with The Durango Herald. "We are actually going to start making them locally in the U.S."
Netto, a former member of the South African Special Forces who now lives in Las Vegas, was injured in the Gulf War and hit by a car a few years later.
"I had a big recovery time and I needed to get my mind set, and golf was the perfect solution," he said. "There were a lot of friends who needed help, that were worse off than me. So we needed the right type of equipment and there was nothing out there. The seating golf carts – they caused more issues than they helped. So I worked with a bunch of friends and engineers and came up with the ParaGolfer."
At a demonstration last month, Netto battled Hillcrest Golf Club's best golfers in a long-drive contest. Michael McCloskey, a pro golfer and director of golf at Hillcrest, was challenged by Netto, but with a catch: Right-handed McCloskey had to shoot left-handed.
Netto, using the ParaGolfer, beat McCloskey, hitting the ball 250 to 260 yards. But McCloskey put up a valiant effort with his non-dominant hand, hitting the ball about 200 yards, said Bob Pensec, event organizer and Adaptive Golf Program board vice president.
Once Netto starts lowering the ParaGolfer's cost by manufacturing them in the U.S., the Adaptive Golf Program may look into adding another vehicle to its fleet, Pensec said.
kpercival@durangoherald.com