Santa Claus arrives via a Classic Air helicopter, a new holiday tradition
The Parade of Lights kicked off the holiday season in Cortez Saturday with Santa Claus arriving on a Classic Air helicopter that landed on Main Street.
Santa boarded a vintage red firetruck, and a procession of 70 shimmering floats made their way downtown as part of the 33rd annual event organized by the Four Corners Board of Realtors.
The theme of Family First was reflected in the crowds that lined the streets and sidewalks to enjoy the show with loved ones and friends.
The Piñon Project Family Resource Center is the grand marshal of the parade.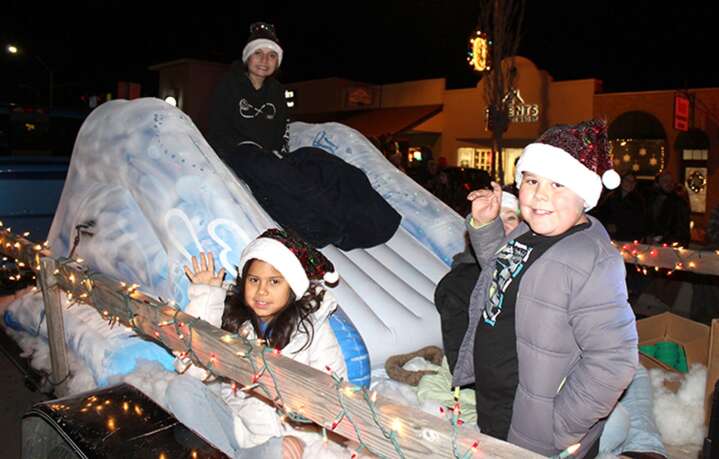 "It is such a tradition in Cortez. We are all about supporting families, so it's a real honor to lead the parade," said Executive Director Kellie Willis. "It is really fun event for the whole community."
Staff and families teamed up to build the float, she said, and handed out candy to the crowd.
Unseasonably warm weather, with temperatures in the lower 40s, greeted parade watchers as they took in the festive scene of creative floats decked out in an extraordinary amount of colorful lights and holiday decorations. Businesses and individuals built floats from trucks, trailers and classic cars.
Lewis-Arriola Elementary entered a float in the parade for the first time. It features a principal reading to students and their families sitting around a campfire and Christmas decorations.
The students created decorations and artwork for the float, said Riah Head, a sixth grade student. Students from the school were invited to ride along on the float.
"I like the how creative people are with their floats," Head said.
Community members were thrilled about the parade.
"It means the whole world to have this many people all in one place being happy and fun loving," said Sherrie Blackmer. "It's just wonderful to have so much happiness and love. I've been here all my life, and I love it."
Dwayne Randle, of Four Corners Dance, was moving his feet to the music.
"We're going to be square-dancing all the way down Main Street," he said. "You ought to be joining us then. We need men! The square dance club is the place to find a woman."
Randle said the parade is all about tradition and fun. The club's float represented an old schoolhouse with the bell tower and porch lights.
"Of course, we blew the roof off, we've been dancing so hard," he added.
The Ute Mountain Casino participates every year, said Craig Welch, of the marketing department.
"We created a gingerbread family as part of the Family First parade theme," he said. "Staff and families pitched in, and we're having fun doing it."
He said they have been planning for the float for the past three weeks.
Rick Sheer, of the Ute Mountain Casino, said they were giving away merchandise, including long-sleeve T-shirts in commemoration of the casino's 30-year anniversary.
This is Ute Mountain's way of giving back to the community the best we can," he said. "We just want to say, coming out of COVID, we just want to thank all the community who comes out to support us."
The Montezuma County Patriots built a float filled with all the classic Christmas decorations. A giant sleigh with reindeer taking off from a rooftop was flown by Draven Wheeler dressed as Santa Claus.
"It's all about family and the kids," Jeff Coulon. "When you ride the float and see all those smiling faces it gets to you."
Tiffany Alexander, of the Cortez Middle School cheerleader team, was in the parade.
"This is the first year they are an official sport at the middle school," she said. "It's great team building for these girls, and they had a ball building this float. I provided the materials, and they built it themselves!"
The cheerleaders' names were on stockings hanging on the float.
John Stone, dressed as Santa Claus, said the parade means "family, community and togetherness."
For Mikkel Walkman, the parade is a Christmas tradition that warms the heart.
"To me, it's an opportunity to be with family and do something reminds me of my childhood," she said. "It's full of familiar faces of people in our community who put a lot of time, effort and love into their floats. I find that pretty special. It really begins the holiday season."
"It's one of the nicest events that Cortez has, it's so well attended, everyone enjoys it. There's over 1,000 people," said a couple from the Church of Jesus Christ of Latter-day Saints.
Judges this year are representatives of longtime families in Montezuma and Dolores counties. They are Joyce Humiston, Terry Cox, Jerry Cohoe, Kennan Ertel and Wes Wilson.
The parade is a Cortez tradition and gets people in the mood for the holidays, said Terry McCabe, chairwoman of the Four Corners Board of Realtors Parade of Lights.
"Everyone gathers downtown, it's festive, and the floats are always impressive," she said.
Categories for floats are "commercial," "nonprofit" and "other." The latter is typically composed of groups, churches and schools. The judges' table was set up at Market and Main streets to evaluate each float.
Floats were judged on the criteria of music and lights, creativity, theme development and workmanship.
Parade of Lights results
Commercial category: First Place Dan Glenn Trucking & New Gen Ed Consulting; Second Place Ute Mountain Farm & Ranch Bow & Arrow Brand; Third Place Colorado Title and Closing Services.
Non-profit category: First Place Pinon Project; Second Place Battle Rock Charter School; Third Place Girl Scouts of Colorado, Unit 206.
Other Category: First Place Ute Mountain Child Development; Second Place Cortez FFA; Third Place Lewis-Arriola Elementary School.
Honorable Mention went to Lighthouse Baptist Church. The judges also noted that the Escalante Shrine Club had the best candy.
It was a challenge for the judges to decide, said volunteer Michelle Morris.
"They were judging them very close," she said. "You could tell a lot of work were put into these floats."
There were 72 floats in the parade, a record.
"It is becoming more popular because we really love our community," Morris said. "It's all about having enjoying a great parade and telling everyone Merry Christmas. We live in a rural area, so we have to have fun!"
Cash prizes are awarded for first, second and third places in each category. The parade continues to grow.