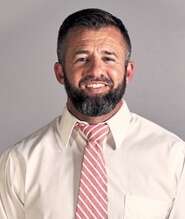 Mission Senior Living has appointed local business leader Steve Lien to serve as administrator at Three Rivers Estates Senior Living and Memory Care, which is under construction at 981 W. Broadway in Farmington.
Lien will work with Mission Senior Living project managers during the completion of construction and oversee marketing and sales. The center is scheduled to open in late 2021.
"My personal and professional values and principles align with those of Mission Senior Living," Lien said. "I trust that families in Farmington and nearby communities will find peace of mind, joyful living and value in our community."
Lien is the vice-chairman and board member for the Farmington Chamber of Commerce and is a board member of San Juan Medical Foundation. He graduated from Farmington High School and attended Colorado State University-Global.
Before joining Three Rivers Estates, he served as regional director of franchise development and general manager at New Mexico-based Defined Fitness.
The two-story community will offer 92 assisted living units, which include studio, studio deluxe, one- and two-bedroom with a single bath, and two-bedroom with a double bath. Thirty-two memory care apartments will be available in a variety of floor plans.