Longtime dream realized; ribbon-cutting celebrates diverse cultures of area
"Save our history, tell our stories."
That's the motto of the newly opened Montezuma Heritage Museum in Cortez.
Add "unity" to that as well, said Ann Brown, chairman of the Montezuma County Historical Society during a grand opening Oct. 22.
"The museum focus is on the tri-ethnic community that defines who we are," Brown said. "The Native Americans, Spanish and white settlers have contributed diverse cultures to the region. This is a community project and will continue to be a community project."
Starting Nov. 2, the museum will be open 10 a.m. to 4 p.m. Wednesday through Saturday through the end of the year. Admission is free until all exhibits and programming are completed next year. Donations and memberships are welcome.
Community members gave speeches during the opening that attracted 200 people.
Special recognition was given to the '40s Bunch, historian June Head and others who first established the Montezuma County Historical Society.
Norman Lopez, of the Ute Mountain Ute Tribe, played the flute. Leo and Susan Herrera and Dolly Gardner sang songs.
"Cortez has long been a crossroads of Indian People," Lopez said. "We have lived here for so long, and many tribes have passed through this area."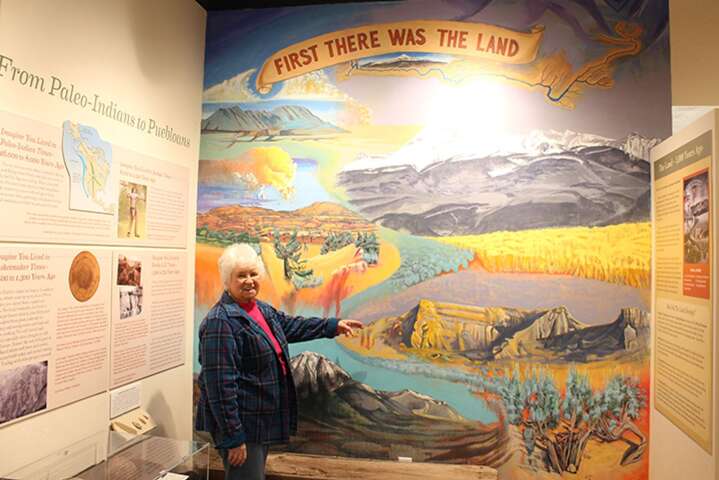 The new museum has been a dream for decades, and was jump-started in 2015 when the Montezuma County Board of County Commissioners donated the building at 35 S. Chestnut St. A former museum in the basement of the old Cortez City Hall closed in the 1950s.
The historical society's grassroots fundraising effort generated $475,000 for building renovations and exhibit space. Fundraising is ongoing for operation costs.
There are 14 exhibits now, and 10 others are planned, Brown said.
A host of volunteers were involved in the planning, collection and organization of artifacts.
Volunteer Museum Director Barbara Stagg wrote up exhibit descriptions in cooperation with curator Joyce Lawrence and others. Volunteers constructed exhibits, and the design was by Danielle Covatta Riva.
Visitors will learn about the land in Montezuma County, Indigenous Tribes, Spanish explorers, making a living on the land, mining and logging, the towns and communities of the county, history and culture of the Ute Mountain Ute Tribe, historic families, history of schools, and ancient and modern water development.
"It is about learning history, and hearing the stories behind them," Brown said. "It is not cases filled with stuff – we highlight specific artifacts and research that story to share it. Exhibits will be rotated to share different stories and artifacts."
A tour showed nicely arranged, well-lit displays with clear written narratives about the people and artifacts.
Exhibits catch the eye around every corner.
One describes the five trading posts that used to be in the county. Another has maps from the early Hayden and McCabe expeditions from the middle to late 1800s. A case shows a 17th Century Blunderbuss gun that might have been carried by a Spanish explorer. It was found in Lost Canyon in 1982.
A water development exhibit shows an ancient water reservoir built by Ancestral Puebloans in the 1100s on Mesa Verde. Next to it is a display that showcases wooden irrigation flumes in the county, including the McElmo Flume, built by pioneers in the late 1800s and early 1900s.
"Many came here for the mining, then saw the grazing lands, and went back and got their herds," Brown said during a tour.
A 1908 painting by Carl Granath shows the verdant Montezuma Valley with livestock grazing against a backdrop of Ute Mountain and Mesa Verde. The painting, titled "A Land of Plenty," hung in the historic Exon Mercantile Co. building in Dolores.
One exhibit will have a rotating displays of area families. Exhibits are being built for Mancos, Dolores and Cortez. The schools, military veterans and health services of the area also featured.
"We're still working on a lot of the exhibits," Brown said.
The grand opening was broadcast by Mesa Media Production and can be viewed on its Facebook page.