Class of 112 students endured changes in administration and remote learning
Members of Montezuma-Cortez's Class of 2023 walked across the stage to receive their diplomas, stepping into the future while also looking back fondly on the fun memories they created.
Several hundred family members and friends filled Panther Stadium for the ceremony in breezy, comfortable weather. Everyone in attendance celebrated the achievements of the Class of 2023, who faced challenges related to the pandemic, as well as difficult changes in school administration.
Fittingly, the class motto reflected the graduates' ability to keep a sense of humor through it all, using a quote from author A.A. Milne: "We didn't realize we were making memories, we just knew we were having fun."
And when it was all over, the Montezuma-Cortez baseball team received a police and fire escort through town on Main Street as they headed to Greeley to play in the state tournament Friday.
Keynote speaker and PE teacher Jarrett Watkins addressed the challenges the 112 graduates faced and congratulated them on their accomplishments.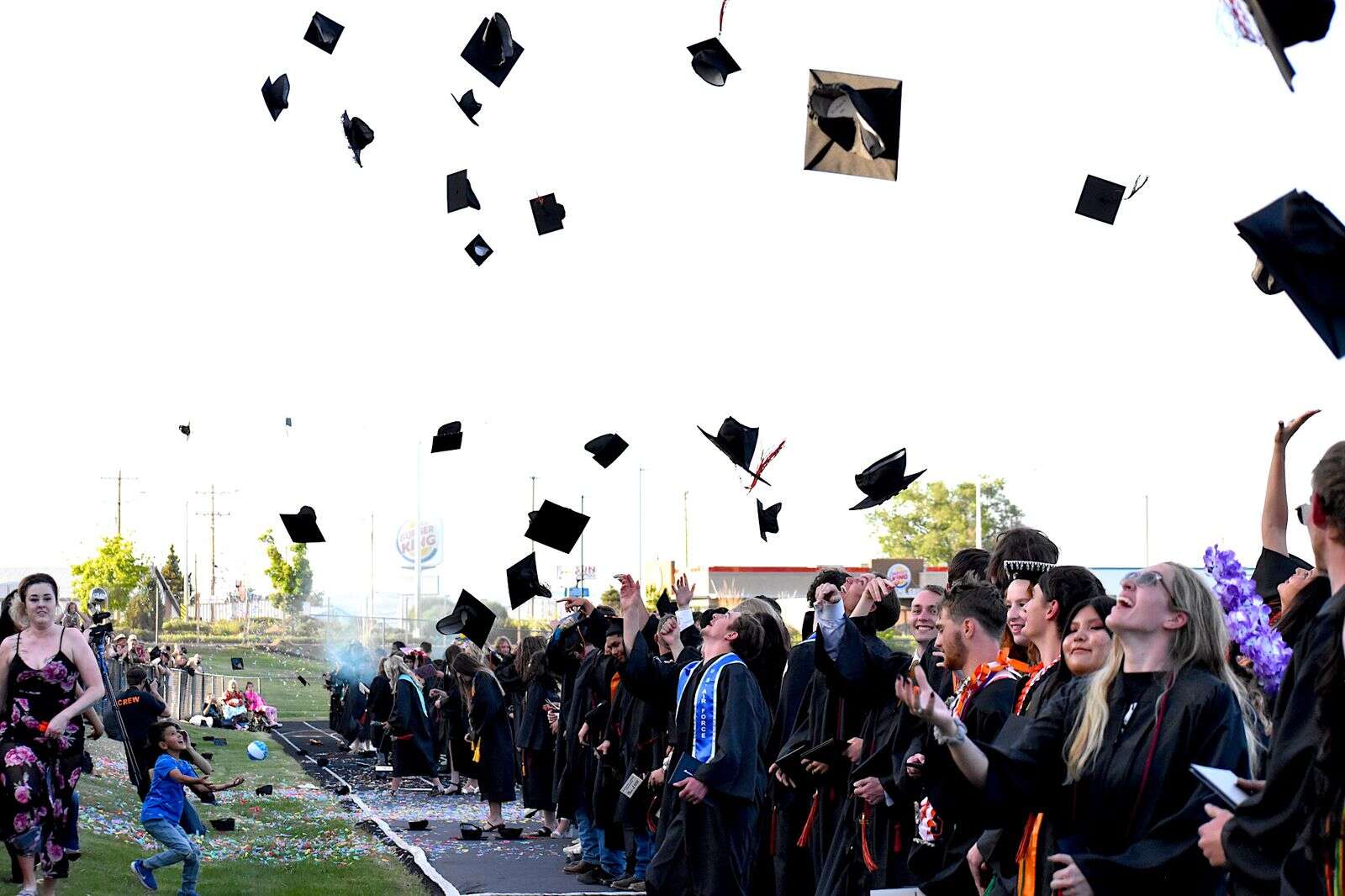 "In these few short years, the educational system has been forever changed," he said. "Against all odds you have prevailed."
He spoke of the power of the students' accomplishments and their impact on the high school and the community.
Watkins expressed gratitude for the support the community has shown the high school this year through articles, flyers around town, and turnout to events.
"Any wisdom I have comes from the mistakes I have made, rather than my achievements," Watkins said. Instead of giving the graduates advice on what to do, he told them what not to do.
"Don't expect that when you leave high school that you should have it all figured out," he said. He spoke of his own unique life path, spending 10 years in and out of college and working several jobs.
Watkins encouraged graduates to listen to the advice they receive from their elders, as they only wish them the best.
"Don't look for the easy way out," he added.
"Y'all are my kids. So now I get to stand here like a proud dad," Watkins said, as he congratulated the class of 2023 on their accomplishments.
Valedictorian Talon Johnson thanked teachers, mentors, and families, and encouraged fellow students to remember their education and growth.
"Your dedication, guidance and support have played an invaluable role in shaping us into the individuals we are today," Johnson said, addressing teachers and mentors. "We owe our success to your efforts."
Parents and families were also met with Johnson's gratitude.
"Your belief in us has propelled us toward this moment of achievement," helping the students "to persevere through the challenges we faced," Johnson said.
He reminded his fellow graduates that "education is not limited to the classroom," but instead "is the amalgamation of knowledge, experiences, and character development."
Graduation marks a new beginning and opens up opportunities for students to make a change and become the leaders the world needs, and Johnson's words encourage students to do what they can.
"I believe that each and every one of us has the power to create a positive impact. Whether it's through our chosen careers, volunteer work, or simply being a compassionate friend, we can make a difference. Let us harness our knowledge, skills, and passion to address the problems of our society," Johnson said.
Dream, understand the power of action, and strive for a more prosperous world, he added, but also don't forget the bonds made and memories created.
"Cherish the friendships that have blossomed here, for they are the foundation of our support system in the years to come."
Johnson concluded by congratulating his class and pushing them to "embark on this new chapter of our lives with courage, determination and compassion."
Salutatorian Micah Hoffman reflected on the journey these graduates have embarked on the past four years and reminds the crowd to embrace their unique identities and honor their roots.
"We have learned that life is a delicate balance between staying true to oneself and adapting to the winds of change," Hoffman said. "It is a balance that requires self-awareness, courage and a willingness to grow."
Everyone's passions, dreams, and values are unique, Hoffman stated, and these are the foundations of their lives.
"Our rural upbringing has given us a strong sense of community and defined the values that we hold dear. It has shaped our characters, teaching us the importance of honesty, hard work, and integrity," he added.
Individuality adds valuable diversity to the world, Hoffman added while he encouraged his fellow graduates to embrace this individuality.
"Be proud of where you come from and the journey that has led you to this very moment," he said. "However, as we move forward, we cannot ignore the inevitability of change," Hoffman urged. "It is through change that we grow, learn, and become better versions of ourselves."
Hoffman reminds the crowd that they are capable of dealing with change, as the COVID-19 pandemic has affected the class of 2023 throughout their high school experiences.
Hoffman encouraged graduates to go for their dreams, even when life gets difficult. "Let us carry with us the wisdom we have gained, the friendships we have forged, and the memories we will cherish," he added.
Hoffman concluded by thanking family, friends and teachers for supporting him and his fellow graduates, and congratulating the class of 2023.
After the ceremony, parents, friends, teachers, and students all mingled on the field, chatting, laughing and taking photos.
Nathalia Erlandson watched her son Simeon graduate. "I'm proud of my son. He's going into the Navy." She expressed how many challenges he had faced and overcome in high school.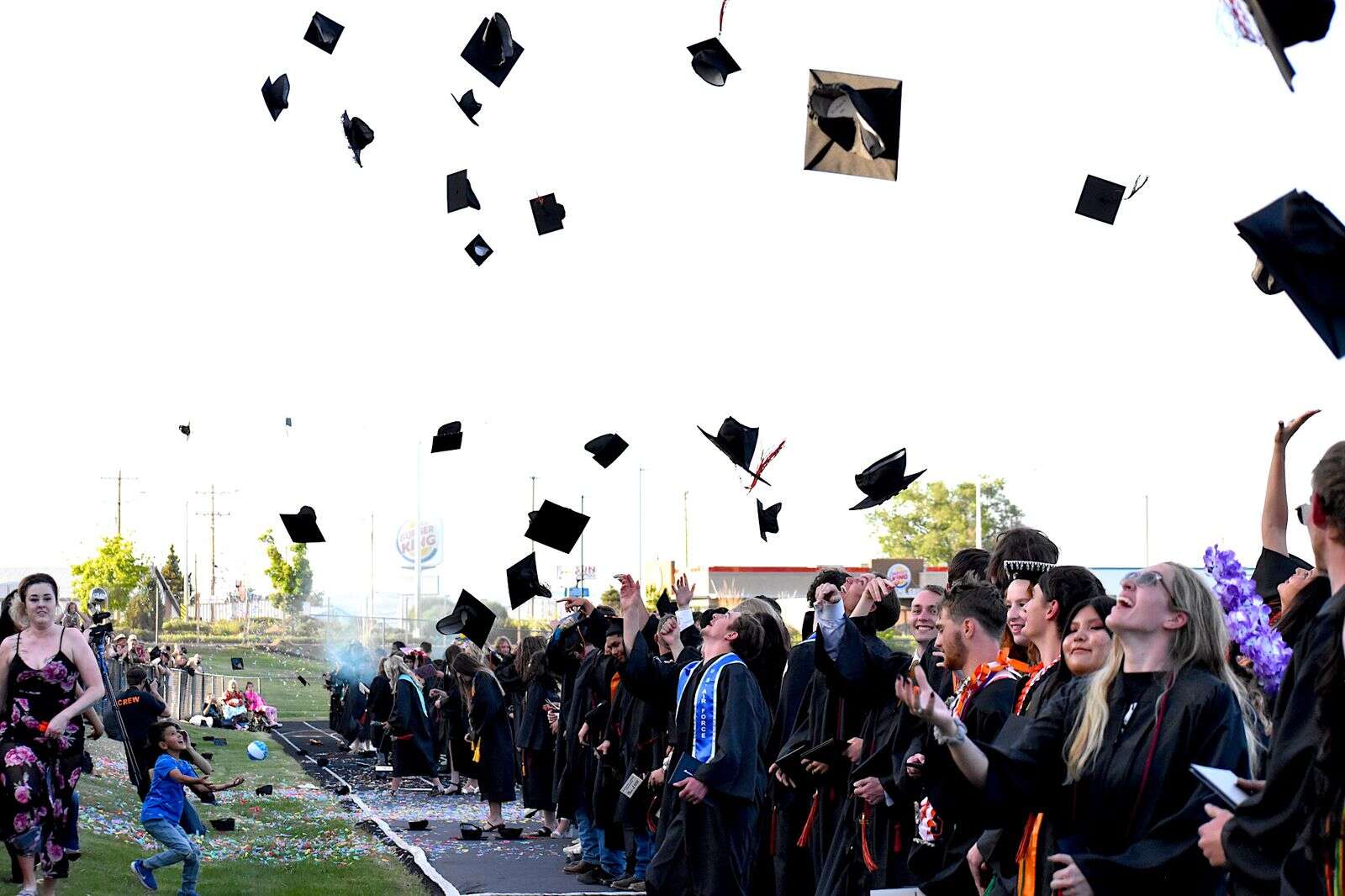 Maya LaMunyon watched her younger brother Evan walk across the stage to receive his diploma.
"I'm super-proud of him for how far he's come," she stated. Evan graduated with an Honors Diploma.
Emotions ran high all evening, as friends say goodbye to one another and family members prepare to part with their graduates. Celebrations are in order for this class of 2023.
In Greeley, the Panthers will play No. 4 Coal Ridge (25-0) Friday, at 11:30 a.m. at University High School. The winner of that contest will advance in the winner's bracket of the double-elimination tournament to a 2 p.m. game, also at University High School, against the winner of No. 1 Eaton (25-0) and regional surprise No. 25 Peak to Peak (12-13).