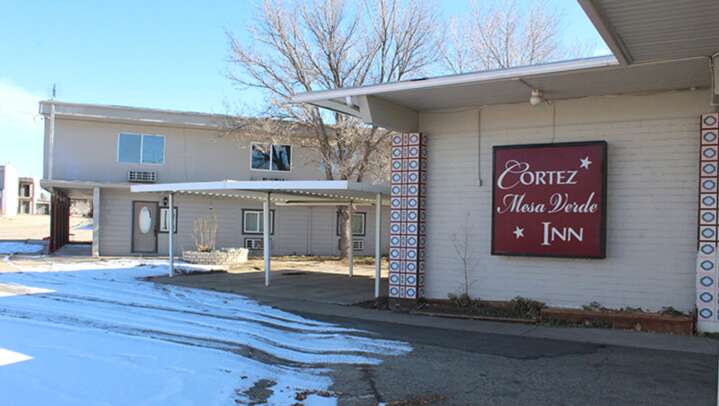 New owners to renovate troubled property in south Cortez; first apartments ready in 2023
The Mesa Verde Inn in south Cortez has sold, and the new owners plan to remodel it into apartments.
The 88-room hotel will be transformed into Zuma Apartments with 57 units, including studios and 1-3 bedroom apartments.
Owners Craig and Monique Weese purchased the old motel in August, citing its potential.
"We saw this property going to waste and thought it would be a great opportunity to repurpose it into nice apartments at affordable rates," said Craig Weese, of Zuma Apartments LLC.
The motel's five buildings at 640 and 550 South Broadway will be repaired and converted into apartments. A former restaurant on the property has been closed for years, and the plan is to eventually have it reopen. Installing a new laundromat is also a goal.
The Weeses have been working with the City of Cortez on planning efforts for the project. They have completed similar projects converting hotels to apartments in Durango.
An architect site plan for Zuma Apartments has been approved. The planning department and board of adjustment and appeals granted variances and exceptions for required parking and minimum unit size.
The minimum unit size was allowed under the 500-square feet requirement in the code. The commercial space requirement for the property was also reduced.
A variance reduced parking requirements from 105 spaces to 90. If needed, space is available to create additional parking, Monique Weese said.
There will be 20 studios, 10 one-bedrooms, 26 two-bedrooms and one three-bedroom. Apartment sizes range from 350-square feet to 272-square feet and include kitchens. The apartments will have fire suppression sprinklers.
A final public hearing on the project will be held in front of the Cortez City Council on Jan. 3.
The old hotel pool will be filled and turned into a garden. Storage units are also planned for residents.
Construction will begin in January, with the first set of apartments expected to be ready for rent in the summer or fall, the Weeses said. The plan is to complete the project in the next two years.
Rental applications are not being accepted at this time. The community will be notified on application process once the first set of apartments are closer to being ready, Monique Weese said.
The former Mesa Verde Inn has been a problematic property for the city, neighbors and law enforcement.
While previous owners did provide needed affordable rooms for low income residents, the property also became a magnet for drug sales and use, vandalism, crime and vagrancy. It is near Mesa Elementary School.
The motel has been neglected for years and is currently uninhabitable.
"We will be renovating one building at a time," Weese said.
The few remaining residents complied with notices to vacate.
The Weeses purchased the property for $350,000. It sold for $1.3 million in 2007.
The project will improve the troubled property and also help ease the housing shortage, city officials said.
"Thank you for taking on this project, we are cheering for you," said Glenn Leighton of the Cortez Board of Adjustment and Appeals.
jmimiaga@the-journal.com