Connor Showalter scores game-high 17 points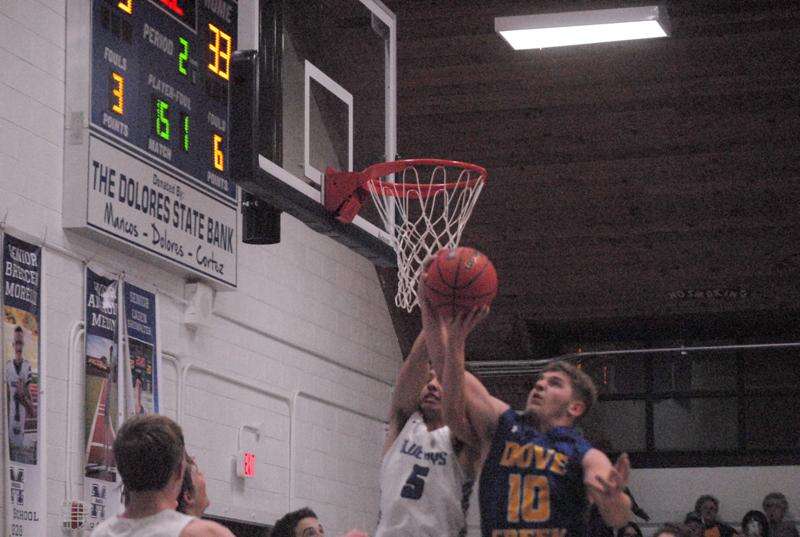 Opening its season in front of a spirited crowd in its newly renovated home gym, the Mancos High School boys basketball team looked every bit the part of a state title contender while coasting to a 66-22 victory over Dove Creek.
Leading the way offensively for the Bluejays was sophomore Connor Showalter, who sprinted ahead of defenders on several occasions and scored numerous fast-break buckets on his way to a game-high 17 points.
Setting up several of Showalter's buckets and scoring 14 points of his own was junior point guard Christian Cova, whose ability to deftly run his team's offense while providing a defensive spark was on full display.
"I'm a lot more confident, I have a bigger role now, I need to step up" Cova said. "Caden (Showalter) and Connor (Showalter) can't do (all of the scoring)."
After winning the opening tipoff and scoring on its first offensive possession courtesy of an offensive rebound and putback by Caden, Mancos dominated for the remainder of the first quarter and built a 15-2 lead.
The Bluejays continued to pour it on in the second quarter as the Showalter brothers combined to score 10 points in the frame while dominating the offensive glass and overwhelming their undersized opponents.
Not all was perfect for Mancos during the first half, however, as a handful of turnovers allowed Dove Creek freshman Kade Hankins to score six points during a second quarter that ended with Mancos leading 33-11.
"I thought in the first half, we were pretty sloppy in transition and turned the ball over," Mancos head coach Elijah Knepper said. "We had a real spirited halftime talk and I thought that the second half, we were a lot better with (limiting our turnovers)."
Among the brightest stars for Mancos during the second half was sophomore Evan Sehnert, who knocked down two 3-point field goals and scored 14 of his 16 total points during the final two quarters of play.
Several other role players also contributed for the Bluejays, including sophomore shooting guard Edgar Hernandez, who handled the ball well and grabbed a few key rebounds while demonstrating marked improvement since last season.
Mancos built a 59-17 lead by the end of the third quarter before sitting Caden, Connor and Cova throughout the final eight minutes and allowing Hernandez and others to take the reins.
"I was just excited," Hernandez said. "I just try to work hard and not turn the ball over. Everyone was on the boards tonight and got rebounds and that helped us a lot."
While Dove Creek's offense struggled throughout much of the evening, the Bulldogs did show signs of improvement from last season as Hankins scored a team-high 8 points, junior Hayden Gray scored 6 points and sophomore Blaine Johnson chipped in 5 points.
"Their hustle and work is always pretty good," Dove Creek head coach Ty Gray said. "I'm always pretty happy with that. We got some good looks, our shots just didn't fall. We need to work on our passing and our ball movement."
With its record now at 1-0 on the season, Mancos will turn its attention to preparing for this weekend's Meeker Cowboy Shootout tournament, which will take place Dec. 12 to 14. The Bluejays will open the tournament against Aspen High School.
Dove Creek, on the other hand, will look to improve on its 1-3 overall record when it hits the road to face Monticello, Utah, on Dec. 13.