'Mystical Market' to honor artist's daughter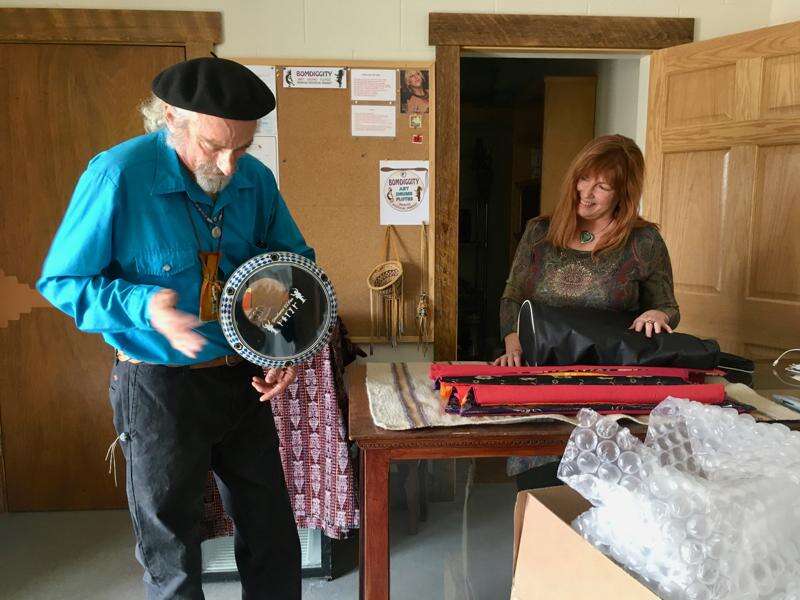 When sculptor David Mallin opens Bomdiggity Mancos Mystical Market later this month, it'll be in honor of his late daughter, Natanya Joy Mallin-Jameson.
In October Mallin said he had a vision he believes was sent by Mallin-Jameson, who died of cancer in 2014. He said he saw himself sitting outside the old location of Mancos Brewing Company on Railroad Avenue, carving an owl, while customers brought out pieces of art and other merchandise from inside the shop. On May 26 he plans to bring that vision to life with the grand opening of his art, music and spirituality shop.
The shop's name comes from the word his daughter used for "awesomeness," Mallin said.
"She gave me the vision to do this shop, so I get to use her word for awesomeness," he said.
Mallin has been a sculptor for about 50 years, working with stone, wood, bronze and other materials. Some of his larger sculptures, like "Nat's Kiva" in Lions Den park, can be seen in his former home of Durango. Bomdiggity will be his new studio and showcase, and several of his sculptures are already there–including two trees he carved to serve as indoor pillars holding up the roof. But he said he also plans to use it to display "visionary art" from other Mancos creators and from around the world.
Visionary art, to Mallin, is work that "expresses the divine." When the shop first opens, it will feature, in addition to his sculptures, spiritual bead and yarn paintings imported from artists in the Mexican Huichol tribe and Buddhist-themed thangka paintings from Tibet. Mallin plans to hold regular openings for other "visionary" artists.
The shop will also sell high-end wind and percussion instruments from all over the world, including "freenotes," xylophone-like instruments designed by Hesperus musician Richard Cooke to sound like music no matter which notes are played. Mallin has already stocked a large selection of drums, his own instrument of choice.
The "Mystical Market" side of the store will sell medicine bags, crystals, smudge sticks and other supplies for a wide variety of Native American and Eastern religious traditions. Mallin said he's considering adding books on culture and metaphysics to the inventory, but hasn't decided yet if it would be a good investment.
Angelica Rose, an interior designer who met Mallin through frequent visits to "Nat's Kiva," will be the sales associate at the shop. She said her admiration for the artist led her to take the job.
"He's an amazing artist and a master musician, and he's got this incredible dedication to joy," she said.
Mallin disagreed with her assessment of his musical skills, but he does want the shop to reflect his joy in life, which he said his daughter shared. Her influence will be seen all over the shop, in the form of owl and dragonfly motifs in much of the artwork. Those are the animals Mallin believes her spirit uses to communicate with him.
"The idea of the space is a sacred space of joy," he said. "The products I carry will be gifts for the soul."
Bombiggity's grand opening will start at 10 a.m. on Saturday, May 26.
Bomdiggity Mancos Mystical Market
Where:
550 Railroad Ave., Mancos
Call:
970-903-0810
Hours:
10 a.m.-6 p.m. Tuesday through Sunday in the summer, open by appointment on Monday. Winter hours will be 10 a.m.-5 p.m.