Claire Goodwin goes off for 31 for Bluejays
Acknowledging her Jays' test Friday evening versus Telluride would likely achieve little more than serve as preparation for a three-game road swing, Mancos head coach Kerri Morgan hinted it did, but very much didn't.
"I was not impressed," she said, despite MHS logging a 54-5 victory. "I was disappointed with how we turned the ball over – I'm always talking about 'worthy turnovers,' and those weren't 'worthy' turnovers. I feel we need to get more patient, figure out when people are open and when they're not."
"It's just another win, I guess; that's how we'll look at it," said freshman Claire Goodwin, her tone conveying similar displeasure. "Like, we needed it; after Sanford – that was a big loss – we were kind of down, but after this we're taking another step. We're ready to keep fighting."
Unluckily, MHS' on-court players were almost sucked into an scuffle late in the first quarter. Already leading 14-2, primarily because of two early three-pointers and 10 total Goodwin points, and experiencing little resistance before junior Miner Thea Rommel, stepping up and out of a pileup with 2:37 left, gave a still-kneeling Jay a definite shinbone shiver.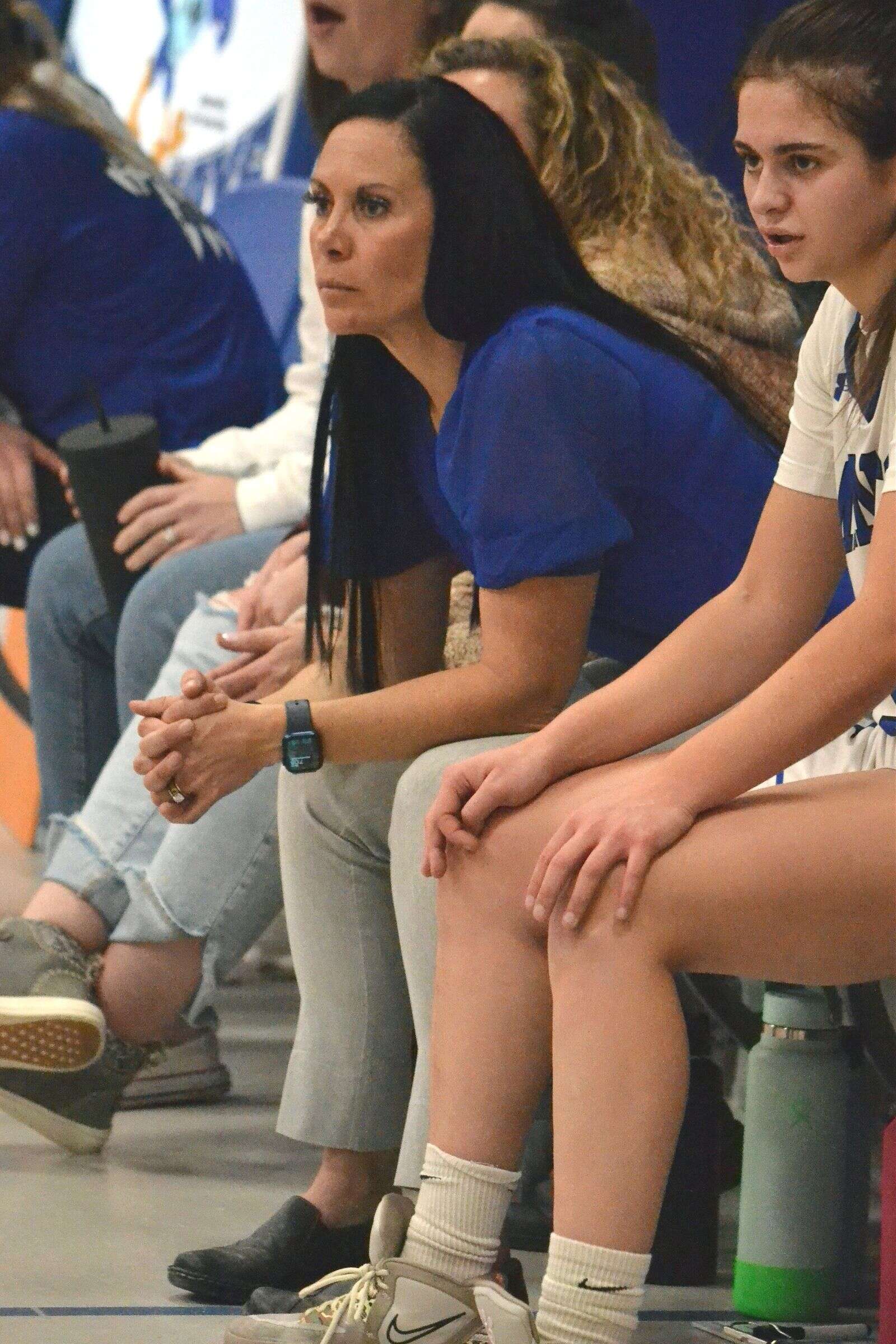 And instead of the possession arrow determining which side would receive the shared ball, Mancos was awarded two technical-foul free throws, of which junior Sam Simmons sank one. Frustration only grew for THS; senior Amy Guerrero picked up her third personal foul with 26.5 ticks left, and Goodwin found Simmons for a 2-pointer just before the buzzer – increasing the Mancos lead to 18-2 eight full regulation minutes in.
"We don't want to get involved in any of that because all it does is tear the team down," Goodwin said, addressing the near rumble. "We know we're better … no matter how dirty (opposing) girls are, if we just keep our cool and play our game."
Beginning with a free throw by junior Teya Yeomans and a Goodwin corner triple, the Lady Jays (7-2 overall, 1-0 2A/1A San Juan Basin, 1-0 2A SJBL) gained their first 20-point advantage and coasted into halftime up 27-5. Goodwin then cashed her fourth 3-pointer during the third quarter and broke free for three close-range hoops as MHS' lead ballooned to 40-5 before Telluride sophomore Pella Ward, also irked after a tie-up on the floor, received a technical with only 0:04.4 remaining.
Ranked No. 8 in the CHSAANow.com Class 2A poll, Mancos failed to make either resulting free throw – en route to finishing a frigid 9-of-30 (the Lady Miners ended up an Antarctic 1-of-10) from the charity stripe.
"I guess we'll just keep practicing it until we're 100%," said Goodwin, knowing such inaccuracy, something which could prove crippling in league play, hadn't escaped the coaches' eyes. "For sure, we'll (shoot) a lot in practice."
Looking at the positive, Goodwin (2-6 FT) finished with five threes and racked up 31 points. Yeomans (3-12 FT) managed seven points on an off night, as did junior Quincy Morgan-Montoya, who fouled out with 3:01 to go. Catching in stride a long, baseball-style Goodwin pass late for a breakaway layup, junior reserve Chloe Endres contributed four points and Simmons three – after admitting one of her two made FTs was disallowed because of a lane violation.
Junior Mandi Peacock (1-4 FT) and sophomore Jenna Wilson (1-2) rounded out the scoring with one point apiece.
With sophomore Tjarn Lyons and Guerrero fouling out during the final frame, THS (0-11, 0-3 SJBL, 0-3 2A SJBL) got two points from Ward, two from sophomore reserve Fianna Ahern and one from sophomore Emma Reggiannini (1-5 FT).
Up next, Mancos will continue league play at 1A power Dove Creek on Friday, Jan. 27, and then at 2A Ridgway the next afternoon. Results from the Lady Jays' 1/24 trip to 2A SJBL nemesis Dolores were unavailable at press time.