Mancos team creates charity project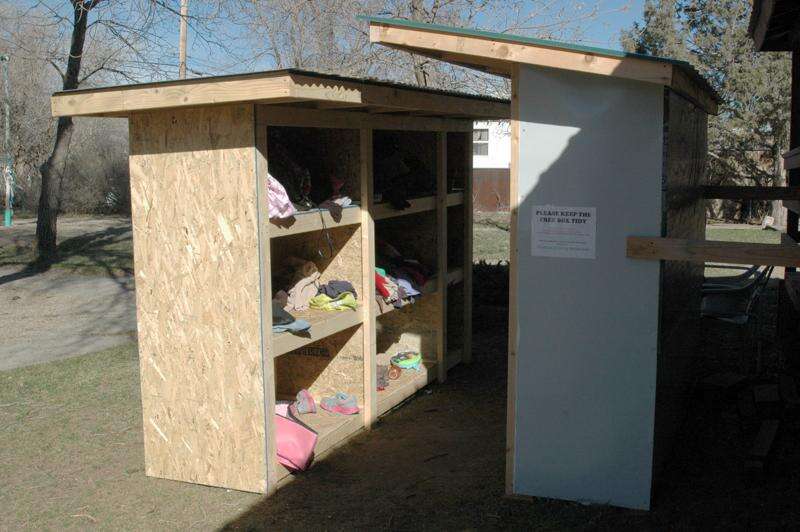 The Mancos Middle School Destination Imagination team is headed to state finals in Denver next month.
Teams of up to seven students solve a critical-thinking challenge before judges as part of Destination Imagination. As part of their service learning challenge, Mancos team members Vanessa Poulsen, Alex Ruatti and Desi Guilfoyle decided to pursue a local charity project.
"You need to think really creatively," Alex said. "If you don't, you won't get very far. Being creative helps solve the challenge."
The girls have created a "free box" at the Mount Lookout Grange in Mancos. People can put goods into the box such as lightly used clothes or new cleaning and personal hygiene supplies.
The team has been organizing goods drives to fill the free box with supplies. The next drive will be the last week of March and will focus on essentials, such as toothbrushes, cleaning items and feminine products. Drop boxes for the goods will be located at each school.
Coach Kim Russell has been working with Destination Imagination teams for about seven years, and she said she's proud of how far the girls have come.
"This is a really great team," she said.
State finals are April 22 in Denver. At a regional competition at Escalante Middle School in Durango on Feb. 25, the top two teams in each age group qualified for finals.
Alex said she continued on the team this year because she wanted to improve from last year, when the team didn't qualify for finals. Still, she was apprehensive that they wouldn't qualify this year, she said.
"We had a lot of competition," she said. "I was really proud."
In addition to creating a community project, the girls must write a skit they can perform before Destination Imagination judges as part of the service learning challenge. They're working on updating the script for the skit and building new set pieces.
Alex and Vanessa said they're excited about going to Denver and seeing the city.
Improvisation is an important skill for Destination Imagination, Alex said. People who join the activity need to be unafraid of getting up in front of a crowd, she said.
It can be funny when you mess up, and mistakes aren't a big deal, they said.
"You really have to embrace it and not be afraid of mistakes," Vanessa said.