Fans cheer on players Thanksgiving morning in front of school
About 100 fans of the Mancos Bluejays football team showed up Thursday morning to cheer on the players as they boarded a bus to Pueblo to play in the Colorado eight-man football championship Friday.
The team ran through a gauntlet of fans waving pompoms and holding up phones to record the historic moment. It is the first season that the team has made it to the championship semifinals or finals.
"We're ready to go. On game day, the message will be to forget about the nerves, play hard and have fun," said coach Josh Gardner.
The team has played together for years, said defensive end Jack Zwort. A key to their success is "working hard together. We always keep fighting. We are a brotherhood."
The excitement has rippled through the Southwest Colorado town of 1,400 people.
"It's brought the community together. Everyone is so excited," said parent Danielle Morelli. Her son, Kail Wayman, plays running back and outside linebacker.
"They play as a team and have great coaches," Morelli said. "They will go out and fight and not give up on each other."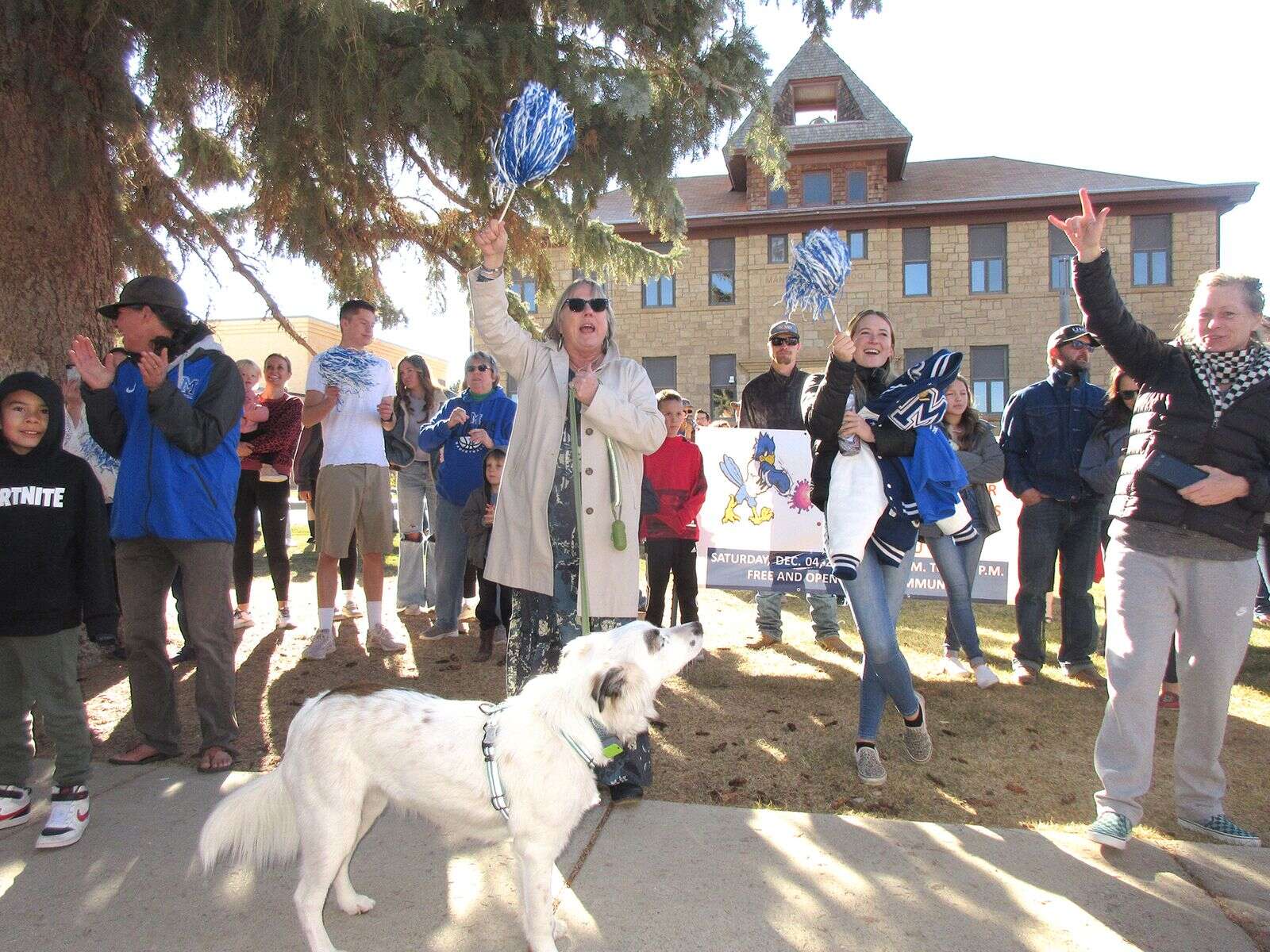 Everyone has been going to the games, including road games, said Tia Imel, who graduated last year. Her brother, Brock, plays on the team.
"We've been so close every year getting to the finals. It's awesome we did it this time," she said. "A lot of the team has been playing together since the third grade. They have a lot of trust in each other."
Players high-fived fans and blasted a boom box as they walked through the crowd and onto the bus, which was marked up with the names and numbers of players.
People chanted together, "Go Mancos, go," as the bus pulled away behind an escort by Mancos Fire Department fire engines that blared their sirens and flashed their lights.
Players smiled and waved from the bus, clearly enjoying the special moment .
People talked about their plans to travel to the game, or watch at home or on the radio.
The P&D Grocery store in Mancos plans to broadcast the live video feed of the game for people to watch.
The undefeated No. 2-ranked Bluejays face the No. 1 Haxtun Bulldogs, who also are undefeated. The game is being played the CSU-Pueblo Thunderbowl stadium at 6 p.m. Friday.