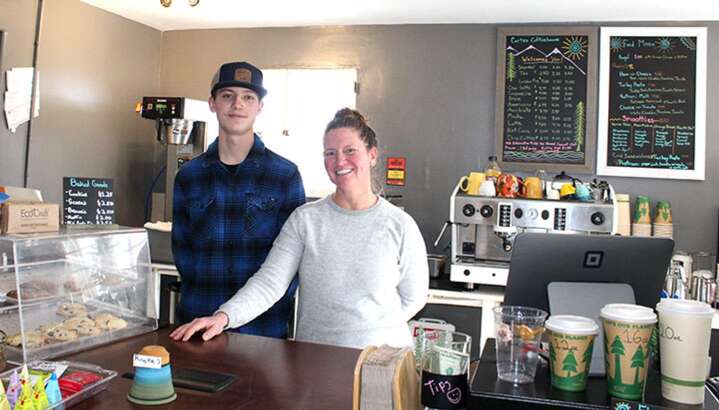 Cortez Coffee House and Eatery restores popular community meeting place
A popular coffee house location in Cortez has been revived by new owners.
The Cortez Coffeehouse and Eatery at 318 E. Main St. opened in November by owners Kellie Power and her nephew and baker Gaven Cooper.
The two remodeled the quaint two-story commercial space, which was formerly the Spruce Tree and Bean Tree coffee shops, and a candy store.
"I've always loved this building. We wanted to bring back a community gathering place that people said they missed," Power said. "We've had a really positive response."
The shop serves up a variety of coffee products, smoothies and other drinks. The food menu includes bagel breakfast sandwiches, panini, and scones, muffins, cakes and cookies.
"The panini are crispy and delicious," Power said.
"All the baked goods are made from scratch," Cooper said. "They are made fresh daily, and I rotate the variety so there is always something different."
Coffee is sourced from Desert Sun Coffee Roasters, out of Durango.
The Cortez Coffee House and Eatery is open from 7 a.m. to 2 p.m. Monday through Saturday.
The interior space is warm and inviting, with comfortable chairs and tables and local artwork available for sale on the walls. Featured artists are Matt Josef and Mike Znerold.
A standup bar is planned to add more space for people to get some work done while sipping a latte and having a bite to eat. There is also a play area for children and board games.
In the spring, the back patio will be remodeled for additional seating and outdoor ambience, Power said. The building has Wi-Fi access.
"With all the remote workers nowadays, Cortez needs a sit-down coffee shop. This is a great location," Powers said.
The place has been bustling with friend get-togethers and co-workers meeting about projects, she said. Events and live music are on the horizon.
"A guy said it was like a Christmas present that we reopened as a coffee shop, that was nice to hear," Powers said.
She has a business degree and previously worked in coffee shops, including at The Spruce Tree house back in the day.
She and Cooper are working with Cortez city planners to remodel the upstairs into a vacation rental to help support the business.
The commercial building sold for $250,000, according to the Montezuma County Assessor's Office.