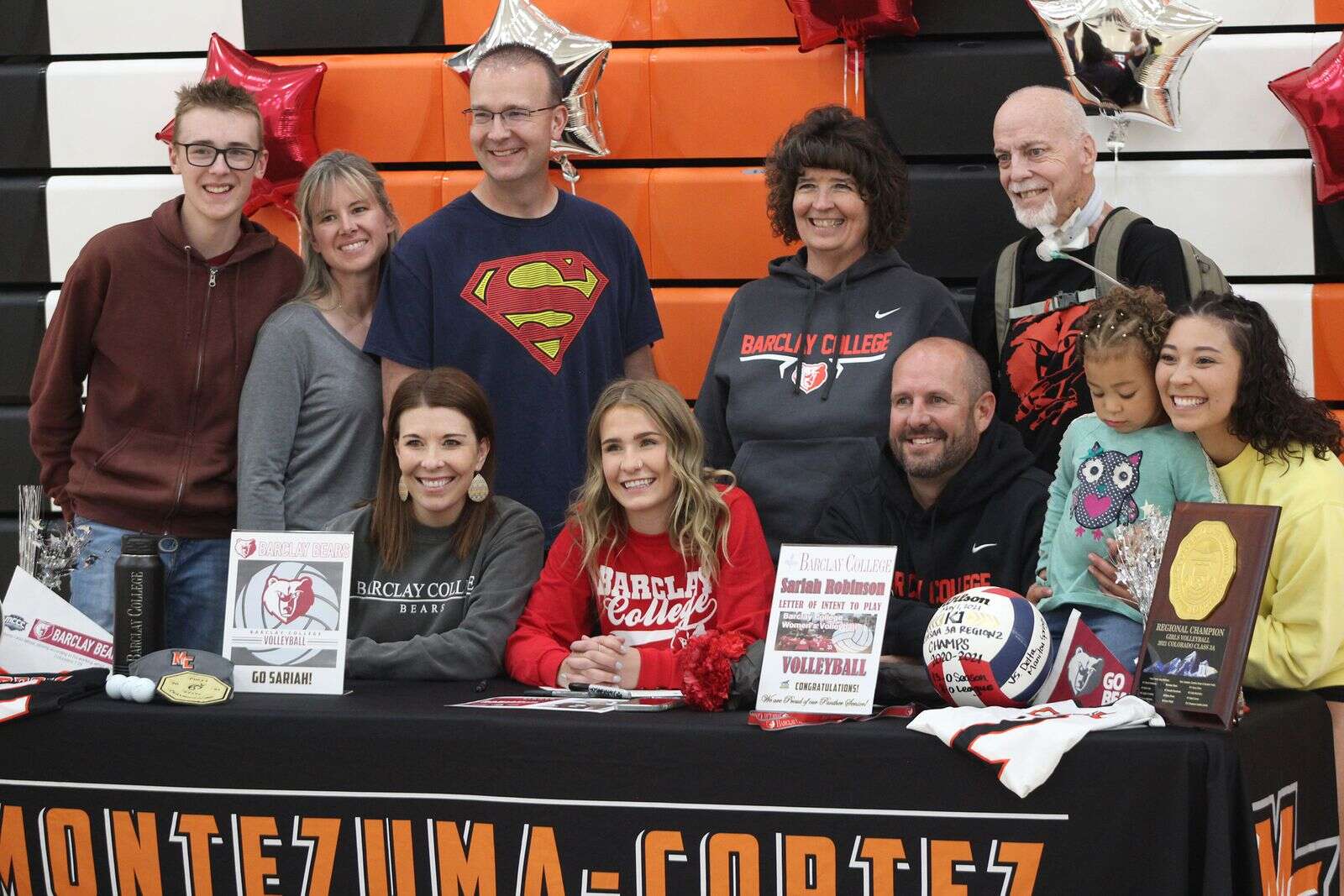 Panthers standout to continue volleyball career at Barclay College
Hearing her name announced at Senior Night, Montezuma-Cortez volleyball standout Sariah Robinson recognized an unsettling feeling.
She wasn't ready to hang up the uniform for the final time.
A frenetic post-pandemic stretch of volleyball for Robinson and the Panthers yielded one of the best stretches in program history, spanning her junior year and a trip to the 3A Final Four and a 15-7 mark the following fall.
"Senior year went so quickly," said Robinson, "and I began to realize that I didn't want all of this to end."
So, with her final high school kill shot behind her, Robinson switched gears and actively pursued schools that would allow her to pursue her passion at a higher level.
Enter Barclay College, a small private school in Haviland, Kansas, that competes in the National Christian College Athletic Association. The Bears enjoyed a 13-8 mark last year in the Midwest Christian College Conference, a league that spans the Great Plains.
Barclay reached out to Robinson, setting in motion a series of conversations between Robinson and the Bears' coaching staff.
"After contacting back and forth with the coaching staff, we decided to make a trip out to see the school, and I loved it," Robinson said.
For Robinson, the combination of a small school in a tight-knit community felt like a perfect combination.
The college's academic offerings also served as an enticement.
"I really like the community base, and I'm excited because they'll have a nursing program starting up in the fall of 2023," Robinson said.
For Montezuma-Cortez, Robinson became a leader in her senior year, both vocally and statistically, and helped the Panthers back to the regional round of the 3A state tournament. In the process, she ranked among the team leaders in kills, aces, digs and service receptions.
Robinson has developed her golf game as well, as she and her fellow Panthers set their sights on a return trip to the 3A state championships later this month.
Yet, for the Panther graduating senior, her love for volleyball evolved thanks to a variety of different supports.
"Caroline (Glover, M-CHS head coach) was a huge factor. She helped me to love this sport, right from when I first started playing. She and my other coaches also helped me develop as an athlete and as a person."
Now, with diploma in hand on May 19, Robinson turns her focus to bringing her positive energy and competitive spirit to the next level.
"I've learned communication skills, gotten so much support from the community, and feel like I've benefited so much from the M-CHS family," added Robinson. "Some of my closest friends have been part of my volleyball journey."
While playing for a high-level program has been rewarding in its own way, Robinson reflects on the intangible elements of playing a sport she loves.
"It's the connection with others, and that's something I'll take with me the rest of my life," she said.