Panthers and Bulldogs boast larger rosters, plenty of firepower
For a pair of local wrestling programs with proud traditions, the 2022-23 season looks like a return to form.
Both Montezuma-Cortez and Dove Creek struggled through injuries and lower turnout last season, but it appears as if both squads have restocked. The Panthers and Bulldogs joined Ignacio in tri-dual meet to open the home schedule for M-CHS, pitting the local teams against one another in an early-season litmus test.
At night's end, both programs walked away with some strong performances, and a gauge of the work that lies ahead in the final days before the holiday break. Dove Creek toppled Ignacio 53-6, while M-CHS took care of the Bobcats 25-18. Then, in the final dual of the night, Dove Creek edged the Panthers 25-24 to take momentum into the annual Dawg Fight on Saturday, Dec. 10 in Dove Creek.
Daves takes helm of Panthers program
After a strong run under longtime coach Shad Bellmire, the Panthers turn the reins over to Ryan Daves in 2022-23, who served as an assistant under Bellmire.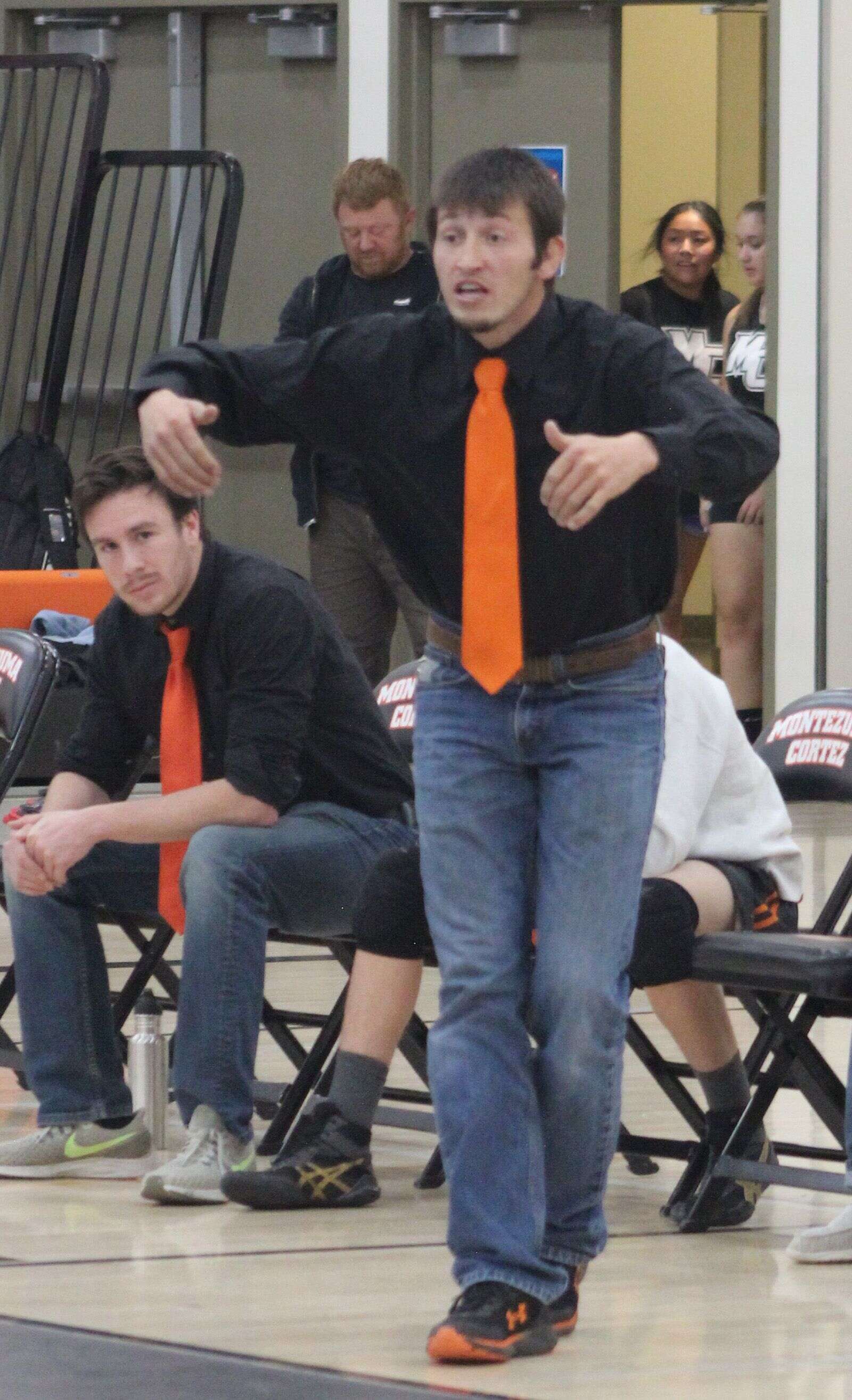 Daves will look to lone senior Ryan Pipkin to help guide a growing program, with sights on helping a youthful group gain experience heading into the rigorous big invitationals on the schedule.
"Ryan pushes everybody in the room," said Daves of his senior captain. "He's wanting to help get everyone else in shape, so he brings the energy to every practice."
Junior Airoughn VanGrandt joins Pipkin as one of the Panthers with plenty of experience in the M-CHS wrestling program – the duo opened the season wrestling at 144 and 150 pounds, respectively.
Junior Hunter Goodall returns to the fold as well, matching up in the 215-weight class, as the Panthers look to build strength from top to bottom across the roster.
"I've tried to carry over the attitude and demeanor of our kids," said Daves of his transition from Bellmire's tenure. "We're wanting our kids to be tough, no matter how many guys we have out."
"We've been doing OK with our neutral wrestling so far," said Daves, "but we know we're going to really focus on our top game."
The gray-clad Panthers did control most of their matches in front of their home fans, led by a pair of victories for Pipkin. The senior controlled his first match against Ignacio's Lincoln Dekay, earning an 11-5 decision, before toppling Dove Creek senior Quaden Huffaker with a pin at 1:40.
"We didn't get to have a home meet last year," said Pipkin, "so getting to wrestle in front of our home crowd was great."
The Panthers' Rusty Snyder also picked up the double, winning matches at 120 and 126 against Ignacio's Dillon Brann and Dove Creek's Chad Kline, both via pin. VanGrandt added a 19-5 major decision win over Ignacio's Asher Gallegos to his resume, as the Panther junior controlled the match throughout the six minutes.
"It's been exciting to watch the guys who just started last year get better each week," added Pipkin, who's taken ownership of his role as a "father figure" for the underclassmen.
As for his new coach, Pipkin lauded Daves' leadership, "He's really pushing everybody, and makes it so that we're all going hard all the time."
At the upper weight divisions, Goodall picked up a pin of Dove Creek sophomore Frankey Montoya in his lone action of the night, while Jasper Gilliland defeated DC's Myles Ives with a second period pin in the 190-weight class.
"I'm confident that it's going to be a really great year," said Pipkin, "but I know that each match is its own, so I'm not going to stress myself out."
M-CHS gears up for a trip to Delta on Saturday, Dec. 10, before taking on a deep field at the Grand Junction Central Warrior Classic on Dec. 16-17 to cap off the 2022 portion of the schedule.
Bolstered Bulldogs reemerge as 2A power
Riding the wave of excitement from a football state title, the Dove Creek wrestling program enjoyed a resurgence of wrestling, as the roster grew to one of its largest in years.
Under the guidance of Colten Huskey, the Bulldogs look to join the mix among the small-school powers, as they jump back into action after their post-state title recuperation.
"The kids have been motivated, especially after what they did during the football season," said Huskey, "and the seniors have really been pushing this group."
Not only are the Bulldogs deeper than they've been in recent seasons, but a football season that continued into late November helped make the transition to another physically intense sport a little bit easier.
Senior Dustin Glover headlined the Bulldog efforts on the evening, topping Lincoln Dekay of Ignacio in his first match, before defeating M-CHS' VanGrandt.
"We've been able to get a number of guys out this year," said Glover. "It's been a bit of both [recruiting and football success] that's helped make this something that everyone wants to be a part of."
As for his efficient victories on the mat, Glover credited his ability to keep a pair of aggressive wrestlers from attacking. "My defense was really good," said the D.C. senior, "I was able to block and get around to get some points, and that allowed me control the match from on top."
Classmate Gaige Cressler also went 2-0, earning pins against Ignacio's John Nossaman and M-CHS' Kaden Nielson.
"I didn't want to wait for them to take shots at me," said Cressler of his two wins, "I wanted to make sure I was on offense."
It's been an adjustment for Cressler, who credits his coaches for a different approach to his matches.
"When I wrestled in past years, I waited a lot more for them to try to go after me," added Cressler, "but I feel more confident to be the aggressive one and go for those shots for a takedown."
Tyson Beanland, Chad Kline, Quaden Huffaker and Wade Conner all added match victories in the Bulldogs' decisive team victory over the Bobcats.
Still short a few student-athletes in their early matches, Dove Creek hopes to have a full complement available for their upcoming tournaments, including filling out a few more weight divisions in the process.
After the Bulldogs take on a sizable field at their host invitational this weekend, they will travel to Walsenburg for the Pete and Ina Gomez Tournament, one of the best showcases for small school wrestling in the state.
"We're taking it one match at a time," said Huskey, in terms of his team's goals, "and if we keep improving, we're going to have a good year."