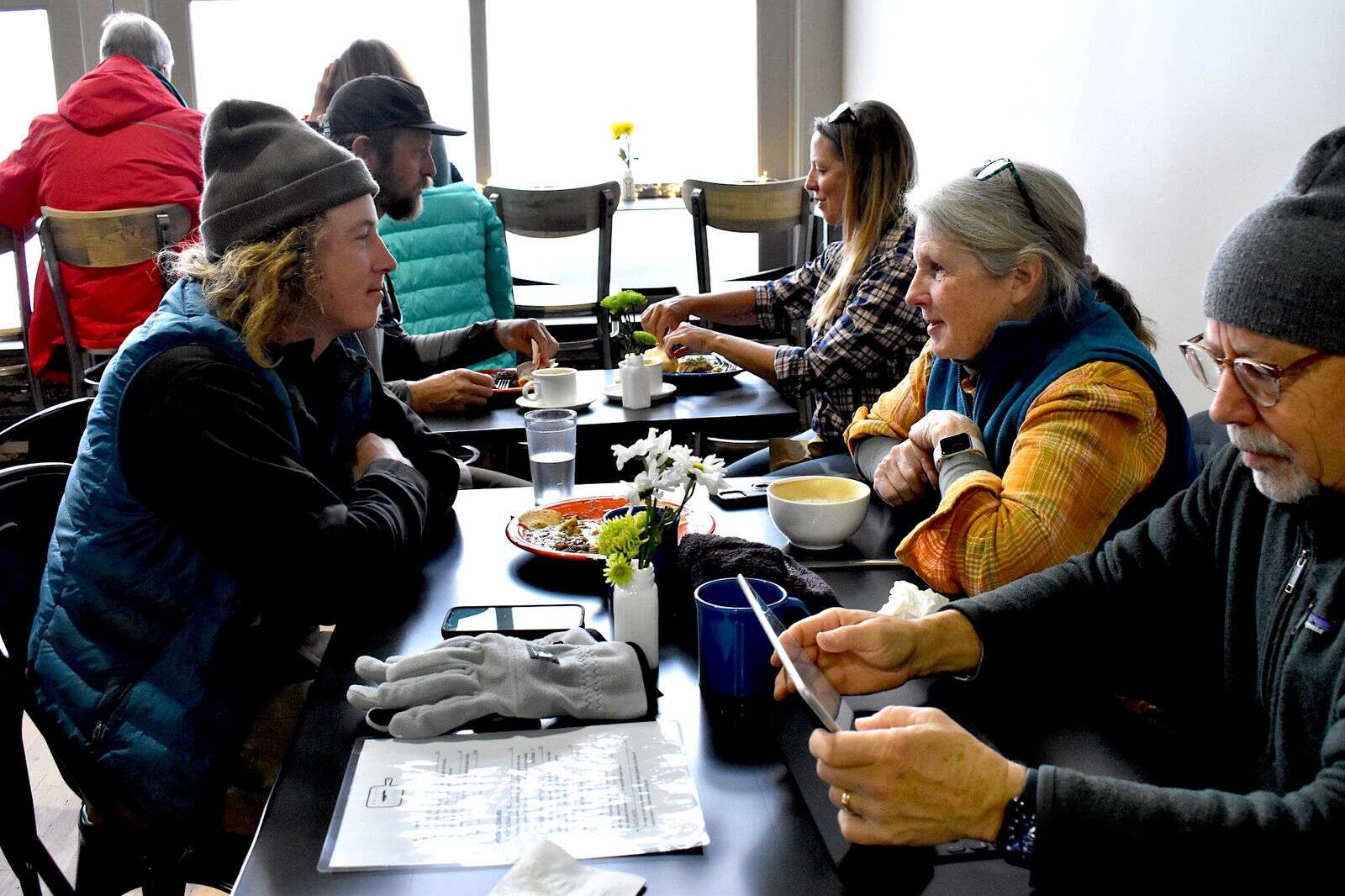 Kelly's Kitchen opens in Dolores after delighting locals with popular food truck
It's always come back to food for Kelly Gregory.
A love of cooking is what led the Dolores resident to cart her memorable food truck around Montezuma County for the past year and a half, bringing unique and delectable tacos to locals rain or shine.
And this love has led Gregory to partially settle down her wheeled ways and open a brick-and-mortar restaurant along Central Avenue in Dolores.
"I built it for the people who live here," Gregory said. "And love this place. So that's who it's for." The restaurant-coffee shop officially opened Dec. 15.
Gregory's first foray into the culinary world was as a 16-year-old working at a Mexican restaurant in Denver.
"It seemed like there were people who loved it, and then there were people who felt like they were prisoners to it, and they just hated it and wanted to get out," she said. "So I kind of had this feeling like I wasn't supposed to like it. But I've always gravitated toward it."
Throughout college at Colorado State University, she continued gravitating toward food service, working in the dorms as a dishwasher, cook and server. After graduation, Gregory served as a caterer for the Hewlett-Packard plant in Fort Collins and then at a hotel in Denver before she moved to Montezuma County in 1998.
Since her arrival in Southwest Colorado, Gregory has worked in a variety of industries, including at Tuffy Security Products (founded by her brother Shawn Gregory), in cardiac rehabilitation at the hospital, and as a middle school science and health teacher.
Throughout all these positions, though, food has always been central: Nutrition was a critical component of her cardiac rehab work – as was her background in exercise science – and on her route to becoming a teacher, she earned her master's degree in environmental education.
She'd had her eye on getting into the food truck business ever since 2016, and when the COVID-19 pandemic struck in 2020, she decided to sell some of her goods at the local farmers markets, items like cupcakes and salsa that she knew she could sell under the Cottage Foods Act. After the Dolores River Brewery reopened, Gregory was invited to serve appetizers there on Thursday nights, which soon morphed into taco nights, and soon she was on the hunt for a food truck that would allow her to expand her reach.
Once the truck was acquired, Gregory "learned a whole lot about electricity," she said.
"It's a very hard thing to pull off," she said. "It's mobile, and you don't have a lot of space, and you don't have a lot of storage, and so there's a lot of logistical challenges."
The Dolores Community Center became the meal preparation zone, and food was stored at various people's homes overnight.
While she and her team grew accustomed to a swift setup – "we got to be kind of like a NASCAR pit crew," Gregory said – she finally realized that they needed a permanent home base and food storage space, for the winter season in particular.
"It's a lot to ask an employee to lug all of that stuff around day after day after day, which we did," she said. "For a year and a half." It had been a dream of hers to open up a coffee shop in Dolores ever since she moved to the area, and this seemed to be the right opportunity.
She began to scope around town for available spaces, and when she found the spot in the historic Exon Mercantile building early last year, it was perfect.
"This place, the location was what I wanted," she said. "And the space was what I wanted, I liked the whole corridor, coffee shop feel. And it was a blank canvas.
Their new location is across from the Dolores River Brewery and adjacent to the newly opened Kokopelli Bike and Board. Kelly's Kitchen marks the latest stage in the building's storied history, which intertwines closely with that of the town itself.
The building was likely built between 1905 and 1907, said Scott Darling, who co-owns Kokopelli Bike and Board and the building itself, alongside his business partner Pete Eschallier. It originally housed the Exon and Rush Meat Market and Mercantile until the mid-1960s, and later was home to the Dolores Star newspaper and printing press and finally an antique store. Darling and Eschallier bought the site two years ago.
Scott Darling, co-owner of Kokopelli's and the building, was excited for the arrival of a permanent Kelly's Kitchen. He and his wife, Cerissa, helped remodel the space to fit the restaurant.
"It's great," Darling said. "Obviously she's super-busy just walking in there, and hopefully that will transition into some additional walk-in traffic for us, especially in the wintertime. A breakfast joint in Dolores is awesome."
The remodel took several months, but wrapped up in time for a December opening. The space is the image of a cozy coffee shop, with a narrow corridor for solitary work-from-homers and a more social gathering area up front. Much remains of the original building's woodwork and tin roof pieces, and the wavy texture of the storefront's glass panes casts a slightly refractive light into the shop. Little bits of old newspaper embedded in the wall partitioning off the kitchen recall the building's days as the Dolores Star.
Large, magnetic, metal sheets, courtesy of Gregory's brother, display a rotating menu selection above the cash register.
Freshness is a defining feature of her new restaurant's menu, which includes huevos rancheros, grilled cauliflower salad, and a wide selection of coffee products, among many other items.
"Because of my background in exercise science and nutrition, and knowing what I know about environmental sustainability, I don't like serving processed food," Gregory said. "I don't want to do it. I want the whole food, and I want to cut it, and I want to process it myself so that I know what's in it."
Someday she may bring her iconic tacos into the restaurant, but for now she wants to keep the menus of her two ventures separate.
"Sometimes that's the fail of food trucks when they get a brick-and-mortar, is they try to do this niche thing that you can get away with in a trailer," Gregory said. In restaurants, people expect a wider menu.
With her eclectic and diverse dishes, she tries to appeal to the "adventurous" culinary tastes of Montezuma County residents. The diversity of meals can make Tuesday food prep days somewhat challenging: she and her team have to prepare for unique menus while trying to streamline the process and searching for crossovers in ingredients. Currently her crew includes nine people, some part-time and others full-time.
"I couldn't do any of this without my team," Gregory said. "They're all amazing."
Kelly's Kitchen is open from 7 a.m. to 2 p.m. Wednesdays through Saturdays. Gregory will also continue to serve dinner at the Dolores River Brewery on Wednesday and Thursday nights from 4 to 8 p.m., operating as a pop-up restaurant in the winter and a food truck in the summer.
A selection of Kelly's Kitchen packaged products are available at other locations around the county, including FB Organics, the Dolores Food Market, Zuma Natural Foods, Fenceline Cider and Bell Beef's Country Store.
For more information and a full menu list, visit the Kelly's Kitchen website online.