Winter weather expected to clear out by Thursday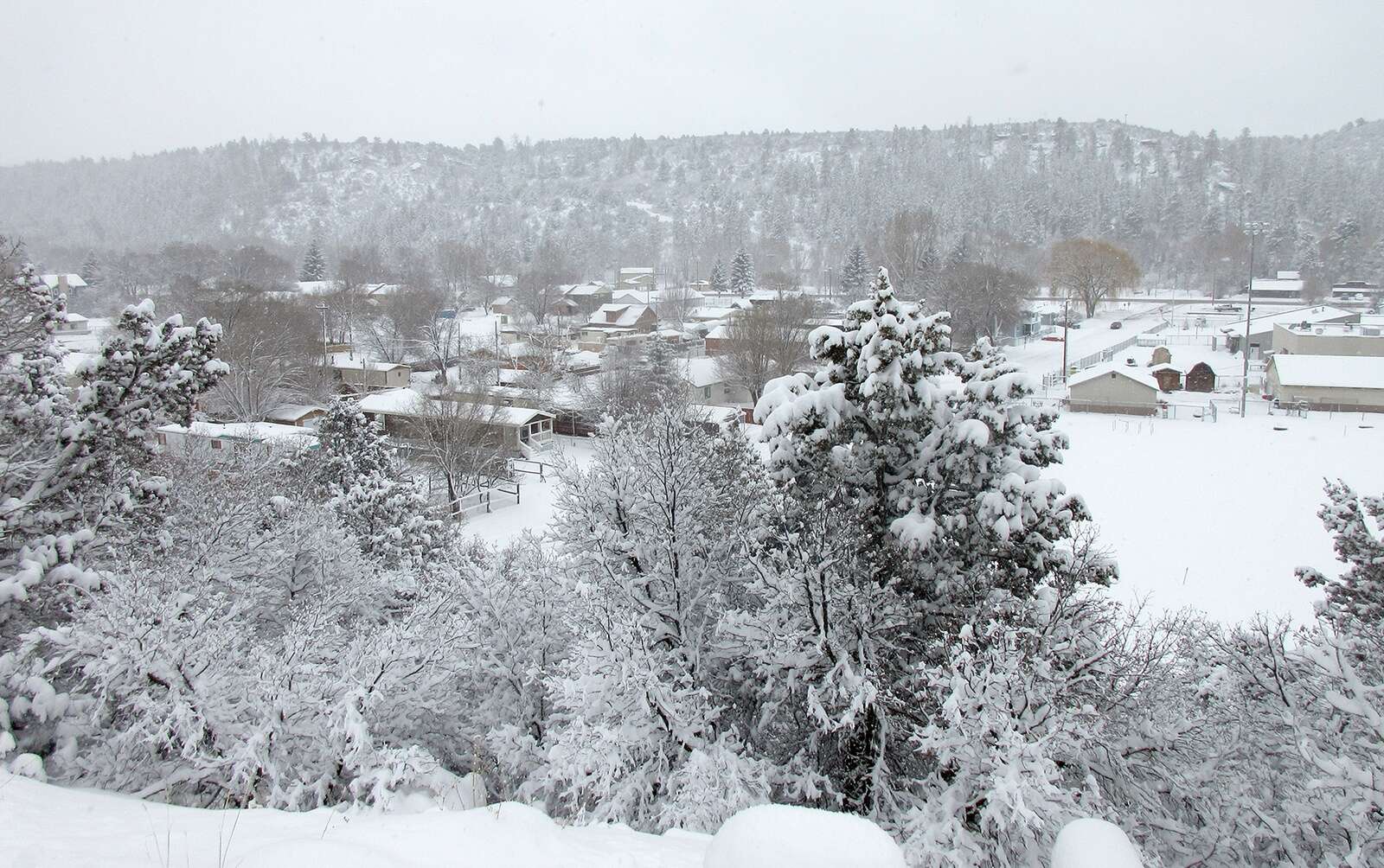 A second winter storm blanketed the lower elevations of Southwest Colorado with about 2 to 3 inches of snow Wednesday morning, with more expected this afternoon, according to the National Weather Service.
Forecaster Brianna Bealo said higher elevations received 5 to 7 inches.
The area can expect another 5 to 7 inches before the storm tapers off late Wednesday or early Thursday, she said.
Cortez received 1.6 inches of snow Tuesday, and a total of 6.2 inches so far this week, said Jim Andrus, a weather watcher in Cortez for the National Weather Service.
"It's one of the bigger storms we've had in recent years," he said. "It's pretty impressive."
For the month of February, Cortez has received 7.7 inches of snow – 96% of average for the month, Andrus said.
"It's not often that winter storm warnings are issued for Cortez itself," he said.
Cortez can expect another 3 to 5 inches before the end of the second storm, he said. The mountains are expected to receive another 11 inches, Andrus said.
Conditions will clear late Wednesday or early Thursday, with "sunshine for the rest of the week," he said.
"We need all the help we can get to fill those reservoirs up next spring," he said.
So far this winter season, Cortez has received 18.3 inches of snow, which is 98% of the normal 18.7 inches through the end of February.
Winter driving
Roads in Southwest Colorado were snowpacked near the New Mexico and Utah state lines.
U.S. Highway 550 was closed from milepost 53 to milepost 92, which includes Coal Bank, Molas and Red Mountain passes, after receiving 8 to 12 inches of snow, with no scheduled time for reopening.
U.S. Highway 491 was temporarily closed at milepost 60 in Dove Creek for an crash.
Commercial chain laws were in effect for Lizard Head Pass on Colorado Highway 145 between Rico and Telluride.
The right shoulder of U.S. Highway 160 southbound was closed at County Road H at milepost 52.5 for a crash, a mile west of Mancos.
Montezuma County Sheriff Steve Nowlin was not immediately available for comment.
Empire Electric Association didn't report any outages after one was reported late Monday night, said Mike Wofford, chief system operator at the utility.
Road conditions were icy and snowpacked in spots on U.S. 160, from the New Mexico boarder south of Cortez, east toward Durango, according to the Colorado Department of Transportation. CDOT also reported poor visibility, blowing snow and snowpacked roads along U.S. 550 from the New Mexico border north toward Silverton.
The Colorado Avalanche Information Center reported the risk of avalanches is "high," or Level 4 of five levels. On Tuesday, the risk level was at "considerable," or Level 3.
A 12:40 p.m. flight from Denver to Cortez was delayed Wednesday, but three other flights, one from Phoenix and two from Denver, were on time. Two flights from Cortez to Denver were delayed, while two others into Phoenix and Denver were on time.
Montezuma-Cortez and Mancos schools delayed the start of classes by two hours, but Dolores schools followed regular schedules.
As of Wednesday, combined totals for five SNOTELS that measure snowpack in the Dolores River Basin showed 96% of normal, up from 90% on Tuesday.
The SNOTEL stations for the Dolores Basin are located at El Diente Peak, Lizard Head Pass, Lone Cone, Scotch Creek and Sharkstooth.
Winter season snowpack statewide was 94% of normal as of Wednesday, according to the Natural Resources Conservation Service.
Ski area reports
Purgatory Resort was reporting a two-day total of 33 inches of snow as of Wednesday morning. Eight of 12 lifts were open and 97 of 105 trails were open. Purgatory reports a 60-inch snow base.
Telluride Ski Resort reported 21 inches of new snow in the past two days. Thirteen of 17 lifts were open and 121 of 148 runs were open.
Wolf Creek Ski Area reported 25 inches of new snow in the past two days. Snow depth was 110 inches at the summit and 99 inches at midway.
Silverton Mountain reported a 76-inch base, and it received 34 inches of new snow in the past two days.
Hesperus Ski Area did not have updated snow totals.