A look back at the shop's sweet evolution
If the words "Honey Blue Cornbread" mean anything to you, then you're probably familiar with ice cream and chocolate shop Moose and More – a Main Street staple for anyone with a sweet tooth.
That's the parlor's most popular frozen concoction, and it's garnered a dedicated following.
But after almost seven years, owners Rachel and Brent McWhirter are closing their Cortez space, planning instead to incorporate their treats into their Mancos restaurant, the Columbine Bar and Grill.
Thursday is the last day to pick up Moose and More creations in Cortez – including the treasured Honey Blue Cornbread ice cream, which sprang from a dare, Rachel said.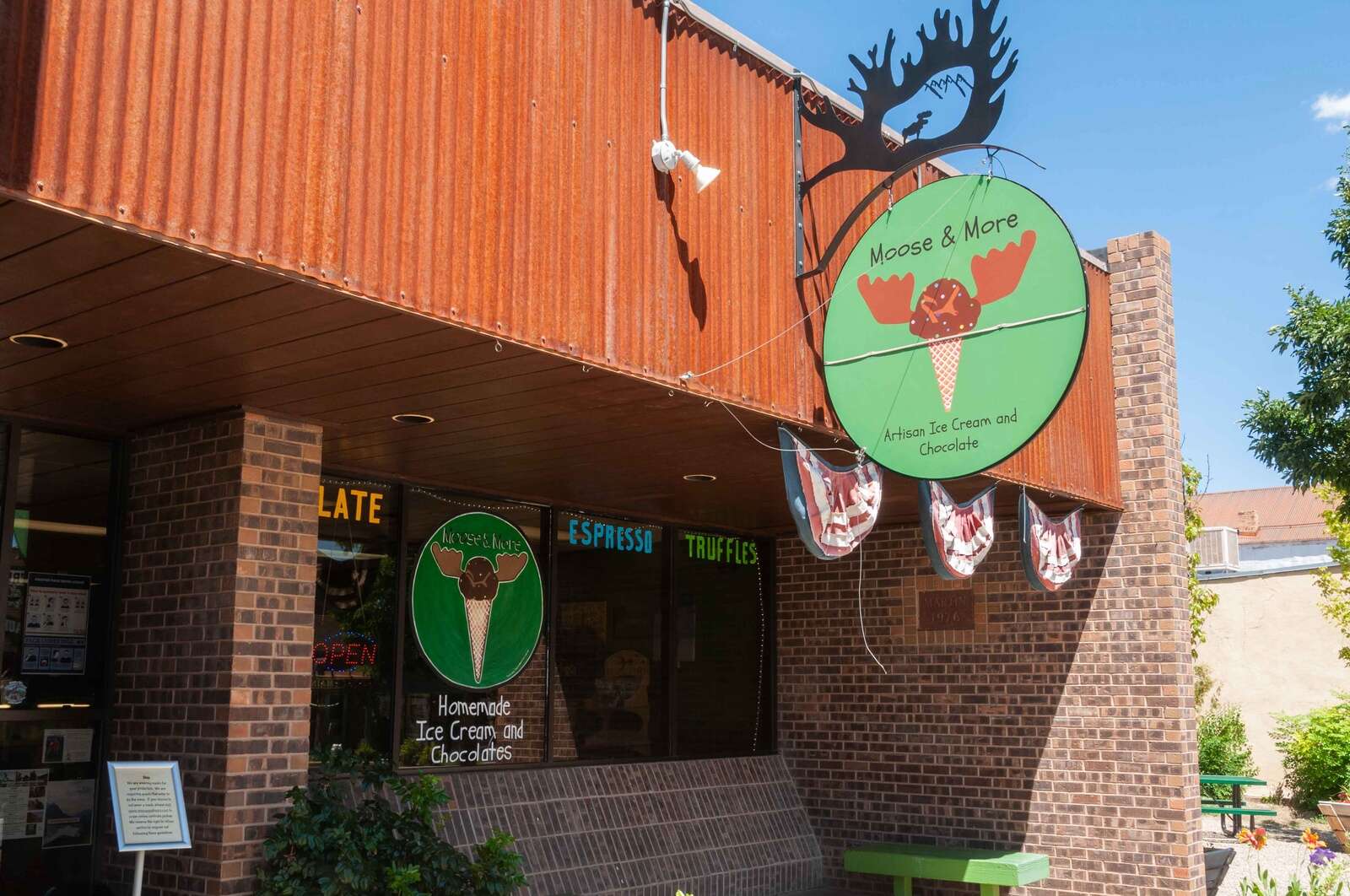 The late Yogi Whiteman, who supplied the shop with cornbread from the Bow and Arrow Brand, dared the McWhirters to make something with the blue cornbread.
"Give me a week," Brent had said.
And so he drew from his Southern roots. His grandmother's recipe for a cereal-like breakfast of cornbread doused with honey provided the inspiration for what would become a surprisingly successful combination with the people of Southwest Colorado.
Moose and More prioritizes the use of local and regional ingredients – for instance, the honey ice cream is mixed with honey from Bee Tree Farm.
The shop has circulated 200 flavors, but about a dozen will be mainstays at the Columbine. Rachel will spend more time baking, although she'll no longer stock chocolates.
The Columbine opened in April. While the couple work together, the Columbine became Brent's focus, and Rachel dedicated most of her time to Moose and More.
Twelve-hour days are common for the pair, and the merger will be more sustainable for them, they said, especially considering they have a 3-year-old daughter.
But, with the Columbine's full liquor license, Rachel's excited to infuse her ice cream with alcohol. She's already dreaming up potential blends like espresso shakes with Bailey's Irish Cream and modified mimosas.
For her, the shop's closure has stirred feelings of nostalgia — particularly about her mother, Margie, who died in 2017.
Overcome with emotion, Rachel said her favorite memories of Moose and More involved her mother, who played an instrumental role in the store and in cultivating Rachel's original love for baking.
Moose and More's beginning
Although Rachel's a fifth-generation Mancos resident, she met Brent in Jackson Hole, Wyoming. She was working a corporate job, and he was snapping photos for Jackson Hole News and Guide after moving from Detroit, Michigan.
Moose and More's origins really lie in coastal town Depoe Bay, Oregon, though.
There, Rachel worked crafting chocolates, but her mother had instilled baking basics in her at a young age, and she'd been designing desserts ever since.
The McWhirters aspired to open their own similar business, but there were already five ice cream shops in their small tourist town in Oregon.
It simply wasn't the place.
So, the couple planned their move back to Rachel's hometown, where her grandmother needed living assistance.
After two years of research and a loan from the Region 9 Economic Development District, the storefront at 12 E. Main St. opened its doors May 5, 2015.
Moose and More has considerably evolved, in terms of both operation and appearance, they said.
"What it looked like back then, and what we got it to turn into after 6½ years – we laugh at how inefficient it was to begin with," Brent said.
It was comforting to return to Southwest Colorado, Rachel said.
"It was awesome knowing that if we came back here that we had this huge support system," she said.
While bittersweet, they're excited about contributing to eclectic and artful downtown Mancos.
"The main thing for us is that we see that downtown's starting to thrive again here in Mancos," Brent said.
The impact of the couple's culinary creations was evident when, as Brent spoke to The Journal in the Columbine, two women stopped to say that the chocolate pie they'd just devoured was the best they'd ever tried.