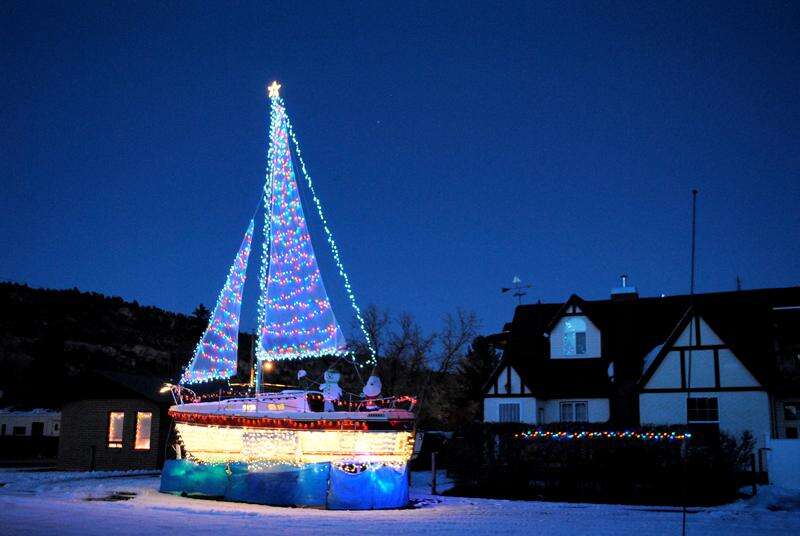 A winter sailboat in Southwest Colorado? Dolores is on board.
How did a sailboat become such an iconic and beloved cornerstone of Christmas in a town nearly 7,000 feet above sea level?
Every year in Dolores, a sailboat glimmers with an array of colorful lights, floating above glowing blue bulbs reminiscent of the sea swirling below.
The boat shines proudly at Eighth Street and Railroad Avenue in Dolores.
"You see it along the coast a lot," owner and Dolores resident Steve Hill said.
Although far from the seaside, the elevation of Montezuma County seemed like fitting enough scenery for Hill to use his boat to spread Christmas cheer in an unconventional way – that is, unconventional for Southwest Colorado.
"Why not do it here?" he thought.
Hill bought the boat in 1988, and sailed around with his wife, before the vessel made its debut as a Christmas decoration in 1990.
He purchased it from attorneys in Albuquerque.
Under their ownership, the boat had been named Chief Joseph.
Hill changed it to Sanity.
Why?
"Because I felt more sane after I went sailing for a day," he said.
Coincidentally, there's another Montezuma County boat by the same name, he said.
There were a few intermittent years where Hill and his wife abandoned ship. They enjoy traveling in January and at times skipped lighting up the boat for a holiday display.
In those years, Hill found himself in deep water. It was evident the boat made waves in the Dolores community.
"If I don't do it, I hear about it the rest of the year," Hill joked.
He scored the boat for a fairly inexpensive price, he said, although it's in need of repairs now.
"We seem to have the energy to decorate it but not sail it," he said.
Although it's "very possible" Sanity will one day take to the waters again, Hill said he also has his eye on another boat – a tri-hull the same size as his sailboat.
Every year, the decorations slightly fluctuate.
"I can never do the same thing twice," he said.
It's usually all hands on deck, with neighbors and friends offering their help in stringing the boat with lights beginning the week after Thanksgiving.
The embellished vessel is usually set for its metaphorical sail the following weekend.
"It's such a pleasure for people," Hill said.