Veach's 28 points lead streaking Mancos
The San Juan Basin League is up for grabs this year. The Bluejays boys basketball team – last year's regular season champs – are out to make sure no one wrests it from their hands.
Winners of five in a row, Mancos took their early steps in a SJBL title defense with a blistering shooting night in a 68-51 victory over the Telluride Miners.
MHS picked up their 10th straight win over Telluride (6-5, 3-1 2A/1A SJBL) in the process, but were made to work hard on their home floor to pick up their second league win in as many tries this year.
The Miners entered the contest with a 3-0 mark in league play, joining Mancos and Dove Creek as the remaining unbeatens in the early stretch of the SJBL schedule.
Mancos (7-4, 2-0 2A/1A SJBL) lit up the scoreboard in an emphatic first quarter, pouring in 23 points to build a 17-point advantage over the Miners. A corner three-pointer by junior Brian Veach put an exclamation point on the outburst, while freshman Darren Daves poured in all five of his points in the rally.
After Telluride junior Jay Ellison drained back-to-back threes to cut the deficit to 11-6, Mancos scored the final dozen in the quarter – and it looked as if the hosts would run away with the game.
That, however, wouldn't be quite as simple. Telluride junior Townes Merritt scored 14 points in a shooting exhibition in the second quarter to close the gap to nine at 34-25.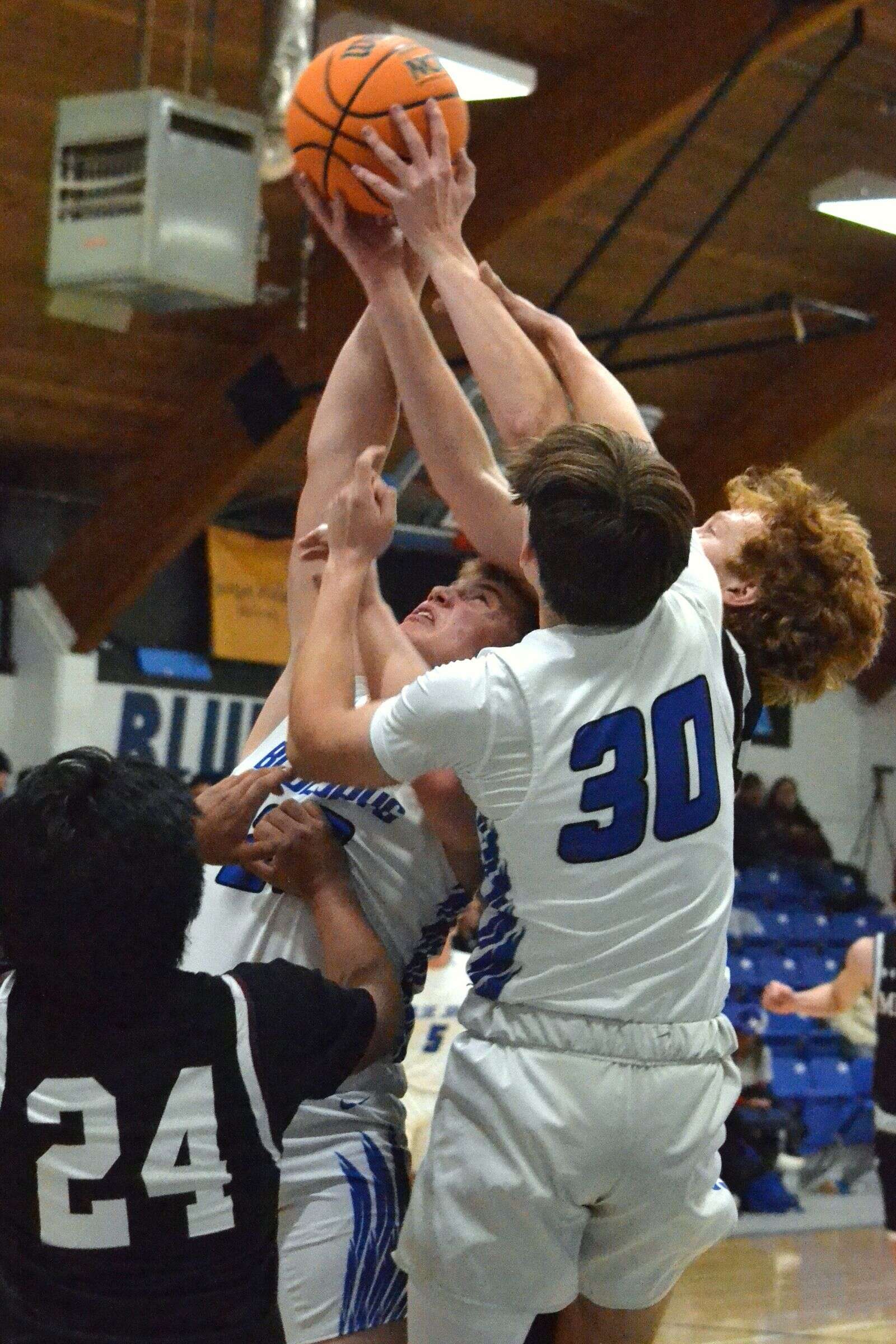 Again, the Bluejays responded, with sophomore Kaiden Wyatt establishing his presence in the paint, adding a couple of big buckets as Mancos scored the final eight points of the half to restore the 17-point lead. Veach knocked in four of his six three-pointers in the first half, scoring 16 in the half.
"When the perimeter shots are dropping, we're a tough team to beat," said Mancos first-year head coach Dusty Veach. The Jays made eight three-pointers as a team, with Veach's clinic leading the way.
The career day for Veach continued into the third quarter, adding eight more points, while the Jays kept another Telluride surge at bay. Miner junior Cash Livermore kept the visitors within reach with a pair of third quarter threes, but every rally met a stern Mancos response.
Leading 57-40 going into the fourth, junior Andrew Jaime knocked in a pair of dagger jumpers, bringing his personal total to double figures while helping the Bluejays see out the final eight minutes and pick up a quality home win heading into a pivotal week against local rivals.
Veach finished the night with 28 points, while Wyatt (12) and Jaime (11) broke into double figures for Mancos. Junior Chris Medina scored seven points, while freshman Cory Carver chipped in with five in the Jays victory.
"The guys really bought into the team – we've dealt with a lot of injuries from early in the season," added Veach, "and now we're starting to play to our potential."
After falling behind by 17 after one quarter, Telluride played even with Mancos in each of the subsequent three quarters – a testament that Veach gave the Miners' intensity on the court.
"They're a tough team – they're physical," said Veach, "and it took our kids playing as a team to come out with a win."
Merritt paced Telluride with 18 points, as the two teams will meet again in San Miguel County on Saturday, Feb. 4.
"We've got a unified team," added Veach, "and right now we've got one goal in mind – and that's to win a league title."
In the meantime, Mancos turns their focus to Colorado Highway 184 rivals Dolores on Tuesday, Jan. 24 for a clash with the Bears. Then, three days later, the Bluejays and Dove Creek Bulldogs will meet for their lone league clash of the season. Both of the local rivalry games will be available on local radio station 98.7 FM KRTZ as the league title chase takes shape.