5-year-old girl helps lead team to victory by eating four franks
FARMINGTON – After being canceled for two years because of COVID-19, the Special Olympics State Games Four Corners Invitational returned last week to Farmington.
The games included everything from golf to softball and other outdoor sports, said Deborah Lisenbee with Special Olympics Area 1. She added that normally the games would include swimming as well, however, Special Olympics Area 1 in New Mexico decided to stick to outdoor sports. Still, she said being back was a joy.
"There was great joy and celebration in being together again and playing sports," Lisenbee said. "The people of San Juan County expressed their support in a big way."
More than 500 athletes turned out for the weekend games, which was kicked off by the first ever hot dog eating contest put on by the Farmington Police Department.
The contest had different categories including law enforcement, first responders and community teams. There was a $50 entry fee and contestants could raise money to count toward hot dog credits. So if someone raised $100, they automatically got one hot dog credit to add to their total number of hot dogs consumed.
The first round consisted of law enforcement who chowed down on the slippery meat and carby buns with water chasers to keep progressing in their eating endeavors. One officer, Sgt. Mark Gaines, politely ate his hot dog with fork and knife, complete with a napkin around his neck. He did not finish eating his dog within the five minutes.
Gaines also brought ketchup and mustard that he politely shared with the fire department in the next round of the contest. The organizer of the event, Sgt. Travis Spruell, won the contest with a total of 12 hot dogs scored, however half of those were in the form of hot dog credits because he raised $600 for the event.
In total, the Farmington Police Department with the Law Enforcement Torch Run raised $2,785 for the hot dog contest.
"I've been a police officer for 14 years now, and ... Special Olympics is the most fun and rewarding thing that I do," Spruell said. "The athletes are fun to be around. I think we learn more from them than they learn from us, and it's just a good time."
The second round saved the best for last and had both civilians and the fire department teams ready to go. The civilian team was made up of Brooke Tomlinson, who works in the human resource department of the Farmington Fire Department, and Kaycen Carey, a 5-year-old who knows how to put away those hot dogs better than her father who was on the fire department team.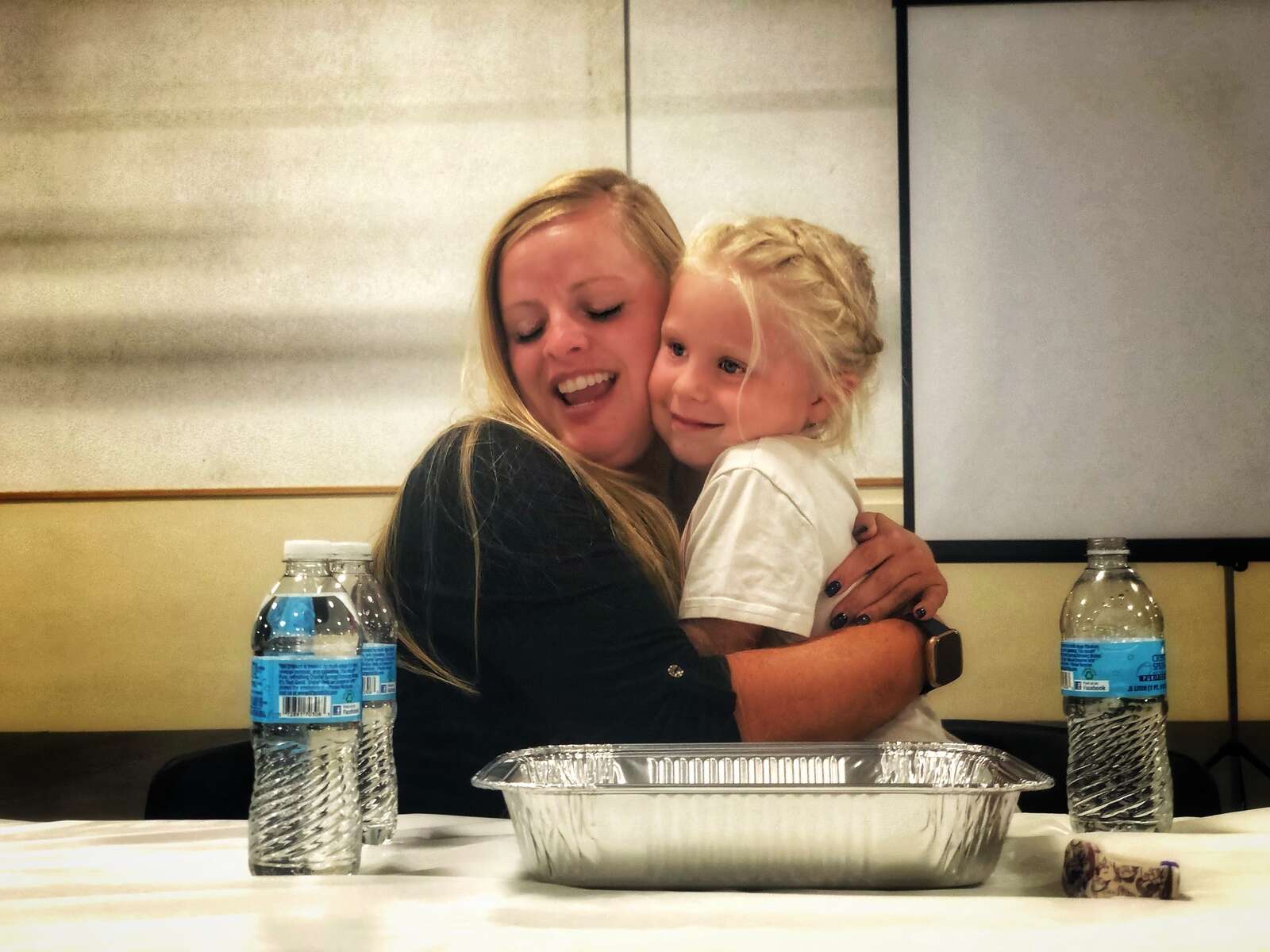 "I had a pretty stellar teammate, 5-year-old Kaycen, she was awesome," Tomlinson said. "She was the MVP of our team, of course. We did awesome as a civilian team and we won. So I have to thank my teammate for that."
The strategy of the team was for Kaycen to eat the hot dogs while Tomlinson ate the buns. Periodically, Tomlinson would look over and check in with the 5-year-old to see how she was doing. Each time, Kaycen responded with a thumbs up. She was no-nonsense and followed the rule of "don't play with your food" by scarfing down the hot dogs almost whole. The team tackled four hot dogs in five minutes.
After the competition, Kaycen said she was there to eat hot dogs because she liked hot dogs, and the whole time she was eating, she was thinking about hot dogs. Kaycen was also proud of herself for beating her father in the contest. He ate only two.
Tomlinson said she enjoys participating in events like these to benefit the Special Olympics. She also works with a local group called Project Search, which helps people with disabilities be introduced to the workforce and teaches them to live independently.
"I was honored and privileged and nervous to be asked to participate in the contest, so really just on the civilian side, I just wanted to be able to help raise funds and awareness to such an amazing cause," Tomlinson said.
Spruell said he hopes more people will get involved with Special Olympics in the future as volunteers.
"I can promise you, you've never met anybody who can make you feel so good about yourself as (the athletes) do," Spruell said. "They are just so fun to be around."
mmitchell@durangoherald.com