Republican Scott Tipton fought for regional water rights, small businesses and less bureaucracy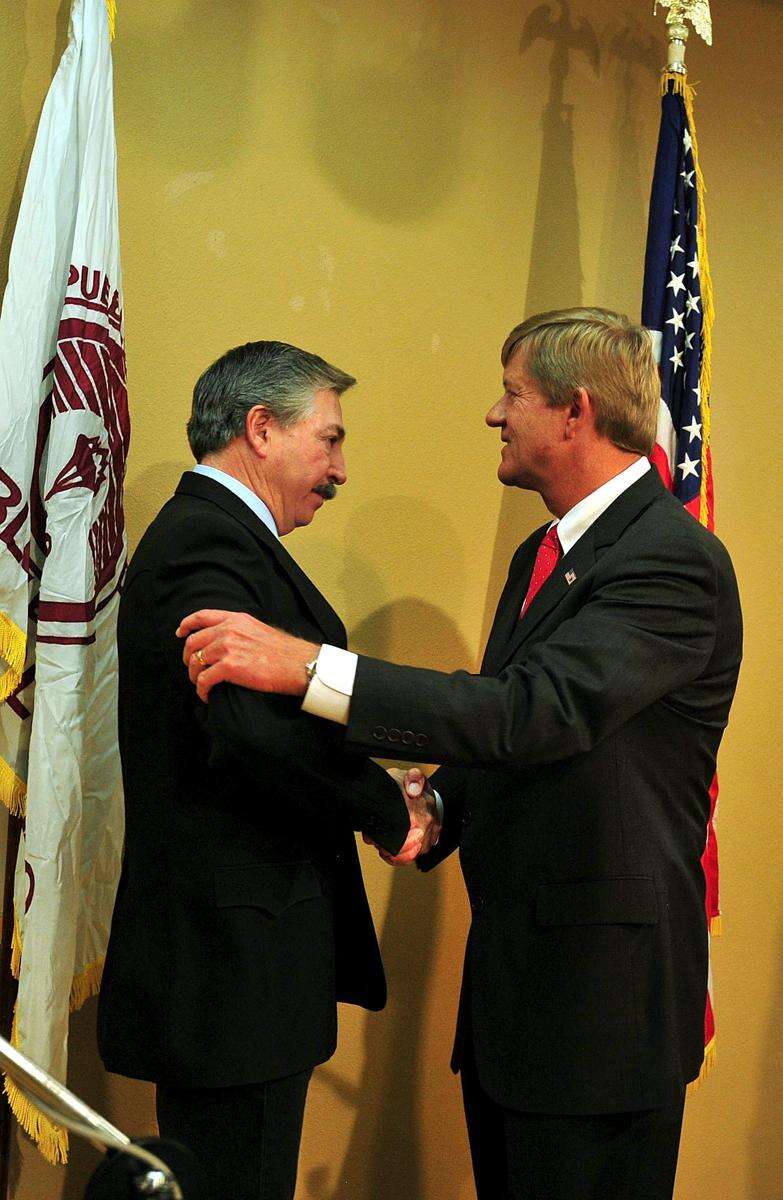 In 2010, Republican U.S. Rep. Scott Tipton embarked from the small city of Cortez on a five-term mission to pass legislation and inform Washington lawmakers about priorities and values of rural Colorado.
It is a tall task.
The far-reaching 3rd Congressional District stretches from the historically Democratic and industrial Pueblo County in the east, through ever-growing La Plata County and rural Montezuma County in the southwest and beyond the Western Slope hub of Mesa County in the northwest.
And in Western Colorado, Tipton met his match in Republican newcomer Lauren Boebert of Rifle. Although Tipton's campaign had raised more than $1 million to Boebert's $133,000, the congressman declined to debate her face-to-face in regional town hall meetings, and Boebert, who campaigned for his seat with a revolver strapped to her thigh, led a firebrand race that ended in Tipton's surprise defeat in the GOP primary June 30.
Boebert will face Democrat Diane Mitsch Bush of Steamboat Springs in the November general election.
Tipton was not available for an interview for this article. His staff canceled a scheduled telephone interview with Tipton and The Journal in Cortez, and his staff declined an interview with a Journal reporter in Washington, D.C.
Advocate for agriculture
While serving 10 years in Congress, Tipton catered to his conservative base and advocated for Western values of agriculture, water rights, energy and small businesses.
He got the job done without the "bombastic attitude" that is spreading across the political landscape and the country, said his friend and fellow Republican congressman, David McKinley of West Virginia.
"Scott is the opposite of that, he is a very effective legislator and did it in a hardworking, gentlemanly way," he said.
Tipton did his homework on issues, worked well with committee chairmen and understood that bipartisanship was key to passing legislation, McKinley said.
His background in private business connected him to the average citizen, supporters said, and he saw how federal laws and bureaucracy could hurt small businesses.
"My record is one that reflects the priorities of our diverse communities and addresses the issues we are facing as a district, state and country," Tipton recently stated in a column for the Craig Press. "It has been an honor to serve as a voice for rural Colorado."
Environment legislation not priority
Tipton was choosy about supporting expanded land conservation. He pushed into law the Hermosa Creek Watershed Protection Act but would not support larger wilderness bills.
He agreed with Montezuma County commissioners that some designated BLM wilderness study areas in the area should expire and felt that dissolving the WSA status should be included in wilderness bills.
The environment never ranked very high in Tipton's priorities, said Mark Pearson, executive director of San Juan Citizen's Alliance, an environmental group in Durango.
"Most disappointing to us was his complete lack of interest to support legislation to add San Juan Mountains protections during his entire 10-year term in Congress," Pearson said.
Legislation introduced in 2009, would keep places like Hope Lake and Ice Lake off-limits to future development and add the rest of the Sneffels Range to the wilderness.
"Tipton steadfastly refused to ever endorse it," Pearson said. "This is despite support from hundreds of local constituents, dozens of business owners and practically all of the local elected officials in surrounding counties and nearby towns."
However, Tipton was credited for supporting the Hermosa Watershed Protection Act of 2014 and helped it cross the finish line in the House of Representatives.
The legislation keeps the Hermosa Creek area off-limits to development that might degrade recreation, wildlife and fishing. The bill included a fix to the issue of grooming snowmobile trails on Molas Pass in an area previously off-limits.
"Tipton's endorsement for Hermosa was a confounding reason we were always perplexed by his rigid opposition to similarly supporting the San Juan Mountains Wilderness Act since it also had the same widespread breadth of constituent support," Pearson said.
In 2017, when Canyons of the Ancients National Monument made the list for review and possible changes by then Secretary of Interior Ryan Zinke, Tipton fought to keep it in place and it was left alone.
"The designation of Canyons is an example of what the Antiquities Act was intended to do – protect cultural treasures while incorporating the historic use of the land in to the management of the monument so that communities support and promote the designation," Tipton stated in a letter to Zinke.
On environmental regulations, Tipton seemed to follow the Republican party line that "rules to protect the environment were bad for business," Pearson said.
For example, in 2017 after President Trump took office. Tipton voted against rules to limit methane pollution from oil and gas wells on federal lands, he said.
Hovering above the Four Corners is the largest methane hot spot in the U.S., and much of the pollution is attributed to emissions from the natural gas industry, according to an August 2016 report from NASA.
Hometown support
When Tipton returned home to Cortez, his polite manner and political intellect were greeted warmly at meetings, forums and at the annual Southwest Colorado Cattlemen's Association banquet, held at the Cortez Elks Lodge.
His famously detailed speeches on complex legislation and issues delivered without notes – were insightful and informative, and kept Western Slope towns in the loop.
"Tipton has been the voice of the rural communities so often not heard by the ears of Washington or the Denver metro area," said Mathew Attwood, Tipton's communications director. "The issues he fights for are not necessarily the chyrons on the national cable networks, but they are the issues that impact everyday constituents."
A water rights warrior
Tipton fought to protect local water rights and McPhee Reservoir, said Mike Preston, former general manager of the Dolores Water Conservancy District.
Tipton introduced the Water Rights Protection Act to prevent the U.S. Forest Service from taking control of private, state-decreed water rights from ski areas and stock ponds on forest land, Preston said.
"These legislative efforts led federal land managers to restrain efforts to take these rights in the re-permitting process," Preston said.
Water officials point out that Tipton joined others to fight the proposed "Waters of the U.S." legislation, which sought to impose Federal Clean Water Act regulations on canals and ditches under management of local water entities
"Scott was good at educating his legislative peers from the East about why such actions would be detrimental and counterproductive in the arid West," Preston said.
When McPhee Reservoir was at risk of being invaded by non-native mussels that damage water infrastructure and crowd out fish, Tipton joined in legislative efforts for inspection programs to protect reservoirs from the damage done to Lake Powell from invasive mussels.
He supported Farm Bill provisions that aimed at improving forest health, and legislation to end "fire borrowing" so that the Forest Service and BLM could invest in improved forest health without holding funds in reserve in anticipation of expensive wildfires later on.
Legislation legacy
During his 10 years in Congress, Tipton had 10 of his bills signed into law.
The highlight reel includes the Hermosa Creek Watershed Protection Act, Bureau of Reclamation Small Conduit Hydropower Act, Small Bank Exam Cycle Reform Act, West Fork Fire Station Act, Veterans Improved Access and Care Act, and Making Online Banking Initiation Legal and Easy Act.
He also got passed the naming of Fowler and Boskoff Peaks in Southwest Colorado in honor of two mountain climbers who died.
Two other bills renamed the Grand Junction Post Office after fallen Deputy Sheriff Derek Geer, and a Montrose Post Office after fallen Sgt. David Kinterknecht.
Attwood said Tipton sponsored and cosponsored dozens of bills to improve health care at the Veterans Administration and access to care for rural veterans.
He passed a bill that allows rural veterans to seek care within their own communities by eliminating a requirement that forced veterans seek care within a 40-mile drive.
He hosted several town halls over the years in Montezuma County to listen to veterans' concerns, said county veterans affairs director Rick Torres.
The congressman helped to reduce wait times at VA facilities, assisted veterans with claims, and conducted drop-in inspections to VA hospitals.
Tipton co-founded the Congressional Small Business Caucus, which works to ensure smaller lending servicers aren't unnecessarily bogged down by federal regulations.
In 2017, out of 435 representatives, Tipton was ranked the eighth-most effective lawmaker by the nonpartisan Center for Effective Lawmaking.
"He was constantly working to get something done, not like some in Congress who make loud statements from the back row to get headlines, but never pass anything," McKinley said. "Tipton's modest gentlemanly approach reminded me of Reagan and Bush, both widely seen as nonconfrontational but were highly effective."