Avalanche debris in 2019, COVID-19 in 2020 wipe out famed ultra-marathon
The Hardrock Hundred Endurance Run can't catch a break.
After unveiling a loaded field of U.S. and international runners selected through the lottery in December 2018, the Hardrock 100 ultra-marathon that starts and finishes in Silverton was canceled in 2019 after a winter of heavy snow left avalanche debris and dangerous high water along its 100.5-mile loop through the heart of the southern San Juan Mountains.
A year later with the same field of registered runners as 2019 set to compete, the Hardrock 100 board of directors once again had to cancel one of the world's most iconic mountain ultra-marathons. This time, it is because of the global COVID-19 pandemic with public health orders in place prohibiting large gatherings such as the Hardrock, which has a field of 145 runners. Though it is a small field of athletes, hundreds more are involved in the form of pacers, crew members, media and run volunteers.
The Hardrock 100 continued to delay its decision until Saturday while similar events in the U.S., such as the Western States Endurance Run in California, canceled much earlier. Western States 100 made its decision March 27.
"This is a tough decision," said Hardrock 100 director and co-founder Dale Garland in a phone interview with The Durango Herald. "I hated making it. It is not one where just sat down one day and decided to pull the plug. We realize we have an impact on the sport and the economics of the area, and it's something done with a lot of consideration. I'm really sad, and I have heartache about it."
The latest Hardrock 100 cancellation is another blow to Silverton, which suffered economically from the affects of less tourism because of the 416 Fire near Durango in 2018. Already in 2020, Silverton has seen the Iron Horse Bicycle Classic, which brings more than 3,000 people to Silverton on Memorial Day weekend, canceled because of COVID-19. Many businesses in Silverton remain closed with only essential visitors allowed into the small mountain town of fewer than 700 residents. In 2019, DeAnna Gallegos, the director of the Silverton Area Chamber of Commerce, said the Hardrock 100 helped deliver $1 million to the local economy.
Past experience pays off
The cancellation is the fourth in Hardrock 100 history dating back to 1992. The previous cancellations were all because of natural causes. Along with the dense avalanche debris scattered across the course in 2019, the event was called off in 1995 because of too much snow and in 2002 because of extreme fire danger in the San Juan National Forest.
It was because of that first cancellation in 1995 that Hardrock is able to financially survive a cancellation, even with two in a row. After 1995, the board of directors established a reserve bank account to set aside funds in the case of another lost year.
"We just needed to make a decision by June 1, if we could," Garland said. "Part of that is to honor people's flight plans, vacation rentals and all those things. Also, we felt if we made a decision by June 1 we could still buy everything we needed. We hadn't spent a whole lot of money with equipment, merchandise, awards or anything like that. So, we're in pretty good shape and didn't have to hit the reserve account very hard."
A loaded field awaits fate
The run, which traverses across the rugged San Juan Mountains with 66,050 feet of elevation change at an average elevation of more than 11,000 feet, including the 14,048-foot summit of Handies Peak outside Lake City and seven mountain passes at higher than 13,000 feet, has become a legend among the world's best ultra runners. Athletes must complete previous qualifying 100-mile races to even enter the lottery, which had a record 2,487 applicants for the 2019 race.
While U.S. stars such as Courtney Dauwalter, Dylan Bowman, Jeff Browning, Jason Schlarb, Sabrina Stanley, Darcy Piceu and Darla Askew were among those expected to run in 2019 and then in 2020, French stars Francois D'Haene and Xavier Thévenard were also highly-anticipated competitors who had gained a lottery spot.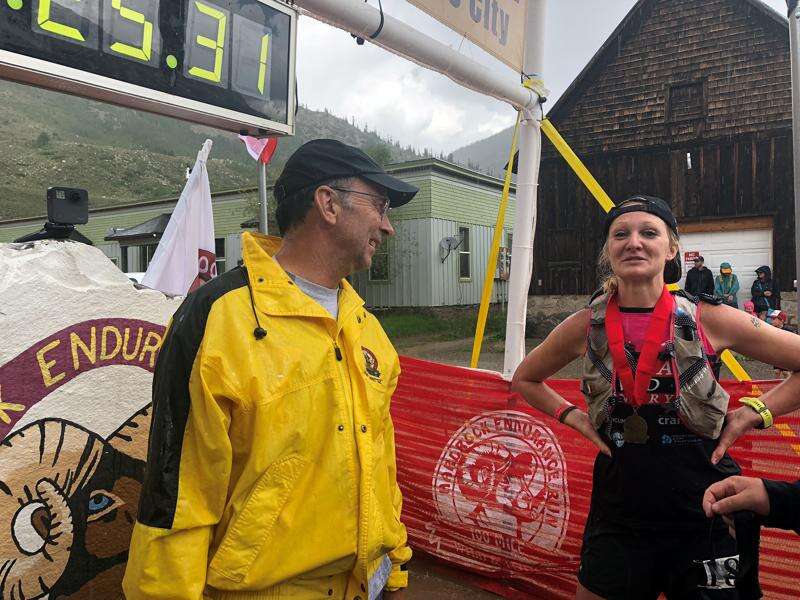 It was expected to be the most talented field in the history of the event, and it has now been put on hold twice.
No announcement was immediately made regarding registration for the 2021 race and if it would once again carry over from the 2019 lottery or if there would be a new lottery.
"It's up in the air," Garland said. "That is a board decision, and it's split. That's why it hasn't been decided yet. It's been two years, so do we keep rolling people over or give 145 new people a shot at it? They've been waiting two years for a new lottery, as well. It's a philosophical difference not resolved yet. We will keep people updated as soon as those decisions are made."
Garland said making the event larger to accommodate the addition of new runners to the existing pool of 145 already selected would require discussions with the Bureau of Land Management and forest service, as that would exceed what the event's permit is allowed. He did not indicate that there was a plan to try to increase the size of the event.
Alternative formats didn't fit Hardrock's image
Garland and the run committee considered alternative plans to the traditional Hardrock 100 this year. Some suggested it be conducted virtually. There was discussion of holding the event as usual but with staggered starts and without gatherings such as Camp Hardrock, the pre-race briefing and the awards banquet which would have brought all the runners together at the same time.
"I don't think you can replicate the Hardrock experience virtually," Garland said. "We entertained the idea, but no, we couldn't do that. Then we looked to see if we could do it without all the experiences that make Hardrock what it is and build our community. At some point it was like, 'What are we trying to create?' Especially for a first time runner, we didn't want that to be their experience.
"We also thought about doing a regional Hardrock and limiting it to the Four Corners states. But we couldn't come to a philosophical agreement that we wanted to do something like that, either."
While Garland said canceling the event stings, he is confident it can move forward and remain a special event. In a year in which the Ultra Trail du Mont Blanc in France and other U.S. events such as Western States and the Leadville 100 have been canceled, he believes the running community will understand.
"What does it say when we can't do it two years in a row?" Garland said. "That's why we wanted to wait and see as it got really close if things were going to change or not or if we could make it work. We kept trying to move forward, but we couldn't do it."
This is a developing story. For more, follow www.durangoherald.com.
jlivingston@durangoherald.com