Brother and sister take home first-place prizes in two events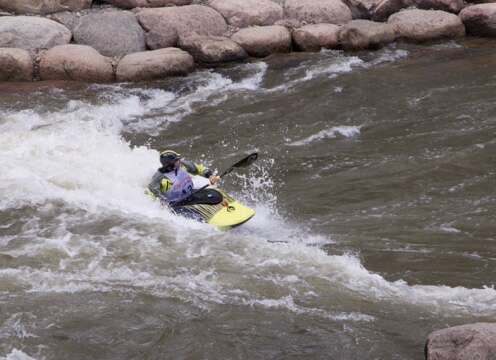 Animas River Days went out with a splash Sunday during the Kayak Freestyle competition.
Competitors from across the United States, and around the world, joined in on the afternoon action as hundreds lined the banks of the Animas River at Santa Rita Park to watch the competition.
The senior men's competition took place near the top of the whitewater park while others competed near the bottom of the park on the clocktower rapid.
Each participant had to complete as many tricks as possibly during 60 seconds.
Repeated tricks were not counted, and if competitors washed out of the surf, their run ended. Each participant had three rounds to get their highest score. The round with the highest score was the one recorded by the judges.
Brother and sister tandem Mason and Makinley Kate Hargrove from Phenix City, Alabama took home the championship in the men's senior and women's junior competitions.
It was a big snow runoff year for the Animas River with the San Juan Mountain snowpack reaching 170% above normal.
Mason Hargrove said when he first arrived for the weekend the river was running at about 4,500 cubic feet per second, but by the time the event started on Sunday the water had slowed to about 2,700 cfs.
Hargrove said he didn't commit to one strategy or another. That was partially because of the river's flow constantly changing throughout the weekend, he said.
"I was stoked to put down a good ride and get the win," Mason Hargrove said.
This was the 20-year-old's second time competing in the River Days competition. He said he loves the environment of the Durango competition.
Despite the big runoff, he said the rapids felt the same as they did when he first competed two years ago.
Sofia Tula of Wroclaw, Poland, took home the title in the women's senior competition while Ian Cieslak enjoyed his first competition title in the men's junior competition.
The 16-year-old said he didn't go into the event with any particular plan.
The men's junior as well as the women's senior and junior competitions were moved farther down the waterpark for safety reasons.
Cieslak was excited to win his first competition.
"I just kind of gave it my all and I never really have a plan," he said. "I just kind of go and have fun and that's how I live."
tbrown@durangoherald.com