Keynote speaker Gary Farmer addresses 475 graduating students
Thousands of people gathered Saturday at the Ray Dennison Memorial Stadium at Fort Lewis College for the commencement ceremony of this spring's graduating class.
Four hundred seventy-five students received their degrees and were addressed by keynote speaker and actor, writer, director, producer and musician Gary Farmer.
FLC President Tom Stritikus said the graduates' drive, intelligence and expertise had been on full display all week during senior project exhibitions. He said some students have conducted biochemistry research and others are becoming "fantastic teachers or marketers, business leaders, politicians and everything in between."
"When the world seemed a little complicated, watching you do your work was just a great source of joy for us," he said.
Farmer, who is from the Six Nations, Ontario, Canada, and is known for his filmmaking focus on Indigenous peoples, opened his keynote speech in his native tongue, the Cayuga language.
"I said the sun is shining bright and I thank the creator for the beautiful day," he said.
Farmer said the world seems to change faster and faster as time marches forward. He reflected on his own experiences in college and encouraged the graduates to continue learning even after they leave FLC behind them.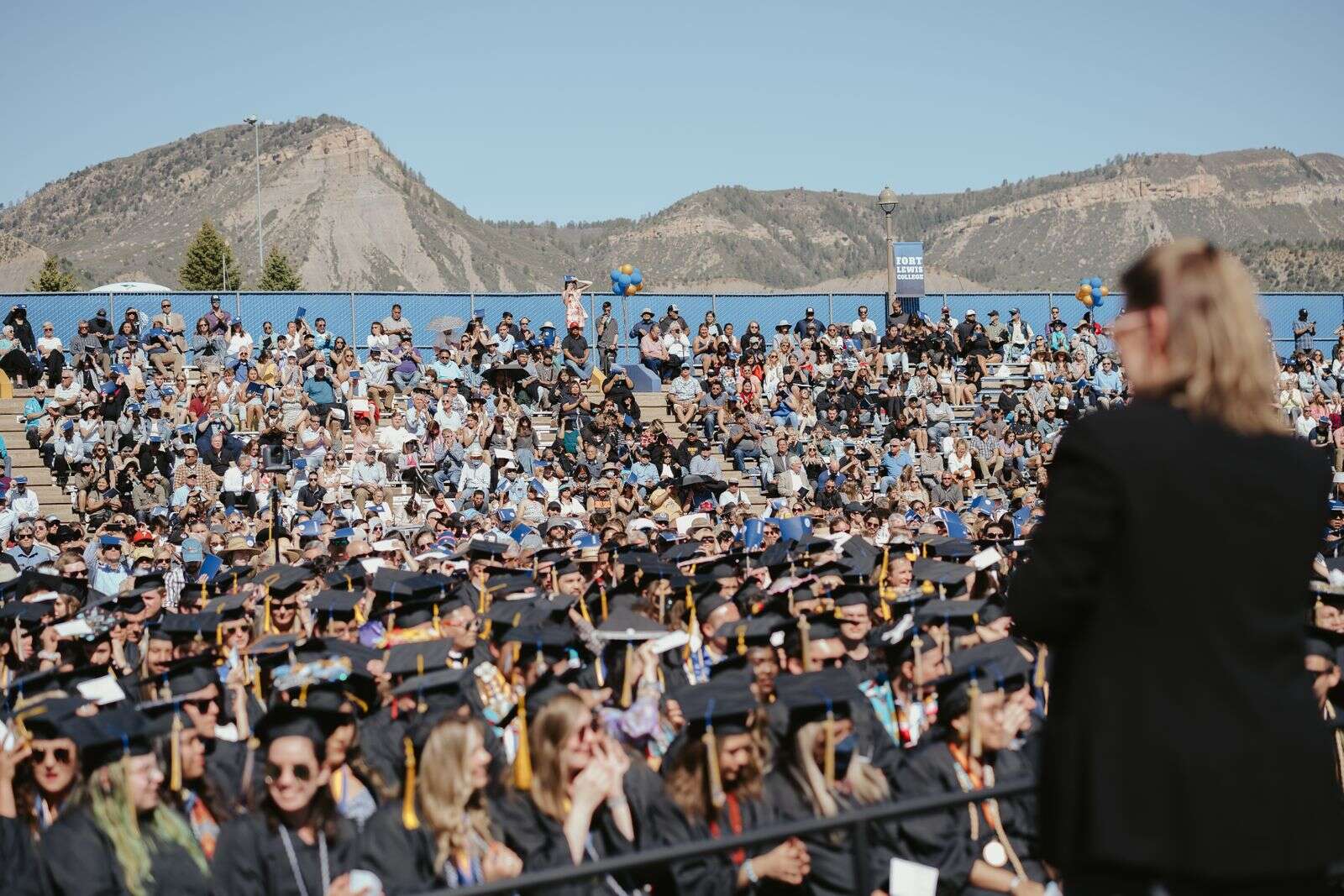 "I went to college for five years and never received a degree; I did not do very well," he said. "All of what I've told you so far, I learned beyond my time in college and university education. All I'm saying is that it's a lifetime of learning ahead of you all.
"Sometimes, your success will find you," he said. "Like mine. An actor for life. I've founded, published, wrote, directed, produced and created to my heart's content. I had to diversify my skills to survive."
He added that he used his skills to bring "a nation of Indigenous people" with him into success.
"As your college commencement speaker today, all I'm asking is that your success be for the good of all man," he said.
After Farmer's speech, Stritikus awarded him an honorary bachelor's degree from FLC.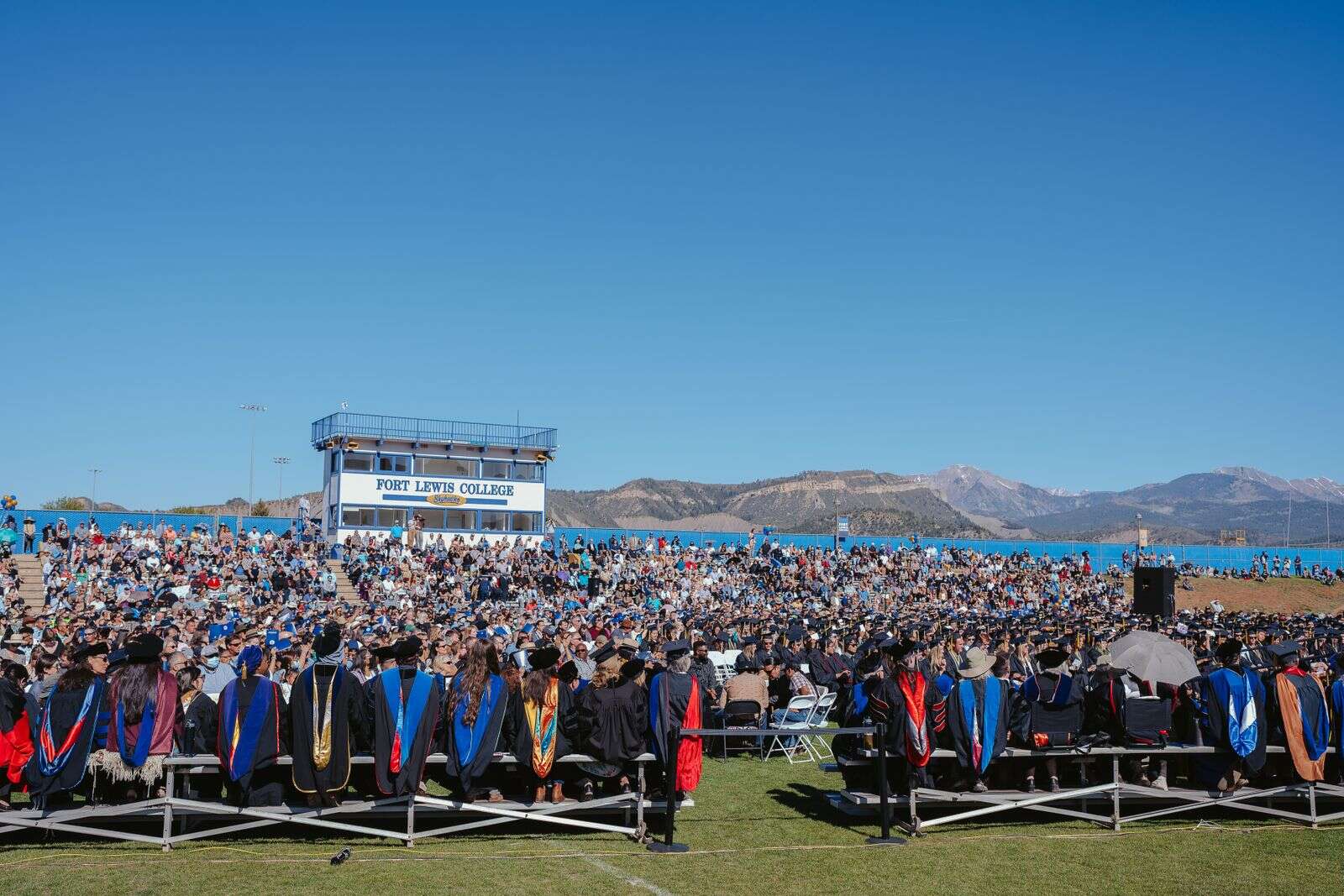 Graduate William Hunter West of Littleton earned a degree in geology with a focus in planetary geology and geographic information systems.
He said that graduation on Saturday felt "surreal" because he has lost family members and people close to him during the COVID-19 pandemic.
He said the ability to persevere through the pandemic and loss is a testament to humanity and people's ability to keep carrying on.
He said he became interested in astronomy and space when he was a child, but specifically, he was fascinated by the idea of other planets' geographical features.
"I always say that I came to Fort Lewis to study geology and to get a good grade, but I stayed for the rocks," he said. "Every single day was something new and cool and exciting."
His sister also attended FLC, and on a visit to the campus, he saw the construction of Sitter Family Hall, which now houses geology courses.
He saw the school was constructing a new building for its geology program and took that to mean "they must get a lot of money, which means they must be able to justify that money because they're good," he said. "Boy was it a good choice on my part."
Graduate Marian Jael Kinsel, who majored in biology with a focus on organismal and environmental biology with a minor in psychology, said attending FLC was a great experience.
She said she is from Naschitti, New Mexico, and most recently lived in Farmington with her family. Her original plan was to find a large college to attend far away from home. But she ultimately didn't want to leave her family, so she started classes at FLC.
"I had good teachers, and I got to stay home and grow with my family and everything," she said. "I'm going to start applying to grad schools. I want to get into an occupational therapy program, but I'm currently serving with AmeriCorps so I'm going to keep doing that for another year."
She said three teachers helped her through her college career and named professors Erin Lehmer, Ryan Schwarz and Justin McBrayer.
"Glory to God, thank you. I had a great time at Fort Lewis," she said. "The three teachers that really got me through were Dr. Liemer, Dr. Schwartes and Dr. McBryer. So big shout-out to them."
The celebration at FLC was not the only commencement ceremony that took place on Saturday. Pueblo Community College Southwest recognized 196 graduates in the Montezuma-Cortez High School auditorium, according to a news release from PCC.
PCC administered two Bachelor of Science degrees to students, 56 associate degrees and 94 certificates or mini-certificates to students from the Mancos area. Durango students were rewarded 10 associate degrees and 44 certificates or mini-certificates. Bayfield students received three associate degrees and 14 certificates or mini-certificates.
Twenty-seven of the PCC graduates on Saturday are high school seniors participating in PCC's concurrent enrollment program, according to the news release. Fifteen of the high school students are from Mancos or Cortez, 11 are from Durango and one is from Bayfield. Their school districts covered the costs of tuition.
cburney@durangoherald.com