Heavy rains near Telluride cause mudslides Saturday
A flash flood warning has been issued for the Cortez and central Montezuma County until 6:30 p.m. Monday, according to the National Weather Service.
A flash flood warning means that flash flooding has been reported or is imminent.
Doppler radar indicated thunderstorms are producing heavy rain across the warned area, according to the weather service.
Between 1 and 1.5 inches of rain have fallen. Additional rainfall amounts of 0.5 to 1 inch are possible in the warned area.
"Flash flooding is ongoing or expected to begin shortly," the weather service stated.
Flash flooding could be life-threatening in creeks, streams, urban areas, highways, streets and underpasses.
"Turn around, don't drown when encountering flooded roads," the weather service stated. "Most flood deaths occur in vehicles. Be aware of your surroundings and do not drive on flooded roads."
Thunderstorms produced heavy rain in the San Juan Mountains over the weekend.
On Saturday, mudslides were reported in the Ingram Falls area of Black Bear Pass near Telluride, according to the San Miguel Sheriff's Office.
The mudslides blocked the road, leaving eight vehicles and 15 occupants stranded. Four vehicles were able to safely turn around near "the stairs" section and drive back down the pass.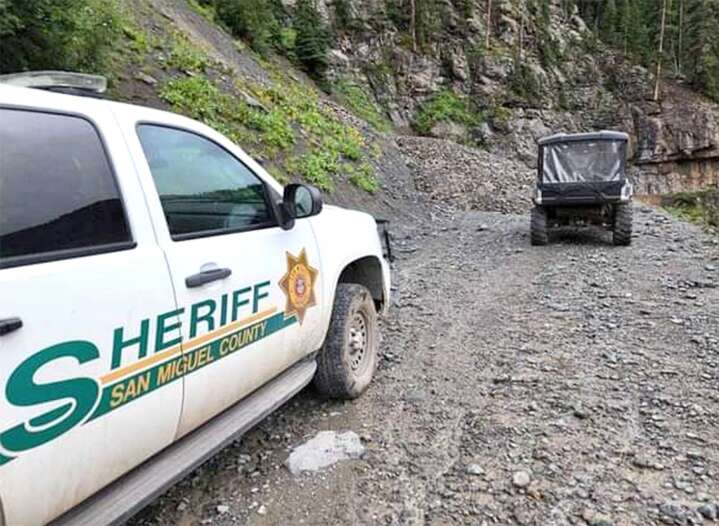 The other four vehicles will remain on Bridal Veil Road until it is safe to drive them down. Occupants were guided down by rescuers to awaiting UTV and patrol cars, There were no reported injuries.
Black Bear Pass, Bridal Veil Road, and the Bridal Veil Trail will remain closed to all vehicle and pedestrian traffic until at least Tuesday to allow time for San Miguel County crews to clear the area for safe travel.