Drought, overuse of public lands, mine cleanup top list in Southwest Colorado
With 2020 in the rearview mirror, it's time to look at the most pressing environmental issues that face Southwest Colorado in the year to come, and there's no shortage of them.
How will the prolonged drought affect water supplies if winter doesn't deliver a strong snowpack this year?
Will the Environmental Protection Agency, now five years into the Superfund program, finally begin to make water quality improvements in the Animas River?
And, after the COVID-19 pandemic sent record numbers of people into the backcountry, how are public land management agencies going to respond to what could be an even more chaotic summer?
Here's a look at a few of the key environmental issues expected to make headlines in 2021.
Winter to the rescue?
Southwest Colorado has been in a prolonged drought for the past few years, but every time conditions looked like they were going to become critical (i.e. not enough water supply), a strong winter showed up for the save.
In 2018, for instance, a brutal drought period was spelled by the 2018-19 winter, which replenished the region's reservoirs and water supplies.
But what if that winter had been a flop?
That's the question Southwest Colorado water managers are asking, while at the same time, hoping for storm after storm. But that might be tricky given that most weather experts are predicting a below average year for snow.
"Frankly, my concern is next spring," Jarrod Biggs, the city of Durango's assistant utilities director, said in October. "I'm crossing my fingers that all the meteorologists are wrong ... but when I'm looking at all the data put in front of me ... next year does not look great."
Loved to death
With normal activities curtailed this year because of the COVID-19 pandemic, such as traveling abroad or going to sporting events, people around the country instead looked at their road maps and circled Southwest Colorado.
It was a year of incredible (and unsustainable, land mangers say) use of public lands across the region.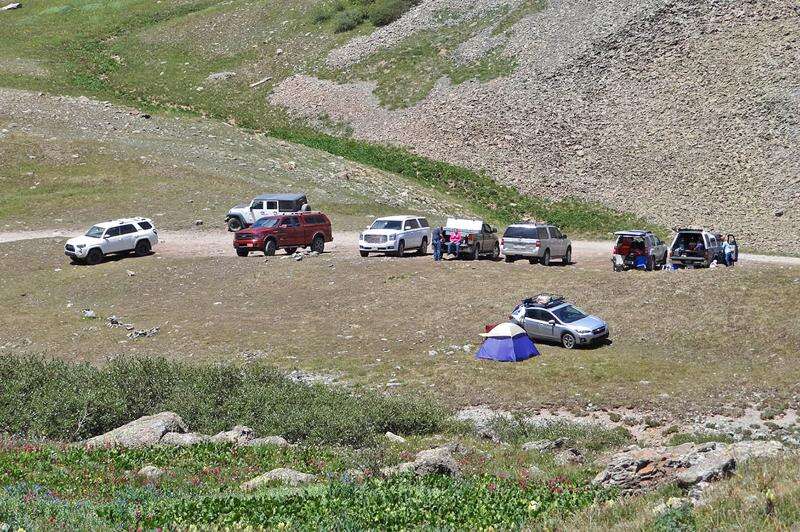 People drove ATVs off marked roads into fragile alpine tundra, left feces near campsites, trashed local trails, camped in off-limit areas, hiked off trails and damaged vegetation – the list goes on.
"It's just like we have a different mentality going on these days where people think they're too special for the rules to apply to them," San Juan County Sheriff Bruce Conrad said in August. "This year has just been insane."
Case in point: At the popular Ice Lakes Trail west of Silverton, a typical day could see anywhere from 400 to 600 hikers.
The sheer number of visitors has public land agencies searching for ways to better manage crowds in 2021.
In the most drastic measure, the U.S. Forest Service said it's going to implement a permit system for the Ice Lakes Trail, though it's unclear whether that will be in place for the upcoming summer.
Other measures public land managers are looking at are increasing the presence of volunteers strategically placed in the backcountry to educate people about the best practices of visiting the mountains.
"Because we've seen fewer numbers (of visitors) in the past, it's a big game of catch up right now trying to deal with it," Jed Botsford, recreational staff officer for the Forest Service's Columbine Ranger District, said this fall. "That joy of visiting public land is definitely out there now."
Bonita Peak Superfund site
The Environmental Protection Agency listed nearly 50 mining-related sites around Silverton in what's called the Bonita Peak Mining District Superfund in 2016, about a year after the agency set off the Gold King Mine spill.
In the years since, the EPA has mostly directed its time and attention to studying and understanding the Animas River basin to better formulate a long-term cleanup plan. Millions of dollars have been spent ($75 million, at last count), but there's been no discernible improvement in the water quality of the Animas River.
The EPA in 2021 is expected to start in earnest some of the larger projects that should have a positive impact by removing heavy metals leeching from mine sites into the waters of the Animas.
It's unclear, however, what those specifics projects may be. A spokesman with EPA said staff members were out of the office this week and unable to provide a list of upcoming projects this summer.
Village at Wolf Creek
2020 was a quiet year, at least publicly, in the decadeslong battle over the Village at Wolf Creek, but that may change in the new year.
Since the 1980s, the Leavell-McCombs Joint Venture – spearheaded by Texas billionaire B.J. "Red" McCombs – has sought to develop a hotel, chalets and cabins at the base of Wolf Creek Ski Area, at an elevation of about 10,000 feet and 20 miles from the nearest town.
From the beginning, conservation groups have fought to protect the fragile landscape from the environmental impacts of such a large development, arguing McCombs' political pressure has unduly influenced the project.
The problem for McCombs all these years, however, is that his property is surrounded by national forest and he doesn't have access to the nearest road, U.S. Highway 160.
The Forest Service in February 2019 granted McCombs the road access, which was immediately challenged by conservation groups.
The battle continues to be tied up in the court system, with the developers agreeing to not start construction until the litigation is settled.
New kid on the natural gas field
Big changes are coming to the San Juan Basin natural gas field in 2021.
Natural gas production has slumped for a while now in the San Juan Basin, which spans Southwest Colorado and northern New Mexico, a result of falling natural gas prices and companies finding cheaper places to drill.
The downturn has caused the natural gas field's major operators to pick up and leave, causing concern among county officials that newer, smaller companies taking over may not have the financial resources to manage the field.
But it was a bit of a shock when the largest operator, BP America Production Co., announced in 2019 it was selling its stake – to a European renewable energy company, no less.
For the past year, BP has continued to operate the natural gas field while the transition takes place.
The renewable energy company, called IKAV, has remained silent and declined requests for interviews, so it remains unclear what its interest is in an aged natural gas field considered past its peak.
IKAV, however, is expected to fully take over in 2021.
jromeo@durangoherald.com