Bait-and-trap roundup of 75 to 80 horses will continue for couple of years
A brilliant white stallion stands firm to guard his band of 11 wild mares and four foals as low-stress horse trainer Whit Hibbard calmly approaches on foot at an undisclosed valley in Mesa Verde National Park.
But the protective, lengthwise stance of the stud rings hollow.
His band has been trapped inside a corral, marking the end of their lives as wild mustangs in the backcountry of the 52,000-acre park.
While content with hay and fresh water, the lively group appears a little surprised and confused, showing slight nervous energy at their sudden confinement and gawking people nearby.
However, greener pastures are ahead for this plucky band. Ownership will be transferred to the National Mustang Association Colorado Chapter, and gentling and taming will take place at the Mustang Camp in New Mexico. An adoption process is pending.
The park captured 19 horses, 16 on Saturday and three on Tuesday.
The wild horses will be adopted into a life of comfort and leisure, with human companionship and care they never knew they were missing.
"They will end up in good homes and live a better life, better than dying in the winter weather, or from dehydration or getting killed by a mountain lion," Hibbard said. "I feel this is a worthwhile, positive mission."
For three years, Hibbard, colleague Tim McGaffic and park wildlife manager Nathan Brown have been coaxing the herd into a specially designed corral through a low-stress bait-and-trap method.
The location of the roundup is kept secret to protect the horses and to prevent human trespass that could sabotage or threaten the project, park officials said.
The bait-and-trap method is the park's preferred approach to gathering 75 to 80 wild horses that roam the valleys and mesas in the national park world-famous for its Ancestral Puebloan cultural sites.
"It takes more time than conventional roundups and is better for them," Hibbard said. "There's no yelling and cowboys pushing or a helicopter stampede. We use psychology and gentle, nonverbal pressure. We use water and food to get them to do what we want. They think it is their idea."
The low-impact bait-and-trap gather will continue for the next couple of years, Brown said. The park hopes to remove all the horses by 2024.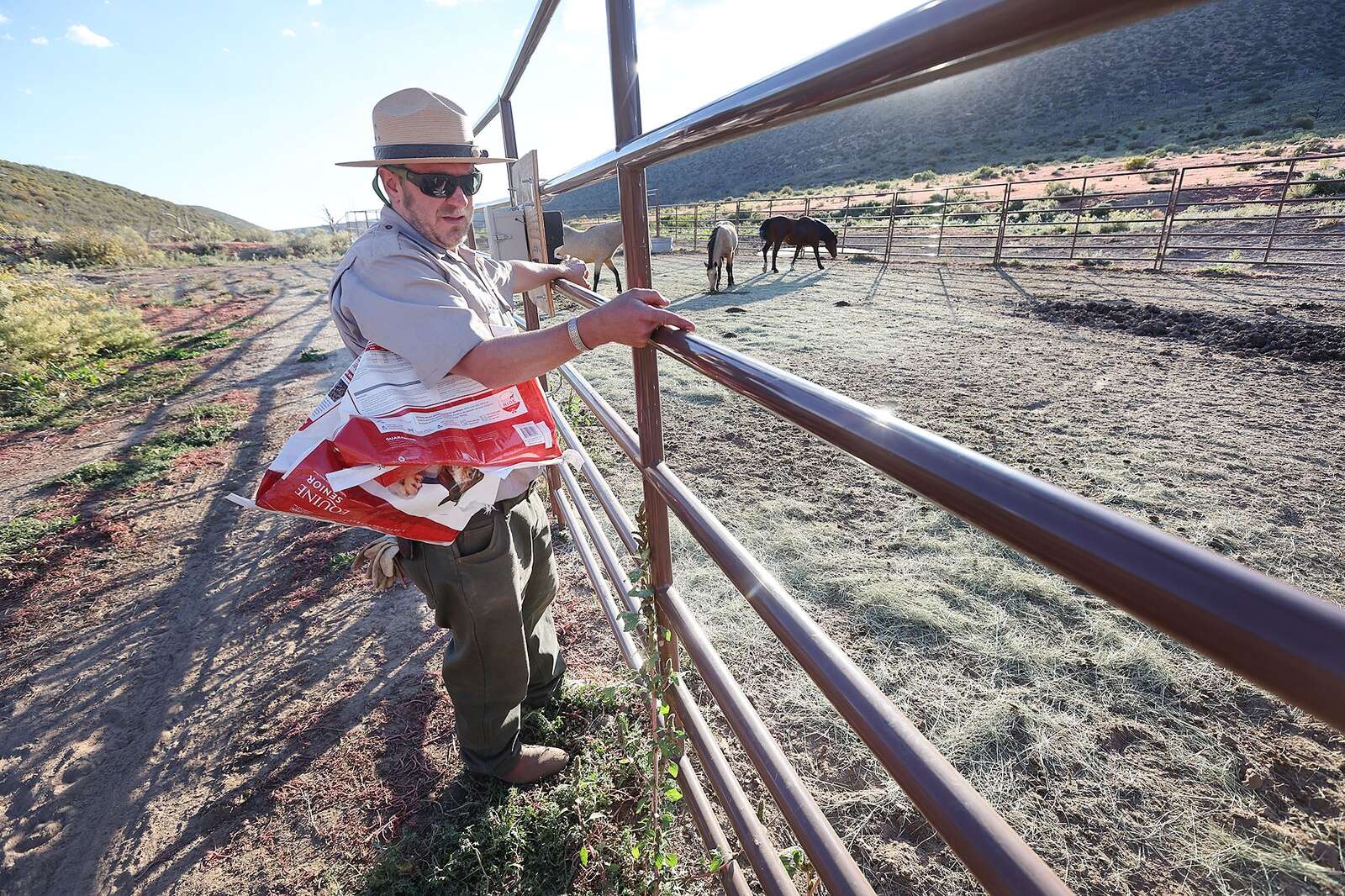 Although the horses have run wild in the park since its creation in 1906, they are considered feral or trespass livestock, not wildlife, and park regulations don't allow for them to remain there or to be managed, said Park Chief of Natural Resources Paul Morey.
They cause damage to fragile cultural sites, compete with native wildlife for natural resources, damage springs and sometimes threaten visitors, he said. A park environmental assessment concluded they must be removed, with a preference for the more humane low-stress gather technique.
The Mesa Verde horses descend from privately owned horses, but for generations they have been born wild in the park.
They are not protected as wild horses because the park is not designated under the federal Wild Free-Roaming Horses and Burro Act of 1971.
Before working as chief of natural resources, Morey worked for years as the park wildlife biologist working to minimize the impacts of horses.
Miles of fence were installed to prevent additional horses from entering the park, and the population has declined to fewer than 100 horses, down from a high of 150.
Wild horses keep elk and deer from reaching springs, which are very limited in the arid park. They dominate their grazing areas.
Morey documented and published a study that showed photographs and video of horses chasing off elk from a key spring.
They also trample cultural sites, knocking over walls and damaging ancient dwellings and kivas. They have crushed ancient pottery into oblivion.
"The amount of damage has not been quantified, and that is something the archaeologists will be studying," Morey said.
Visitors love the horses, but sometimes put themselves at risk approaching too close not realizing how unpredictable and defensive they may be, he said.
In a park video taken this year, two stallions are seen running in looping circles as they aggressively chase each other on Wetherill Mesa. They gallop across a popular trail and parking lot and run past a tourist who stares at them in surprise. The horses also figured out how to get in the bathroom and drink out of the toilet.
"It is an actual safety issue," Brown said.
Horses pass health checkups
The 16 horses captured over the weekend are in good health, park officials said, and have been examined by a veterinarian. The three caught Tuesday looked healthy and would be examined.
Improved range conditions from the monsoonal rains helped them regain health that had deteriorated from prolonged drought conditions.
They don't have wounds or injuries, have good constitution and good flesh, said National Park Service wildlife veterinarian Laurie Baeten.
"I'm pleasantly surprised how healthy they look," she said. "There is limited trauma from their history of being a wild animal, not a lot of old wounds. The foals look great for their age."
She observed the bait and capture procedures from a half-mile away so as not to distract the horses from handlers.
"It was fascinating to watch. I was impressed with their patience, the effectiveness of it and how they used the stallion to help," Baeten said.
Next, the captured horses will be loaded into trailers and taken to training facilities and a sanctuary. The tight quarters increase the potential for horses to panic and be injured.
Hibbard and McGaffic have conducted practice runs with the horses so they're familiar with the trailers.
Bait and capture reduces stress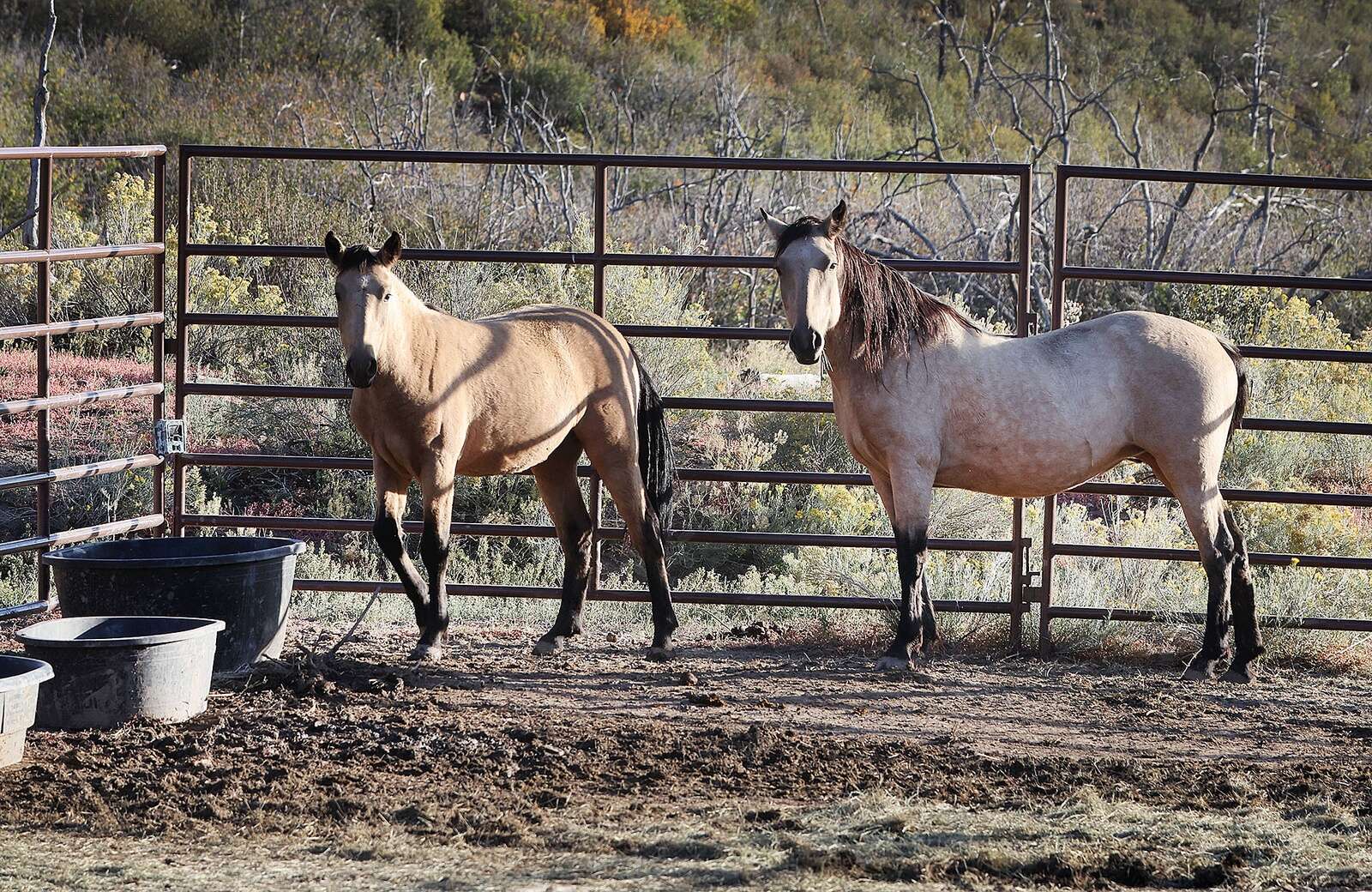 It's a mental game gathering up the horses.
"They are smart and sensible, very trainable" Hibbard said. "They're sensitive but pay attention and are easy to work with."
In a demonstration, he entered the corral and without saying a word slowly pushed the horses into a connected corral, a smaller pen, a corner and then out of the corner. The animals responded calmly and didn't panic because trust was established, Hibbard said.
It helps that the horses in the park have become somewhat familiar with people. The ongoing drought also made the main bait of water very effective.
"We put the water out first so they get used to a place, then slowly build the trap around that spot," McGaffic said.
Over days and weeks, the horses go into the corral for water and hay, then leave. Sometimes they are treated to grain soaked in molasses. Eventually, the time comes when they enter and a park biologist remotely closes the gate behind them.
A pillar of low-stress gathering is learning how to relate to the animal and position yourself in a way that communicates what you want them to do, Hibbard said. There is no yelling, and no prods or flags are used. You give them an opening to release the pressure.
"You throw your watch away, and keep them in a normal frame of mind so they are thinking and responding to us not reacting," he said. "You give always give them an opening to reduce the pressure."
Roundups in which mounted riders drive wild a herd toward a corral takes horses out of their normal frame of mind and into survival mode.
"They go offline and are hard to deal with," Hibbard said. "That is when injuries occur. With low-stress, the potential for injury is minimized. We laid the foundation, and it shows in their accepting behavior."
The low-stress tactic uses "ounces and inches of pressure to get them to respond, and make compliance their idea," he said. "You have to find their threshold then back off. You can overdo it quick and get a flight response, so then you have to recover and correct from that."
The tactic also retains the stallions' leadership role. If the stallion responds well, the band likely will follow him.
"He can draw them right to where we want them, and that has been helpful in loading," Hibbard said.
Lynda Larsen, of the National Mustang Association Colorado Chapter, is excited the low-impact tactic is getting attention.
"We are working to convince the BLM and Forest Service to use it for their roundups," she said. "It is effective and much better for the horses. In low-stress gathers, the horses see humans as a positive resource versus something fear-based and threatening."
However, the bait and the time to capture the horses cost more than conventional roundups.
The park plans to lure more wild horses to the capture site and might need to set up other sites. Springs will be restored to their natural condition, and overgrazed rangeland will be improved.
The park also is working with the Ute Mountain Ute Tribe to remove 30 trespass cattle.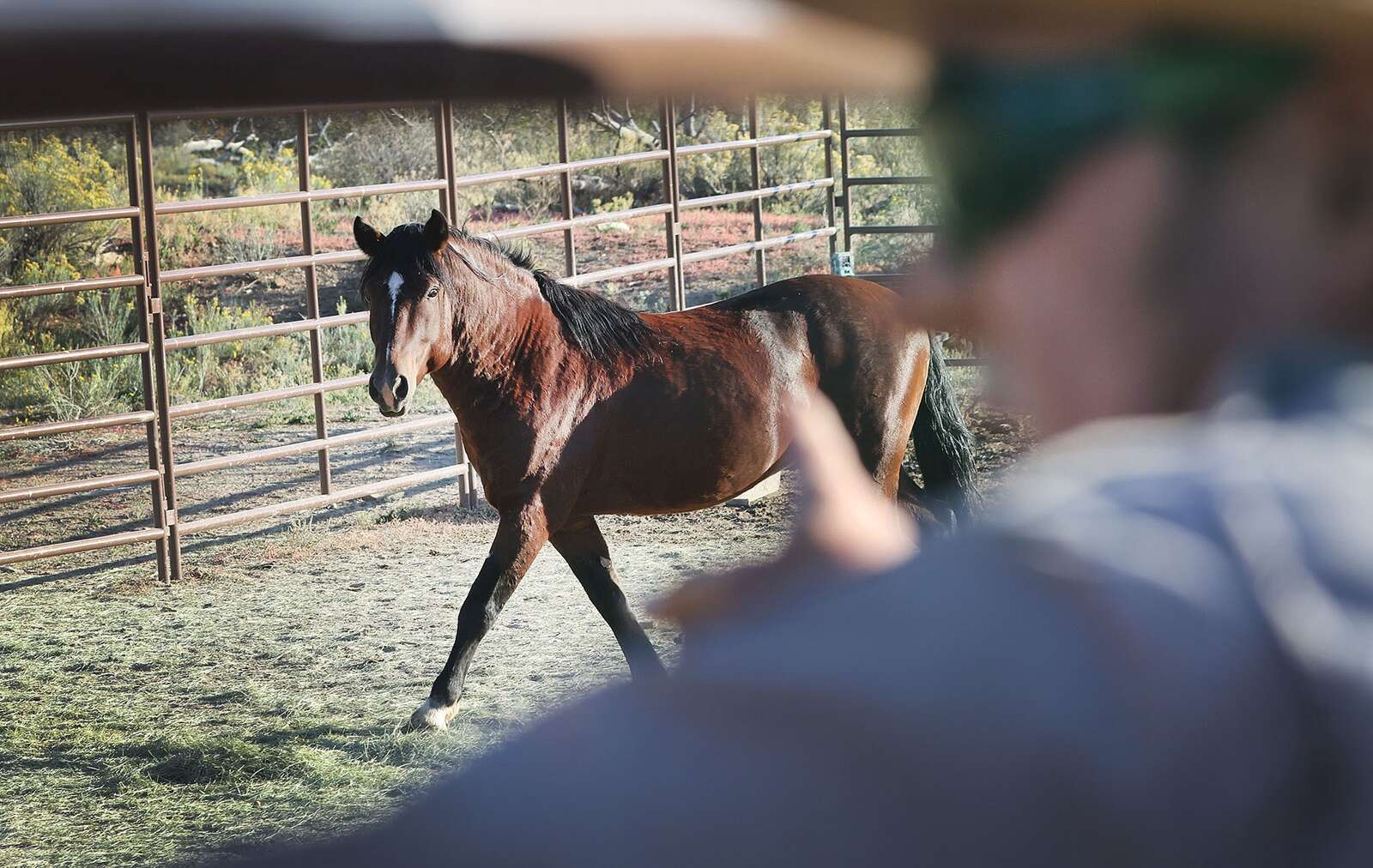 Public viewing is restricted
The park has refused requests by The Journal to view the roundup itself. A tour Tuesday showed the horses in two capture corrals after the roundup took place over the weekend and that day.
Other wild horse gathers on U.S. Forest Service and BLM lands accommodate public and media viewing areas. Courts have upheld the legal right for public scrutiny of the roundups because they are government actions, are on public lands and are in the public interest.
Morey prohibited public viewing, claiming that the low-stress technique required minimal distraction between the horse and the handler.
"Our priority is the safety of the horses and handler. We don't want nonessential people to compromise their low-stress efforts and jeopardize the capture," Morey said.
Mesa Verde National Park officials also prohibited observers because the roundup occurred on restricted land.
Morey said when handlers and a veterinarian work to guide horses to where they want them, unfamiliar observers will distract the horses' attention.
"I have not even been there, it is very limited who interacts with them so they gain trust for just those people," Morey said.
"It's really important because they can only pay attention to one source of pressure at a time, and can't have attention diverted to who is on the hill or behind a bush," Hibbard said. "It bothers them and makes my job harder. I requested no nonessential personnel be there."
The park will release video of the low-stress gather and make it available to the public, Brown said.
Adoption process is pending
The park has partnered with the Colorado Chapter of the National Mustang Association, which will take over ownership of the captured horses. None of the horses are branded, and the brand inspector office was consulted.
All horses will be adopted or go to sanctuaries. Adopted horses will be gentled and tamed before adoption, Larson said.
Most of the horses captured this week will go to the Mustang Camp, run by trainer Patricia Irick, to be evaluated for adoption or sanctuaries. Horse will be gentled and tamed, and trained for halter lead, trailer loading.
The National Mustang Association Colorado will manage the adoption process after several months of evaluation and domestication. Larson said the public will be notified when horses become available for the application process. Updates will be posted on its website and Facebook page.
"These are good horses. Wild ones tend to be a little unusual, and are a bit smarter," she said.
The white stallion will regain a leadership role.
Know by park staff as "The Maestro," he will go to a National Mustang Association sanctuary in Nevada, along with a couple of his mares, to live out his final years on hundreds of acres.
jmimiaga@the-journal.com