Two Hotshot crews get air support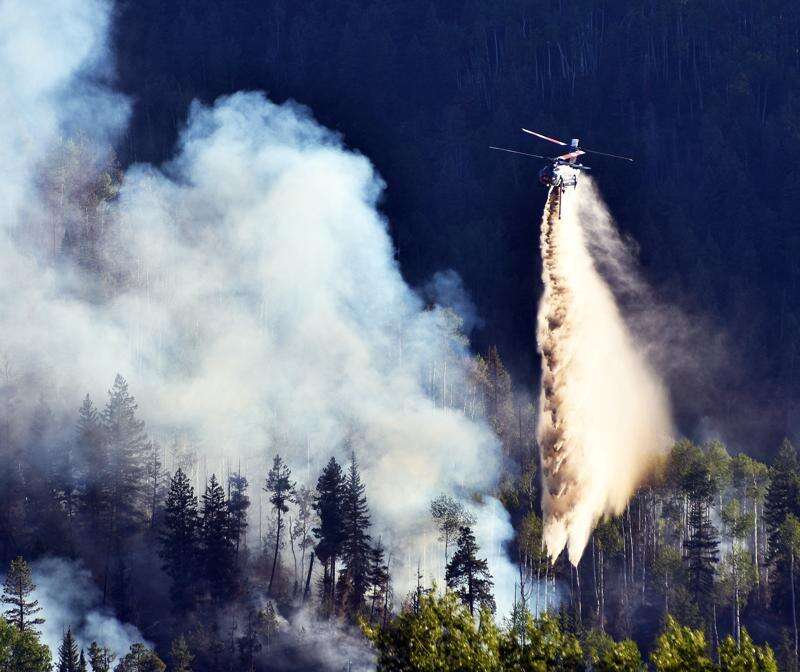 Fifty firefighters with air support are fighting the Loading Pen Fire located 17 miles northeast of Dolores on the San Juan National Forest, and additional crews have been ordered.
A local Type 3 Incident Management Team assumed command Sunday to fight the fire, which is burning on the steep flanks of Haycamp Mesa above the Dolores River. By Monday evening, the fire had grown to 35 acres.
The team, using a full suppression strategy on the fire, includes two interagency Hotshot crews and an engine, Esther Godson, public information officer for the San Juan National Forest, said Monday in a news release. Helicopters and single engine air tankers, will continue to support fire suppression activities, she added.
Brad Pietruszka, of the Dolores Ranger District, is the incident commander for the wildfire, and Tracy Milakovic is the incident commander trainee.
Another 25 firefighters are expected to arrive Tuesday, Pietruszka said, bringing the total to 75.
In neighboring Dolores County, firefighters reported that they had controlled the 5-acre Sharps Fire, between Cahone and Dove Creek. Pre-evacuation orders for residents on County Road M to County Road 15 were lifted Monday afternoon.
The Loading Pen Fire was reported Saturday night, and was started by lightning. It is burning off Colorado Highway 145 near Stoner, between Taylor and Haycamp Mesas on National Forest land.
Firefighters are making good progress, said Pat Seekins, fire management officer for the San Juan National Forest.
"We are working on containment lines, and there will be additional aviation dropping retardant today to stop the spread," he said. "We are feeling optimistic."
Type 1 and Type 2 helicopters dropped multiple loads of water and retardant on the fire Sunday, Seekins said. Single engine air tankers, and a large air tanker were hitting it Monday.
A containment anchor point has been established on the northern edge of the fire near the bottom of the hillside. Hotshot crews are working in tandem, chopping in fireline uphill on the eastern and western flanks.
"The timber in there is very thick and the terrain is steep," Pietruszka said. "Fireline is slowly and safely progressing."
The wildfire is burning in steep, rugged terrain in thick aspen-conifer forests with dead snags. It is located on the north-facing slope of Haycamp Mesa, south of the Dolores River.
It is slowly moving eastward uphill and upriver. Fifty firefighters are on the ground cutting hand and sawlines, including the San Juan Hotshots, based in Durango, and Tatanka Hotshots, based in Custer, South Dakota. As of Monday afternoon, there was no reported containment percentage.
Private property owners in the vicinity of the fire have been contacted. No structures are threatened at this time, and there are no evacuations or road closures.
The bottom of the fire is about 400 feet above the valley floor where there are some nearby cabins. Shed structures are located south of the fire ontop of Haycamp Mesa.
During the 2018 Burro Fire in Bear Creek Canyon, fire-risk assessment plans for properties in the Dolores Valley were put in place and fuel reduction took place. Those plans have been pulled from the file and are providing useful information for fire fighting efforts on the Loading Pen Fire, Pietruszka said.
"The properties are very defensible thanks to those previous efforts," he said.
Fire behavior is smoldering and creeping along the ground with isolated tree torching. Gusty winds that shift directions are a challenge, and high winds are expected to persist in the coming days. The Loading Pen Fire is about 8 miles southwest of the 2018 Burro Fire burn scar.
Aspen groves are helping to slow wildfire because they typically don't burn as readily as pine and mixed conifer. But it has been so dry, the aspen trees are burning more readily than normal, officials said, creating additional firefighter hazard because they are prone to fall.
Smoke from the fire may be visible on Colorado 145, as well as National Forest System Roads 556 and 558. Smoke also may be visible to surrounding communities for the duration of the fire. Smoke will settle in the Dolores River Valley, especially overnight. Roadside signs will be posted on Colorado 145 to alert travelers of smoke and firefighting personnel and equipment in the area.
Weather conditions are ripe for wildfires. Red Flag warnings are predicted through Tuesday for gusty winds, low relative humidity, and dry fuels with little chance of precipitation.
Red Flag warnings are predicted through Tuesday for gusty winds, low relative humidity, and dry fuels with little chance of precipitation.
The San Juan National Forest will continue to provide additional updates on the Loading Pen Fire as needed, depending upon incident activity. Information can also be found on the Inciweb webpage.
All offices on the San Juan National Forest are currently conducting business and providing services virtually. For information on the San Juan National Forest, call (970) 247-4874.
jmimiaga@the-journal.com