Officials worry lack of precipitation could complicate controlling blazes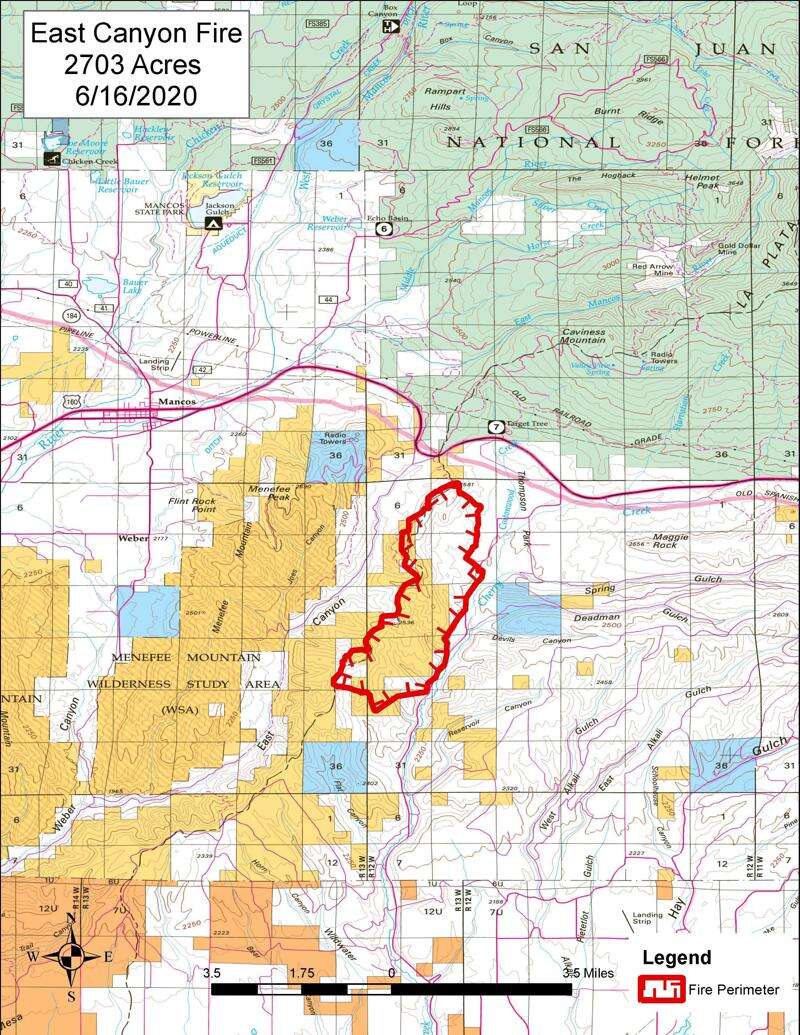 With no chance for precipitation in Southwest Colorado in sight, firefighters working to contain the East Canyon Fire west of Durango are bracing for what could be a long battle.
Pam Wilson, a spokeswoman for the Bureau of Land Management, said late Tuesday that the fire burning along the La Plata-Montezuma County line was just 5% contained.
The last estimate of the size of the fire was 8 p.m. Monday, which showed it had consumed about 2,700 acres. Because of the transition from a Type 3 team to a Type 2 team Tuesday, a new estimate had not been conducted, Wilson said.
The East Canyon Fire broke out Sunday, after a thunderstorm passed through Southwest Colorado on Saturday night.
The past few days have been hot, dry and windy, causing the fire to grow significantly. On Tuesday, however, fire behavior was more moderate than expected, Wilson said.
U.S. Highway 160 between Durango and Mancos closed Monday because smoke caused visibility issues, but the road was able to remain open Tuesday. Wilson said fire behavior will dictate whether the highway will close Wednesday.
The National Weather Service has issued a red flag warning Wednesday for Southwest Colorado for the third consecutive day, calling for temperatures in the 80s, wind gusts as high as 30 and no chance of rain.
Because the Type 2 team was expected to take over command at 8 p.m. Tuesday, Wilson did not have details about what the plan would be for working to contain the East Canyon Fire on Wednesday.
A handful of residents remained under mandatory evacuation as of Tuesday evening, said Vicki Shaffer, spokeswoman for Montezuma County.
Areas north and south of Highway 160 from the top of Mancos Hill to the Target Tree Campground are under evacuation orders. Both sides of the highway from Target Tree Campground to mile marker 66 – about 3 miles east of the Highway 160-Cherry Creek Road (County Road 105) intersection – are under pre-evacuation notice.
As of Tuesday, about 23 homes on the Montezuma County side and another 15 or so homes on the La Plata County side had been evacuated. Shaffer said about 51 people have checked in with the Mancos Fire Station for registration.
"Most people are finding their own places to stay," she said. "But the Red Cross is available for those that need help."
Robert Daulton, who lives in East Canyon, said he had been given plenty of time to evacuate from his home.
"All is good, we're camping out in the forest," he said.
Daulton said he went through the same process with the Weber Fire eight years ago, when he evacuated for about 10 days.
"My house didn't burn, thank the Lord for that," Daulton said.
Philip Walters also recalled the 10-day evacuation during the Weber Fire, an experience that helped him prepare for the most recent evacuation – taking steps like packing a to-go bag, turning off propane, opening flammable drapes and making sure hazards are removed in case firefighters need to enter.
"Rehearsing is a good idea for everybody," Walters said.
Philip Russell and his wife, Mayan, were returning from the grocery store Sunday in Mancos when they saw a plume of smoke in their neighborhood. Within two hours, the couple had rounded up their eight cats and three dogs, packed up some essentials and hit the road.
"We were both kind of numb," Philip Russell said. "On our way out, emergency vehicles were pouring in."
The Russells moved into the garage of a relative in Mancos, where they are sleeping on an air mattress and watching Netflix on a small television.
"We're staying hopeful and feel pretty confident. Our home is in a good location. You can see there is a lot of slurry being dropped to protect the neighborhood," he said.
The BLM's Wilson said there is no estimated time frame for when residents may return.
Wilson said residents in the region have been preparing for years for a wildfire, giving fire crews a leg up to protect homes. And, another advantage is that emergency responders have been stationed in the region for weeks.
As of Tuesday, no homes or structures had been destroyed, and there had been no reported injuries.
Despite fires breaking out across Southwest Colorado, Wilson said there should be enough resources in the region to handle the load. On Tuesday, another fire broke out near Bondad, which required air tankers to be diverted.
"The fire managers down here have been planning for this," she said. "Because of the drought and COVID-19, they requested severity funding, which allows them to bring in extra resources."
Fifty firefighters with air support were fighting the Loading Pen Fire, located 17 miles northeast of Dolores in the San Juan National Forest, and additional crews had been ordered.
The fire was burning on the steep flanks of Haycamp Mesa above the Dolores River. By Monday night, the fire had grown to 35 acres.
"We are working on containment lines, and there will be additional aviation dropping retardant today to stop the spread," said Pat Seekins, fire management officer for the San Juan National Forest. "We are feeling optimistic."
An air quality health advisory remains in effect until 9 a.m. Wednesday for communities throughout Southwest Colorado, including La Plata, San Juan, Ouray and parts of Montezuma counties. The advisory also applies to eastern parts of Dolores and San Miguel counties, which may be affected by the Loading Pen Fire.
If smoke becomes thick, people are advised to stay indoors, especially those with heart or respiratory disease, young children and senior citizens.
jromeo@durangoherald.com
Journal Staff Writers Jim Mimiaga and Erika Alvero contributed to this report.