Groups express despair and elation, but acknowledge ruling would have limited impact in Southwest Colorado
Abortion-rights supporters in Durango were incensed while those opposed to abortion were cautiously optimistic as Durangoans reacted Tuesday to news that a leaked draft decision from the U.S. Supreme Court showed justices intend to overturn Roe v. Wade.
But while the two sides took up their positions, both acknowledge that the decision by the Supreme Court would have limited impact in Durango and Southwest Colorado.
Indivisible Durango, the local chapter of the nationwide progressive advocacy group, along with community activist Harrison Wendt, organized a response rally for 5 p.m. Tuesday that aligned with national protests.
Dozens of protesters showed up to the rally, including a large contingent of high school students, marching from Buckley Park to the La Plata County Courthouse. They carried signs that read "Freedom over reproduction," "Keep abortion safe and legal" and "Bans off our bodies."
"We just wanted to show solidarity with other cities across the country who are expressing their absolute outrage over this ruling over this apparent SCOTUS ruling," said Anne Markward, a member of Indivisible Durango's coordinating council, in an interview.
Katie Stewart and Mary Quinn attended the rally because they were furious when they heard the news Monday that the Supreme Court was likely to strike down Roe after the release a draft opinion from Justice Samuel Alito.
"Plain and simple it's not going to happen," Quinn said. "Women can do a lot and we will do a lot."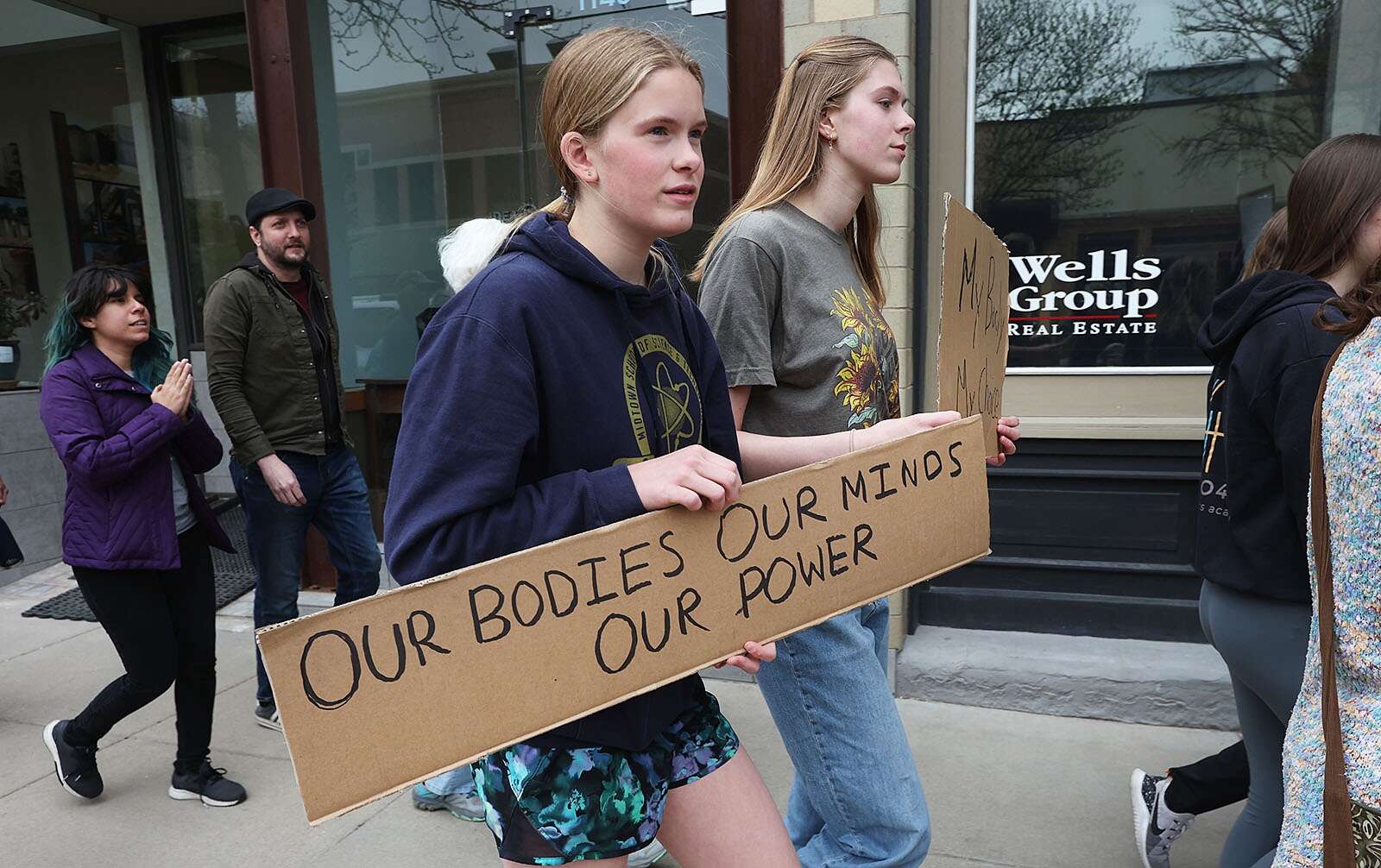 Though Colorado firmly supports abortion rights after Gov. Jared Polis signed the Reproductive Health Equity Act into law last month, Stewart said she was speaking out for all of those who would be affected by the ruling.
"I've had four children, and I have a bonus kid. I'm really fighting for the rights of other people with uteruses that maybe they don't know where they are yet. I'm fighting for the rights of my daughter," Stewart said. "It's not about me. It's about everyone."
Though Colorado has encoded the right to an abortion in state law, Quinn said the Supreme Court's draft ruling would allow for the erosion of that right if Colorado's politics were to change.
"The best thing I've heard is you have to protect your own backyard," Quinn said. "We can't take a chance if it seeps in. I'm from Florida, I'm a queer woman who grew up Catholic, and I refuse to go back to that. So it's not coming in my backyard."
Markward said the rally was not so much about speaking out about the local implications of the draft decision. Instead, the intent was to push Colorado's representatives to pressure their colleagues to address women's reproductive rights through national legislation.
"We are doing this to encourage (Sens.) Bennet and Hickenlooper and everyone else at (the) state level government to do what they can to help us put the pressure on recalcitrant members (of Congress) and make them realize that their votes have cost women all over the country our bodily autonomy rights and we're pissed," she said.
It was a point that Teal Lehto, another rally attendee, reiterated.
"It's really important that our elected officials know that their constituents really care about this issue," Lehto said. "They're the ones who are going to be able to affect change on a national level and that's what we really need. It's important that our elected officials know there's a large number of constituents that are vocal and active about this issue so they know that there's a lot at stake especially with an election coming up."
While reproductive rights advocates were frustrated, those who oppose abortion took Monday's leak and the Supreme Court's preliminary ruling as a positive, if premature, sign.
"We're definitely hopeful, but since an official decision hasn't been made, we don't feel like it's time to celebrate," said Shelley Gundrey, treasurer of LifeGuard, a Durango anti-abortion group.
While Gundrey viewed the repeal of Roe as a boost to anti-abortion advocates, she was also hesitant about the implications for Colorado.
With unsuccessful personhood efforts that have sought legal status and rights for unborn babies and new reproductive legislation in the state, she expressed concern that the ruling could send women from other states to Colorado for abortions.
"It's a sticky situation because then you'll have abortion tourism in a sense where people are traveling for (the procedure)," she said.
On Monday, Politico reported the Supreme Court is set to overturn the decades-old ruling in Roe v. Wade that established the right to an abortion after someone leaked the 98-page draft decision.
The court has yet to rule a final decision, but if the draft decision holds true, the Supreme Court will side with Mississippi in the case Dobbs v. Jackson Women's Health Organization, removing the right to an abortion and returning the decision to the states.
Numerous states have already passed abortion bans or legislation that would immediately ban abortions if Roe were overturned. Colorado's neighbors of Oklahoma, Utah and Arizona have already instituted some form of abortion ban, while in March, Wyoming passed legislation that would trigger a ban if the Supreme Court overrules Roe, according to CNN and NPR.
In all, 26 states could ban abortion, including five of Colorado's seven immediate neighbors, according to the Guttmacher Institute, a pro-abortion advocacy group.
With reproductive rights legislation in place, the impacts to Durango and Colorado will likely be minimal, but Durango's Planned Parenthood clinic could see more out-of-state patients seeking care, said Richard Grossman, a former OB/GYN who worked with Planned Parenthood in the Southwest for more than four decades.
Grossman's greatest concern is the potential return of nonmedical abortions nationally.
"What I fear is going to happen in other states, not here in Colorado, is that women are going to turn to whatever they used to do in the past, and that includes self-abortion," he said.
Grossman recounted a former patient who on her second visit to the emergency room admitted to using a knitting needle to try to cause an abortion. The year was 1973 – the same year the Supreme Court decided Roe.
"We're going to start seeing women dying once again from nonmedical abortions," he said.
For their part, Gundrey said LifeGuard was prepared to welcome anyone who seeks an abortion in Durango with open arms.
"We take the approach that we'll help anybody from wherever they are, and we just want to help women and their babies and families make the best choice for them," she said. "If we can help in any way, even people traveling from other states, we'll do it. We'll do anything to save a baby."
Grossman, who also attended the rally with his wife, shared relief that women in Colorado will still have the right to an abortion and reproductive choice even with the Supreme Court's draft decision. But he warned that those protections may not always exist.
"The state may change as the administration changes. (If) the complexion of the state turns more red, that law could change," he said. "But I'm happy that, at least for now, women do have the right to choose."
ahannon@durangoherald.com