Depth of DHS leads to more wins against smaller schools
The strength of the Durango High School track and field teams could once again be seen in one of the premier events of the sport – the 800-meter run.
While also dominating in the 1,600 and 3,200-meter runs, the Durango boys won with 214 points while the girls won with 172 points at the Ron Keller Invitational on Saturday at Durango High School.
Always one of the top 800 teams in the state, the Durango girls swept the top three spots in the event, while the boys took the top-two positions.
Damian Frausto won the boys race in 1 minute, 58.49 seconds to edge teammate Land Lambert, who finished in 2:02.87. Mancos' Edgar Hernandez was third in 2:03.27, while Bayfield's Zeb Shields was fourth in 2:03.65.
Angela McManus was the victor in the girls 800 in 2:21.96, which was nearly five seconds faster than her seed time. Durango's Willow Lott was a distant second in 2:28:41, more than five seconds faster than her seed time, while teammate Abby Fehr was third in 2:32.02 to beat Mancos' Grace Manning by less than a half second. Durango's Tea Forest was fourth in 2:35.97.
In the girls 1,600, Fehr won in 5:49.05, while Tea Forest was second in 6:30.15.
Paul Knight won the boys 1,600 for DHS in 4:46.38, 10 seconds in front of Montezuma-Cortez's John Whyte. Third went to Charlie Dilman of Durango in 5:01.25, while Jack Lootens and William McFarlane of Durango placed fourth and fifth, respectively.
Durango had the only two girls in the 3,200, which was won by Tea Forest in 12:05.62. She was 20 seconds in front of Lott.
The boys 3,200 was a powerful display of Durango running in a five-man race between Durango and Centauri athletes. Knight won in 9:41.59 for DHS ahead of teammates Lambert (9:36.70) and Frausto (9:48:16). Tony Chavez of Centauri was fourth in 13:46.60.
Here's a closer look at the rest of the Ron Keller Invitational: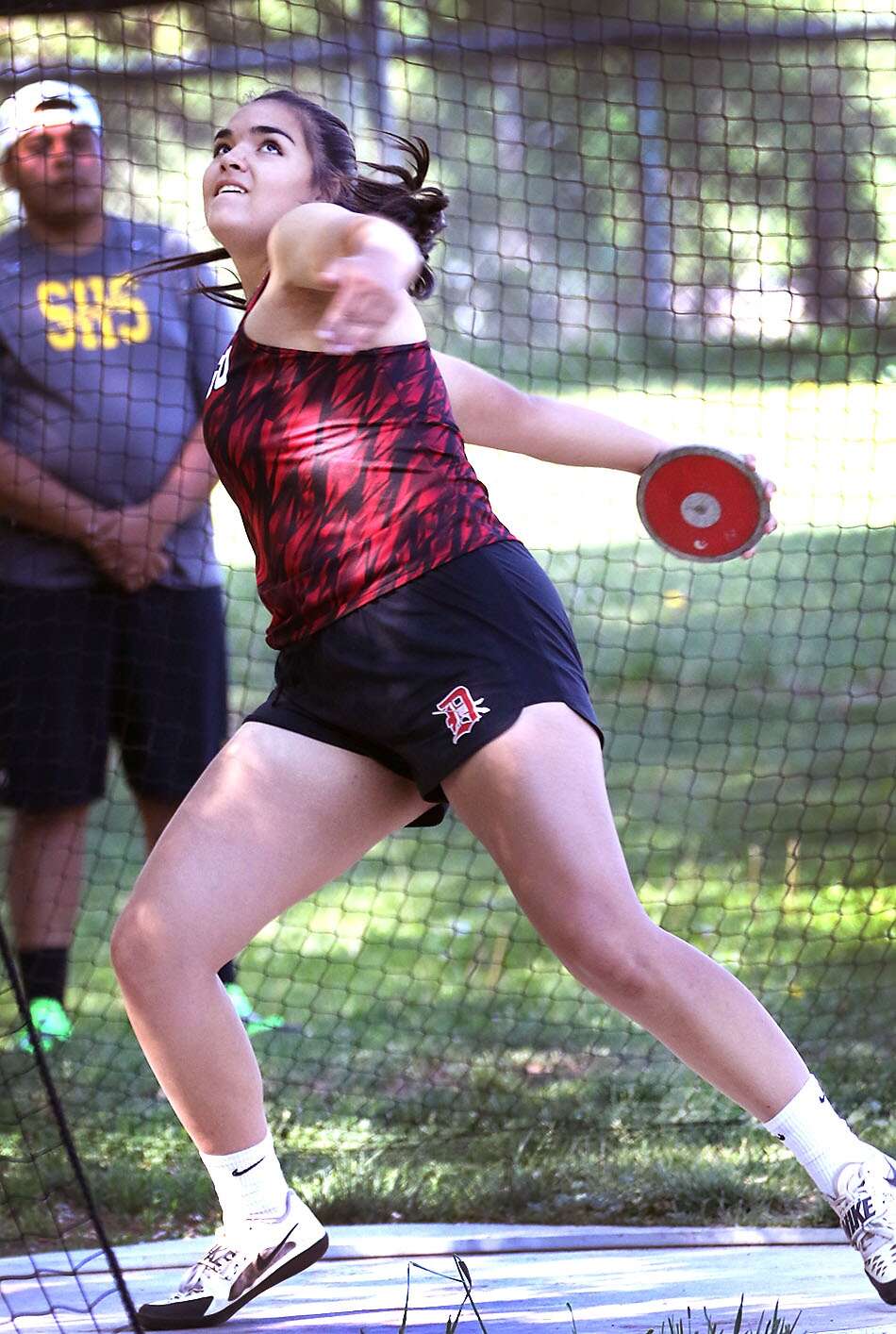 Boys Track and Field
Bayfield's Crosby Edwards continued to soar in the high jump. The senior cleared 5-feet, 11 inches Saturday to edge Durango's Jasper Zastrocky by two inches, while Mancos' Josh Lindner was third with a jump of 5-07 and Kail Wayman of the Mancos Bluejays and Kaleb Roberts of Durango tied for fourth at 5-01.
Levi Tichi of Durango claimed the pole vault win by six inches in front of Del Norte's Riley Orr. Tichi cleared 10-08.
The long jump win went to Centauri's Devin Brady at 19-4.25. That was one inch better than Del Norte's Logan Cestone, while Mancos' Dustin Morning was third at 17-05.25.
Sawyer Smith of Montezuma-Cortez was the boys triple jump winner at 41-07, while Durango's Kilian Gwinn was second at 39-00.50.
Centauri had a strong grip of the speed events Saturday. Mason Claunch won the 100-meter dash in 11.27 seconds in front of teammate Devin Brady by a half second. Durango's Branden Marquez was third in 11.80, while Ean Goodwin, Evan Bastin, Tyler Woodworth, Emmet Thompson, Jaxon Fancher, Landon Roberts, Aidan Dakari and Jasper Zastrocky placed third through 11th for DHS, respectively.
Claunch also won the 200 in 22.71 ahead of Del Norte's Logan Cestone. Another 11 DHS runners filled the positions behind the top two, led by Marquez in third in 23.61 and Thompson in fourth in 23.93.
Cestone got his win in the 400 in 51.07 seconds, more than a second in front of Durango's Marquez. Fancher was third and Roberts fourth for DHS.
Durango's Micah Zastrocky had a strong day with a win in the 110 hurdles (19.59 seconds) and a third place in the 300 hurdles (50.73). Durango's Ethan Flores was second in the 110 hurdles in 20.24 seconds, and Wes Atcitty of Montezuma-Cortez was third in 20.89.
The 300 hurdles win went to Dylan Rantz of Dolores in 45.22 seconds. Centauri's Mason Sowards was second in 49.35 seconds.
Durango's 4x100 relay team of Thompson, Aidan Dakari, Gwinn and Jasper Zastrocky won in 46.50 seconds. Mancos' squad of Cole Dainty-Guilfoyle, Connor Showaler, Kail Wayman and Chris Media was second in 48.56.
Del Norte claimed the boys 4x200 in 1:41.86 in front of Bayfield's squad, which finished in 1:42.74.
In the boys shot put, Durango's William Knight continued his outstanding season with another win. He threw 48-09.50, while Mancos' Connor Showalter was second at 47-09 and Dustin Morning of Mancos was third at 42-06.50.
Showalter claimed the discus throw at 153-07, nearly six feet further than Knight, who was second. Showalter's throw was a U.S. Second Team standard on MileSplit.com.
Girls Track and Field
Durango's Halle Moore won the pole vault when she cleared 9-02, which was a foot higher than Del Norte's Kaeci Madrid. Durango's Seneca Wilson was third after she cleared 7-08.
There was more competition between schools at the short-distance events. Montezuma-Cortez's Avery Wright claimed the 100-meter dash win in 12.84 seconds to beat Durango's Anderson Gillen, who also was third in the long jump, by nearly a full second. Lexy Young of Ignacio had a strong day and would finish third in the 100 in 13.80, 0.01 behind Gillen.
Sangre de Cristo's Avery Palmgren was the 200 winner in 27.39 seconds, while Young was second for IHS in 28.99. Gillen would take third in 29.12, while Bayfield's Abby Tate as fourth in 29.18.
Tate earned the win for the Wolverines in the 400, as she finished in 1:04.65. Ava McClellan of Durango was second in 1:05.70, and Sargent's Gabby Jones led a group of three consecutive Farmers to the finish line, as she was third in 1:07.72.
Montezuma-Cortez athletes led the 100-meter hurdles, as Devon McHenry was first in 17.40 seconds, and Cassandra McCully was second in 18.19.
Bailey Asbell of Sargent was first in the 300 hurdles in 50.09 seconds, while Durango's Jessica McVaugh was second in 52.85. Keaton Roof and Elise Schumann took third and fourth for DHS, while Bayfield's Chloe Sarnow was fifth.
Durango edged Del Norte in the girls 4x100 relay with legs run by Gillen, Emmy Hawk, Naomi Smith and Lana Bodewes.
Sophia Shepard of Montezuma-Cortez won the triple jump at 31-08.75. That was 11 inches better than Peyton Metz of Sangre de Cristo, and Angela McManus of Durango was third at 28-07.25.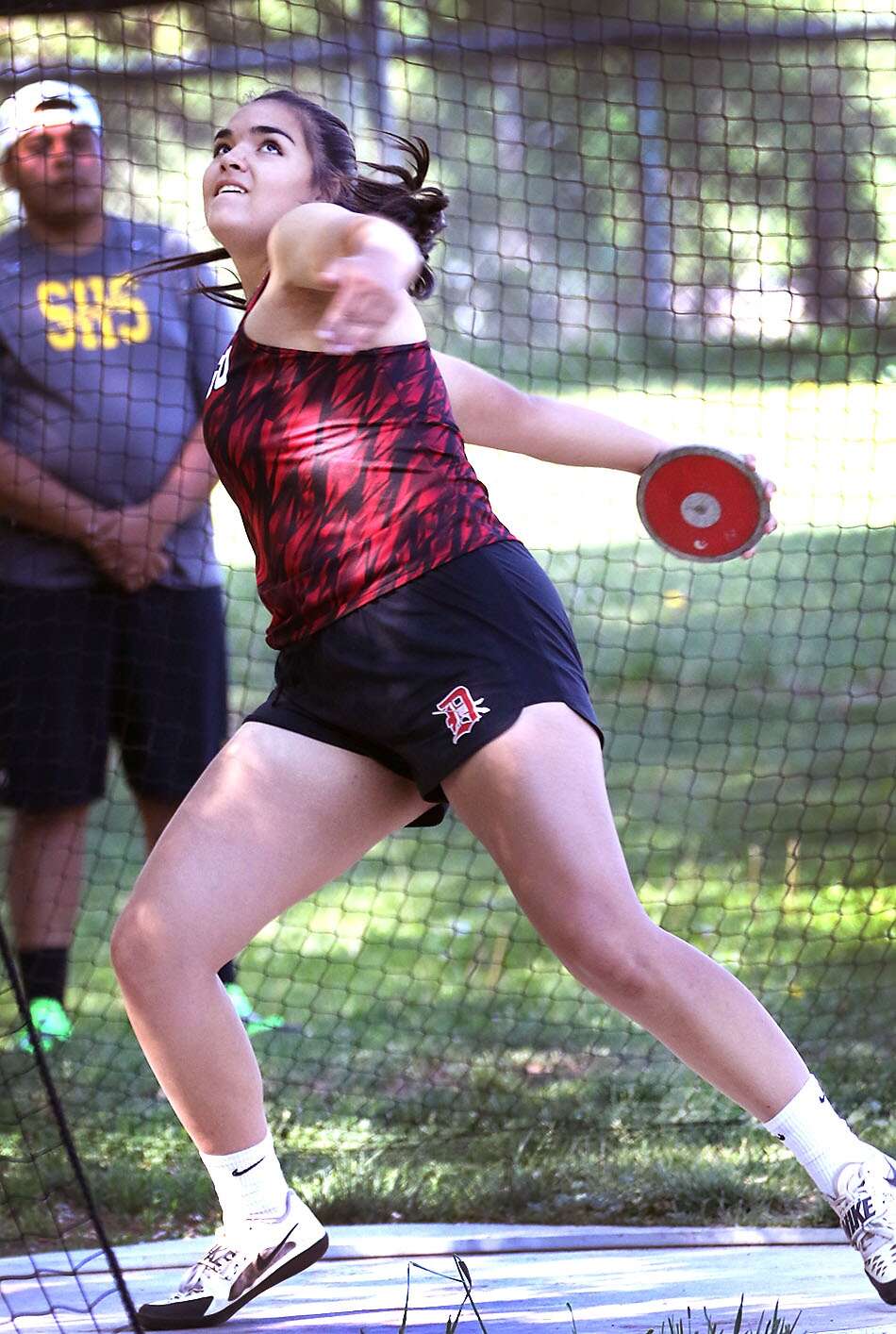 Durango's Sydney Flores saw good competition in the throwing events. She was second in shot put with a throw of 34-08, while Courtney Hamilton of Centauri won at 35-11.05. Marissa Johnson of Centauri was third at 33-03, while Emily Nelson of Bayfield was fourth at 30-01.50.
Flores would win the discus throw at 116-05, 15 feet further than Nelson. Alexis Pontine of Ignacio was third at 92-01, and Samantha Vasquez of Durango was fourth at 91-02.
Teams will continue to work ahead of the state championship meet June 24-26 in Denver.
jlivingston@durangoherald.com