Gary and Donna Broad owned downtown eatery for 41 years
Scores of photographs line the walls of the Durango Diner at 957 Main Ave.
One picture frame holds a hand-written note beside two stacked photographs. The bottom photo shows three pigs roaming a brown field and the top photo shows a woman posing behind a little girl beside a pig pin. The note reads, "Thank you Gary for buying my pig and for Clayton's add-on donation. Love, Analicia and Clayton."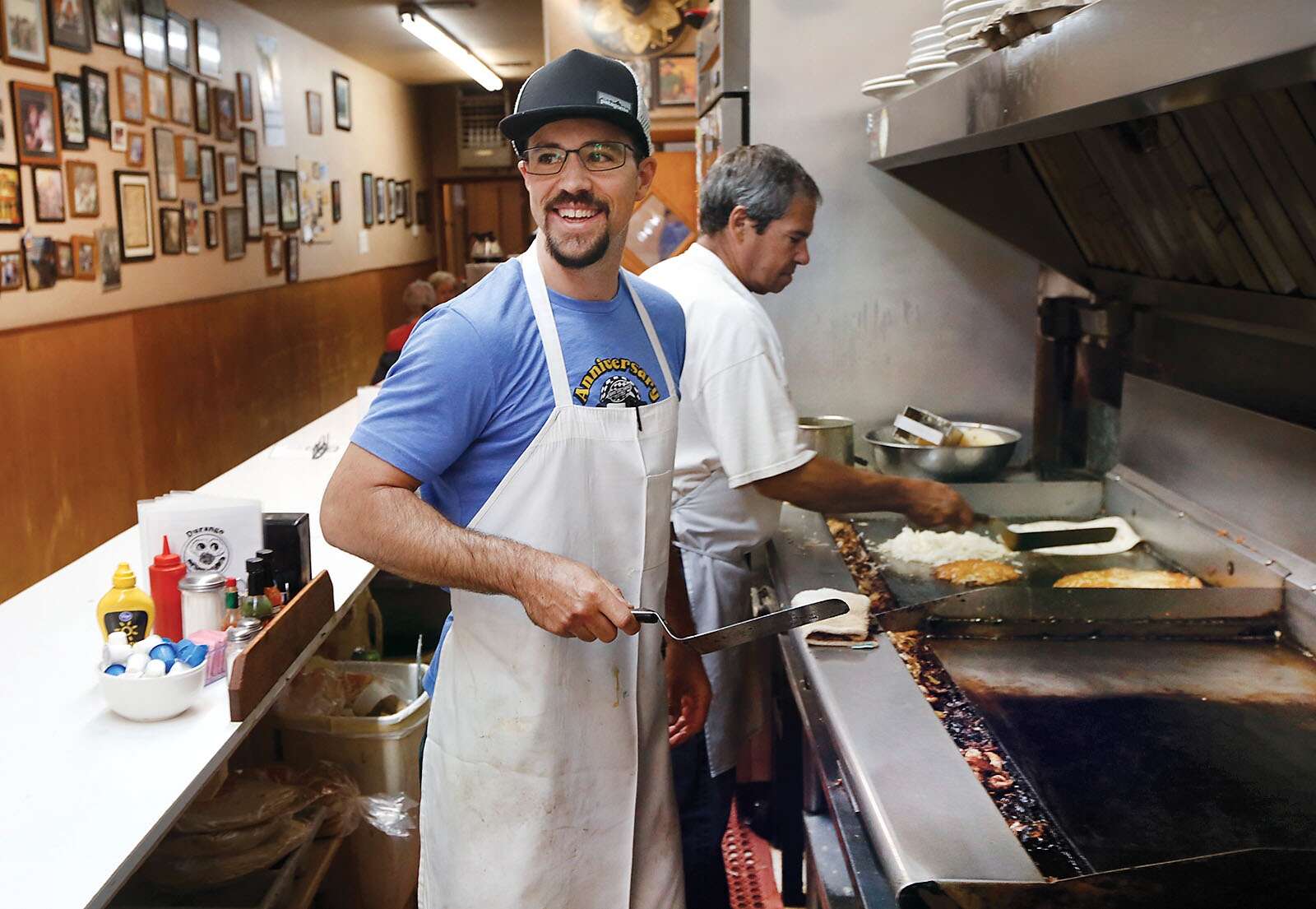 Ribbons and awards, magazine illustrations, newspaper clippings and posters featuring the legendary actor and filmmaker John Wayne pepper the walls between photographs.
Out of all the decorations, two photos stand out most to former owner Gary Broad, 67: One of his daughters, Becca and Amanda, and one of his two grandsons, Mason and Henry. Broad said the diner is like his living room. He said a lot of places feature photos, but not too often do those photos feature people.
"I know everybody on the walls," he said.
Broad is well acquainted with the diner staff, too. In fact, one staff member who started in 2009 as a sophomore in college took over ownership of the famed downtown diner last month.
Greg Mauger and Broad have been discussing Mauger's eventual takeover for years. Mauger, 32, said he wasn't ready for that big of a commitment several years ago, but when COVID-19 hit, he found himself bored from the slowdown.
"I told myself I'd rather work myself to death than be that bored," Mauger said.
Broad said it feels good to pass the legacy along, and he is glad it is going to Mauger.
"He is really a good guy," Broad said. "He's got a lot of common sense. That's what it takes. And perseverance with the waitresses."
Broad laughed, and so did a nearby waitress.
Broad bought the Durango Diner in 1980 from Jim and Mary Roberts, he said, and he and his wife, Donna Broad, have run it for 41 years, with Donna doing most of the paperwork.
"My wife, Donna, does a tremendous job," Broad said. "She handles all the paperwork. There's a (expletive) of paperwork."
The diner has come a long way since Broad bought it, particularly if one considers that a lot of its furnishings were carried by hand from its previous location about a block away.
Broad even has photo of himself and Bart Rabkin carrying a piece of the main countertop down Main Avenue. They had to cut it in half to move it, he said. The diner used to have a large, bright neon sign, but a city ordinance prevented them from bringing that to the new location.
Broad considers himself a leader by example. When he was in charge, he would be the first to work.
"Very seldom would anyone beat me to work," Broad said. "I'd make the coffee; I'm making the coffee for you, even though I'm paying you. I like to have things going."
Mauger beat Broad to work on Sept. 28, 11 days after he took ownership of the Durango Diner.
Broad showed up to offer relief to a grill man who had worked 10 consecutive days and needed a day off. In an average year, Broad estimated the diner would have at least a dozen women lined up for waitress jobs and plenty of men looking to wash dishes or do whatever else needed to be done around the diner. But things were different this year. Broad said he saw no applications from college kids in 2021.
"This is unprecedented times," Broad said. "I don't know what is going on, I mean it's all over the country. I mean, it's ridiculous. People not working."
The Durango Diner is actively looking for more staff members, Mauger said.
While other eateries reduced their hours or closed shop because of the COVID-19 pandemic, the Durango Diner did its best to maintain its hours, Broad said. He estimated the diner serves about 200 to 225 people on an average day. It goes through about 300 eggs a day, so that's 150 plates just for eggs, not even counting biscuits, hamburgers or other food items.
Broad and Mauger both agreed the diner's most popular meal is The Cure. It's a big hash brown that is pressed fresh onto the grill, a large layer of cheese and another layer of meat, usually bacon, with eggs on top smothered in the Durango Diner's famous green chili.
The chili is manufactured at a plant in Ignacio, distributed in Denver and sold at local grocery stores in Durango.
"They're good, hard-working people," Mauger said of Gary and Donna Broad. "Really involved in the community a long time."
Mauger learned about hard work from his mother, he said, but Broad taught him more, too.
"There's not been many business owners that have been around that long that have worked that hard," Mauger said. "He's working the grill tomorrow for me. He's giving Ryan a day off. He's 67 years old and he works as hard as any man in town, guaranteed."
Mauger said he has plans to make the diner his own, but for the most part it will be the same Durango Diner. A remodel is planned for November; Broad will take some of the photos down from the walls and Mauger will replace those with some of his own.
"Most of the advice that I get from locals is to not change a thing," Mauger said. "I get a lot of unsolicited advice, which I appreciate for the most part."
Most of the changes, Mauger said, will be behind the scenes. He plans to modernize "the back of the house" with a time clock and a payroll department. For people who have patronized the diner for 40 years, though, they're not going to notice much.
"We're still going to grind potatoes fresh onto the grill," Mauger said. "We're not going to use a machine for that. We're still going to work hard, be friendly and keep what made this successful."
What's next for Broad? A break, he said. But after that? He will be back to work, driving chili sold at the diner from Ignacio to Denver and, sometimes, even Albuquerque.
Broad is familiar with the routine: Wake up at 1:30 or 2 a.m. and drive to Denver with his small semitrailer. Empty the trailer at the Denver distribution plant. Spend the night visiting his daughter. Wake up at 1:30 or 2 a.m. again to drive home to Durango.
cburney@durangoherald.com