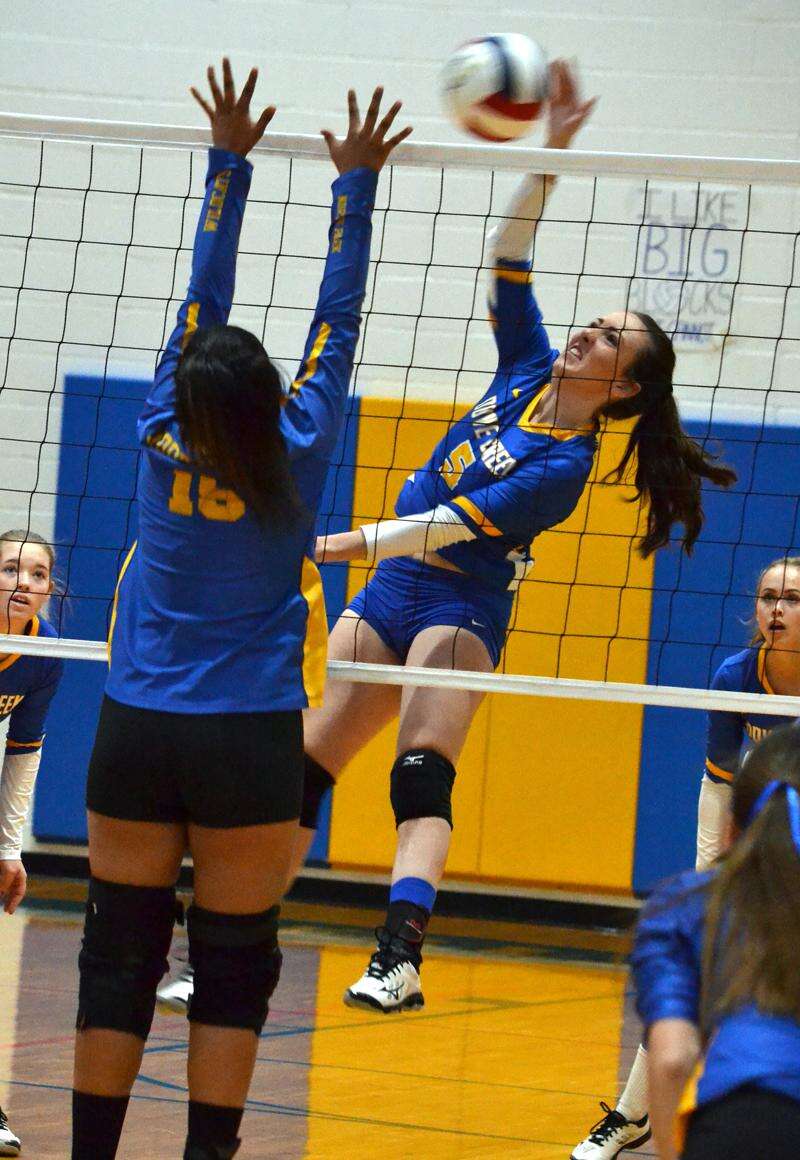 Lady Bulldogs enter season as defending league champions
DOVE CREEK – After another stellar season capped with a San Juan Basin League title, head coach Lacey Murphy has her Bulldogs primed for another run at a league crown. With a strong returning cast and balanced lineup, Dove Creek have all the tools to duplicate and surpass last season's run to the regional title match.
The Bulldogs posted a 10-0 mark in the SJBL last year, and have multiple returners who figured prominently into their success. Senior captain Tara Buffington will help lead the way, shifting from her libero position last year to take on a role in all six rotations for the Bulldogs. Co-captain Shania Kibel returns after missing last season because of injury and will factor prominently into the attack.
The leadership, ultimately, will be a shared task, according to Murphy. "We have a number of returning starters from last year," said Murphy, "and they've meshed really well as a unit. I expect that they will all have their leadership qualities come into play in different situations."
Among those returning on the front line, juniors Trista Barnett and Lexi Gray combined for over 150 kills a season ago, while the dynamic sophomores Kalie and Kylie Gatlin posted impressive numbers, with Kylie leading the team in kills, and Kalie tops in hitting percentage. Add senior Jessie Ayers, and a pair of newcomers, Ralynn Hickman and Destiny Toledo, to the equation, and the Bulldogs have one of the most balanced teams in the classification.
The Bulldogs were a constant fixture in the CHSAA polls in the 1A classification, but after bowing out one match shy of last year's state tournament, Murphy's group wants to make the next step. "We've been working on mental toughness and communication," added the head coach, "with the overall goal of pushing further into the postseason."
Playing in the spring, the Bulldogs have the opportunity to carry over their success from just a few months ago. "It's been busy, with a number of our players going to individual camps, along with a collective team camp at CSU," said Murphy, "but it says a lot about the work ethic of these girls."
Dove Creek got off to a strong start to their 2021 fall, topping their border rivals Monticello in straight sets to open on a winning note.
The Bulldogs travel to Mancos on Tuesday, Aug. 24, before opening up league play at home the following week, when Nucla visits for a match on Tuesday, Aug. 31. The Bulldogs' schedule also includes a pair of trips to Gunnison to help prepare them for postseason play.