Class shares memories and encouragement
Dove Creek graduates threw their caps as the gymnasium filled with family and friends erupted in cheers. The class graduated with over $260,000 in scholarship money, as well as garnering notable athletic achievements in football, basketball, volleyball and baseball.
To start the evening, Dean of Students Jason Fury opened by reading a few Bible verses and saying a prayer for the graduates.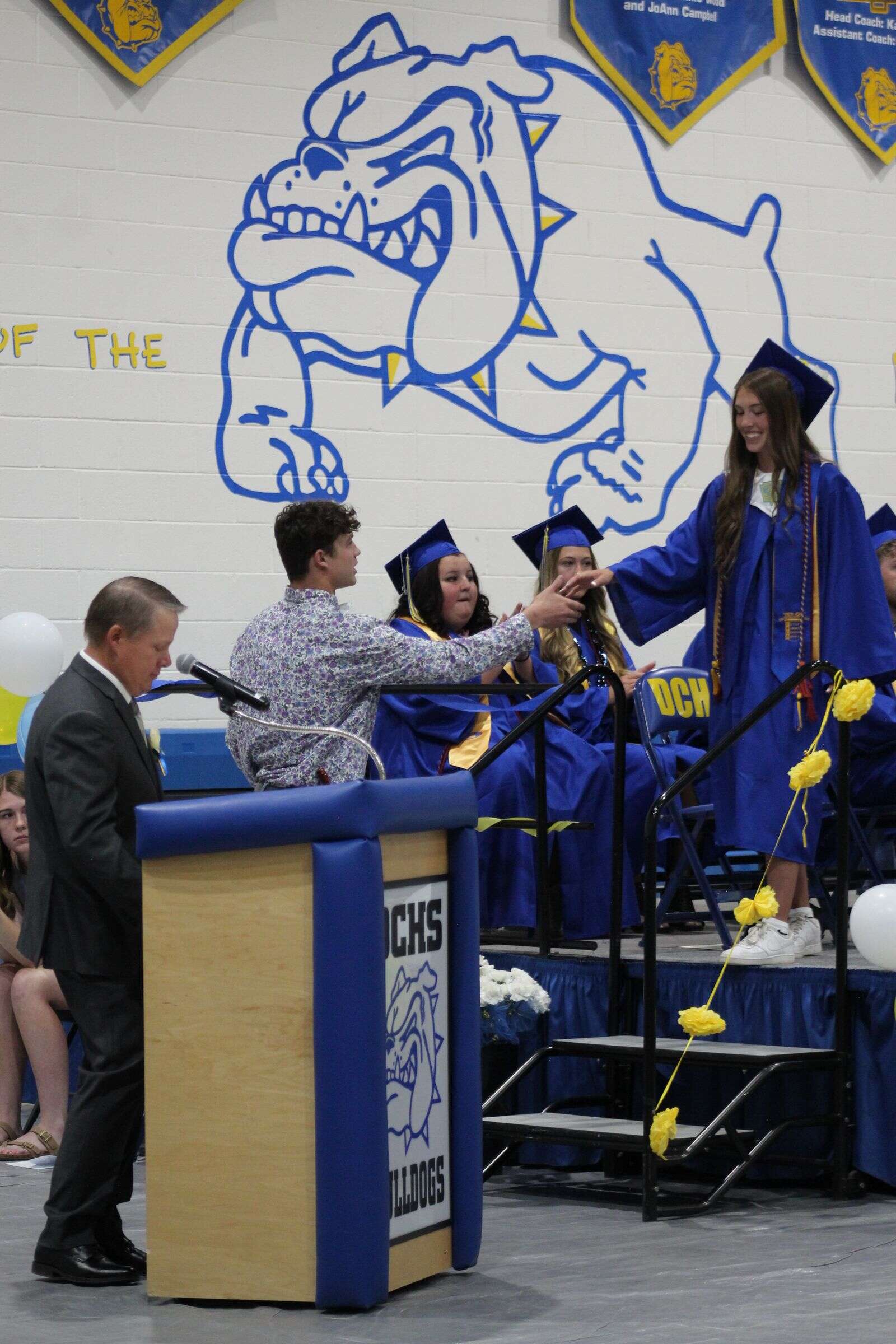 "I pray that they will be safe physically and spiritually as they face the unknowns and challenges of this world. I pray for the strength and courage to face the demands of this life. I pray that they will seek your guidance, reveal to them truth and that they will have no need to fear and will rest in your promises," he said.
Following the prayer, Fury introduced Devon Lane, who had been chosen by the students to do the keynote address.
She said seven years ago she was introduced to the class of 2023 for the first time. When she asked their former teacher what they were like she said, "This class is going to change the world."
"I believe today more than ever that this class has the potential to change the world," she said.
Lane encouraged students to have courage, a strong work ethic and self-mastery, telling them these were key to succeeding in life.
"Courage is the mental strength to measure, persevere and withstand danger, fear or difficulty," she said. Without courage, it is impossible to succeed."
I challenge you to never pass up opportunities because you're afraid to fail," she added.
Salutatorian Alexa Gray spoke of her memories with the class of 2023, speaking about their competitive drive in the classroom and in their various athletics.
"Academic competition between us is insane, and we push each other to be better," she said.
Gray even shed a few tears while thanking her class for the memories and wishing them well as they go on to their next adventure.
Following the class slideshow of the seniors' childhood photos, Trista Barnett gave her valedictorian speech.
Barnett shared that when she first moved to Dove Creek from the city, she was terrified to go to second grade in a new school, but her class pulled her in and made her feel at home.
After speaking of her memories with the class and thanking family and faculty for their support, she gave some advice to underclassmen in attendance.
"I encourage you to enjoy these little moments because one day it will be the last homecoming, the last volleyball game and all you'll have are the memories," she said.
Barnett ended her speech by providing encouragement to her classmates and urging them to push to realize their full potential.
"I encourage each and every one of you to fulfill your full potential," she said. "No matter your past, present or your future, create someone that you can be proud of.
Following Barnett's graduation speech, Fury announced the scholarships received by the senior class.
Multiple seniors were recipients of the Alec Taber Memorial Scholarship, a scholarship created in lieu of Dove Creek local Alec Taber who died of cancer at the age of 12 in March of 2014.
Alec's younger brother Cole was among the graduates and was one of the recipients of his brother's scholarship. The seniors also had Alec's name pressed on their stoles.
Some notable scholarship recipients were Kade Hankins who received over $66,000 in scholarship money, Gray who received over $65,000 and Barnett who received $101,000 in scholarships.
In total, the class of 2023 combined had accumulated $261,290 in scholarships.
After the scholarships were announced, the graduating class took turns handing flowers to their loved ones and accepting their diplomas before finally tossing their caps in the air, signifying the beginning of their new adventure, and equipped to live out the challenge presented in their senior motto:
"The hardest battle you will face in life is to be no one but yourself in a world which is trying its hardest to make you like everybody else."