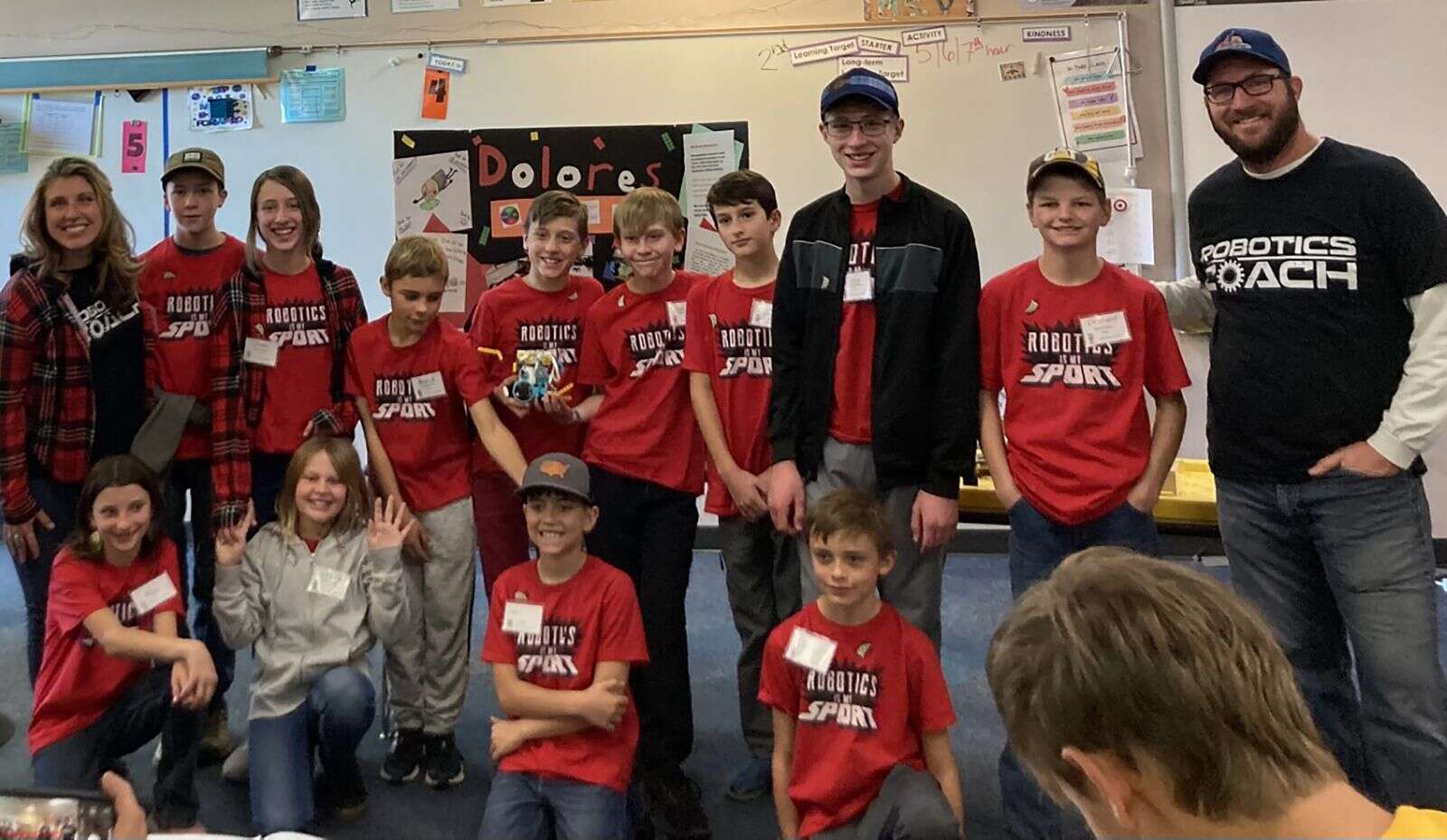 Mancos team also will compete at tournament
In its first year, a Dolores Lego robotics team took home a championship trophy and received an invitation to the state Lego robotics competition in Denver.
"This was the first time Dolores schools have ever been involved and invited to any Lego robotics competition to date donated by the Pinhead Institute … let alone bring back a first-time, first-place trophy. We are still over the moon," coach Demetra Elder said.
At the beginning of the school year, the Pinhead Institute, a nonprofit in Telluride that works to promote science, technology, engineering and math in schools, presented the opportunity for Dolores to have a Lego robotics league.
Two teams quickly formed. The first was led by parents Doug and Demetra Elder, and the second team was led by Dolores teachers David Krumwiede and Tom Schaper.
The team led by the Elders had 12 members and chose the name BEARs, which stands for Building Epic Awesome Robots. The team led by Krumwiede and Schaper had nine members and chose the team name The Duplos.
The students in the league range from fourth to eighth grade.
Both Dolores teams were invited to compete in their first major competition on Nov. 19 at the First Inspires Lego Robotics put on by Qualcomm Competition at Escalante Middle School in Durango. The theme of the competition was Super Powered, and the focus was ways students could use renewable energy in their robot designs.
The teams were required to complete missions, build and program a Lego robot while coming up with ways to incorporate solar, wind and hydroelectric elements into their design. To finish it off, the teams had to present their finished work to a panel of judges. Coaches Doug and Demetra Elder said this helped enforce the six core values they had been instilling in the BEARs all semester – teamwork, inclusion, impact, fun, discovery and innovation.
The Dolores BEARs took home the first-place trophy and received an invitation to take their Lego robotic skills to state. Mancos' team placed second and will also compete at state with the BEARs.
"We all went crazy with excitement when we heard our school name called. It is hard to put it into words really. Everyone flew off the bleachers, looking around at each other in complete surprise and pride. All of us celebrated together with the kids shouting and running with joy, high-fiving and passing the trophy around to one another," Demetra Elder said. "This experience revealed to them what hard work, dedication and opportunity can do. We are so proud of these amazing kids. I believe we will see more from these kids, and all of Dolores."
Both coaches expressed their thanks to parents and administrators at the school for their help and support throughout the semester.
"We do so much to celebrate our athletic teams, so celebrating a STEM program win for Dolores is fantastic. Schools that support having STEM opportunities bring about more great ways for kiddos to get involved in their school and our world. We are so glad that we had the support from our administrators to allow us to accomplish this. We would love to send a shoutout to all of the supportive parents who came from all teams to cheer on their children and schools! Without the encouragement and support of our parents, caregivers and community very little is ever done," Coach Elder finished.
The Dolores BEARs will compete at state with the Mancos robotics team Dec. 10 in Denver.