Graduates encouraged to persevere through challenges and continue to be there for one another
Laughter echoed across the Dolores High School gym as graduates watched a slideshow created to commemorate their graduation on Saturday morning.
As the pictures appeared on screen, enthusiastic cheers came from the friends and family members who attended commencement to celebrate with the 34 Dolores High School seniors on their special day.
The class' motto, "It matters not what you are thought to be, but who you are," was evidenced throughout the graduation ceremony as students spoke about embracing their true selves and letting that propel them as they head out into the world for the first time.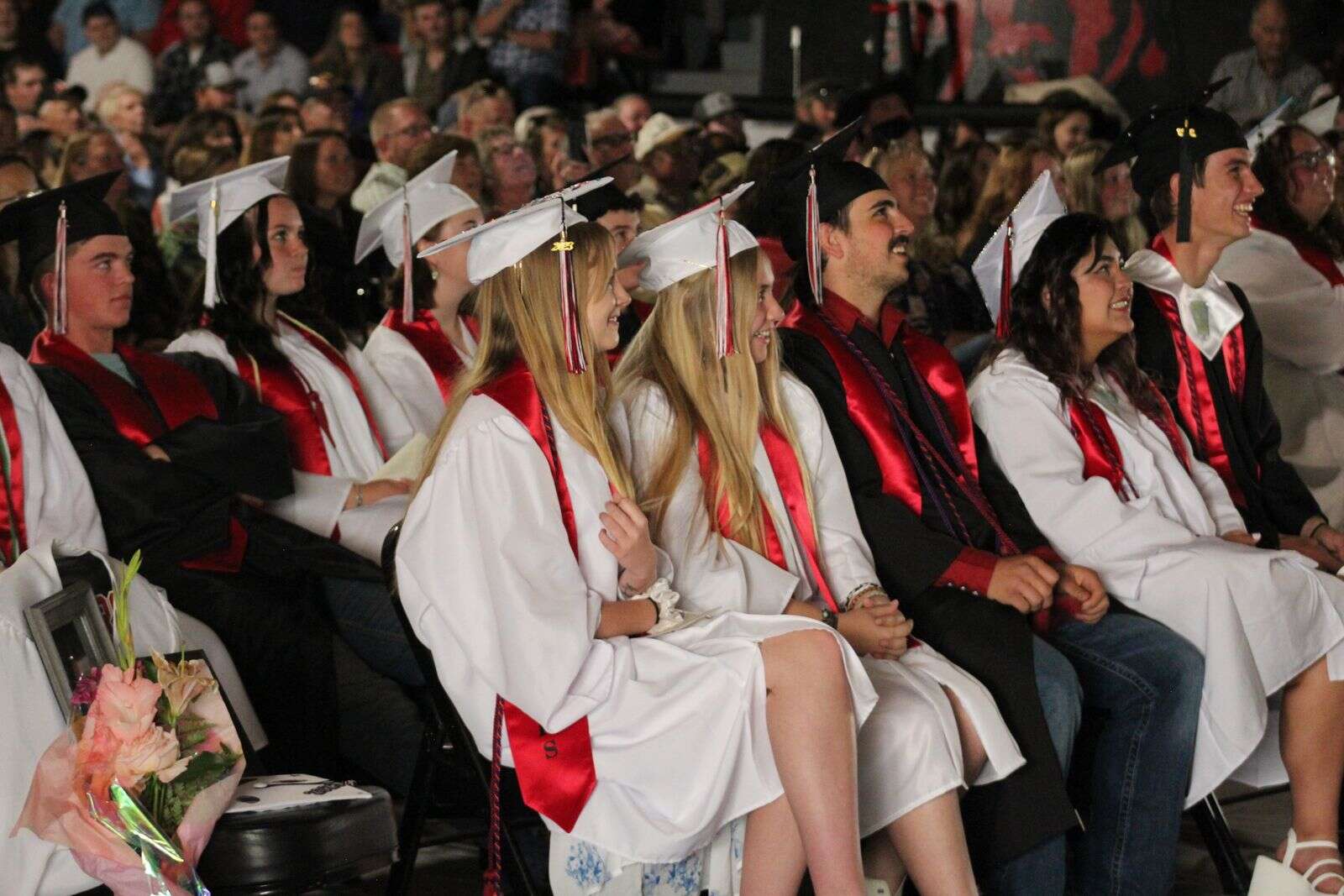 Senior class president Grace Paul kicked off student speeches with a moving tribute to her classmates, thanking them for all that they had taught her during her time as a Dolores student.
Paul, who has attended Dolores schools since preschool, thanked classmate Ethen Robson for teaching her how to put herself out of her comfort zone and the impact a friendly smile or word can have on a person.
She spoke of Sarah Spore's smile and Lance Lyon's encouragement, along with other lessons learned from her classmates.
After thanking teachers and parents, Paul encouraged her fellow seniors to "begin this next chapter of life with confidence and inspire others as you have inspired me."
Paul will attend Colorado Mesa University in the fall to study to be a nurse practitioner.
Longtime Dolores high school teacher Peter Swingle's keynote address urged seniors to persevere throughout life, whether in good times or difficult ones. When he was introduced by Paul, she joked that Swingle is "Dolores' high-water guy," after the gym flooded in 2019, another year he gave the keynote address.
He told seniors he had been in their place exactly 50 years ago, and said someday they'll look back on this moment and see how far they've come and how they learned to find the will to carry on.
"Failure is not fatal. It is the courage to continue on that counts," he said, quoting Winston Churchill.
One of the ways Swingle told students they could keep moving forward during the difficult times of life was to look to one another, friends and their families to find strength.
"In life, be open to helping others find success," he said.
As a gift to the graduates, Swingle placed a token with a Greek letter under each of their chairs. He told students there were two of each kind of token, and he urged the seniors to find who in their class their token was matched with.
That token, he said, would be a reminder to check in on that person from time to time to see how they are doing and to give them encouragement or a listening ear if they are ever in need of it.
"Unforeseen blessings will bloom," he said.
Along with the slideshow of childhood photos and memories from their years in school, class superlatives such as the most redneck, most likely to succeed, best personality, biggest flirt and more were assigned to the seniors.
Salutatorian Braden Boyd lettered in multiple sports all four years of high school and will be attend Grand Canyon University to study business. He also received the Empire Electric Scholarship.
In his speech, Boyd referenced a deck of cards, saying that as he and his fellow classmates head out into the world, they will have to learn how to deal with the hand they are dealt in life.
"Every card has a different value and that's what makes it so special. Every time you shuffle the deck, there's always a different outcome. And while you can try to figure out what's next, it will always be unpredictable. We can try our best to know exactly what's going on all the time, but at the end of the day we have to be happy with the things we do and the cards we play," he said.
He also urged his classmates to remember their uniqueness and special place in life, saying that they shouldn't try to be like a king or queen in a deck of cards when a 1 or 2 is just as vital to a deck of cards.
"Even the smaller cards in the deck such as the 2's, 3's and 4's have their purpose. These cards are the ones that make the game more interesting," Boyd said. "They'll always be the ones that threw a curveball at you. And while most may overlook them, they still have a value."
"I want to leave everyone with knowing this class has so much more potential than they think … I know everyone in front of me will do great things and accomplish everything you put your mind to. Lastly, just know that this speech had nothing to do with cards and everything to do with you. Never put a label on yourself and if you do, know that it's not permanent. I love you all and congrats class of 2023," Boyd said.
The final speech came from valedictorian Taylor LaRose, who started by joking that she was glad all her classmates showed up in their best "trash bags" for the occasion.
"As we stand here today, we are at the end of one episode of our lives and the beginning of another. We are leaving behind the familiarity of high school and moving into the unknown of the future. For some of us, this means college, for others it means entering the workforce, and for some, it means taking time to explore the world," LaRose said.
LaRose, who completed 60 college credits while in high school, will attend Colorado School of Mines and major in mechanical engineering. She also received scholarships from Four Corners Board of Realtors, Empire Electric, Vanguard and Merit.
Over years of going through school with each other, she said she and her classmates have become mosaics of each other, something she finds comfort in as she takes the next step in life.
"Everyone you have met both here and otherwise has left an impression on you. We are a collection of each other. I still make references to inside jokes from elementary school, from friends who are now far away. … My vocabulary, my understanding and my sense of self comes from parts of all of you," LaRose said.
"In closing, I want to congratulate you once again and wish you all the best as you embark on the next phase of your journey. May your lives be filled with joy, success, and fulfillment, and may you always remember the mark everyone here has left on you," she said.
While walking across the stage to receive their diplomas, the graduates grinned ear to ear while those in attendance cheered.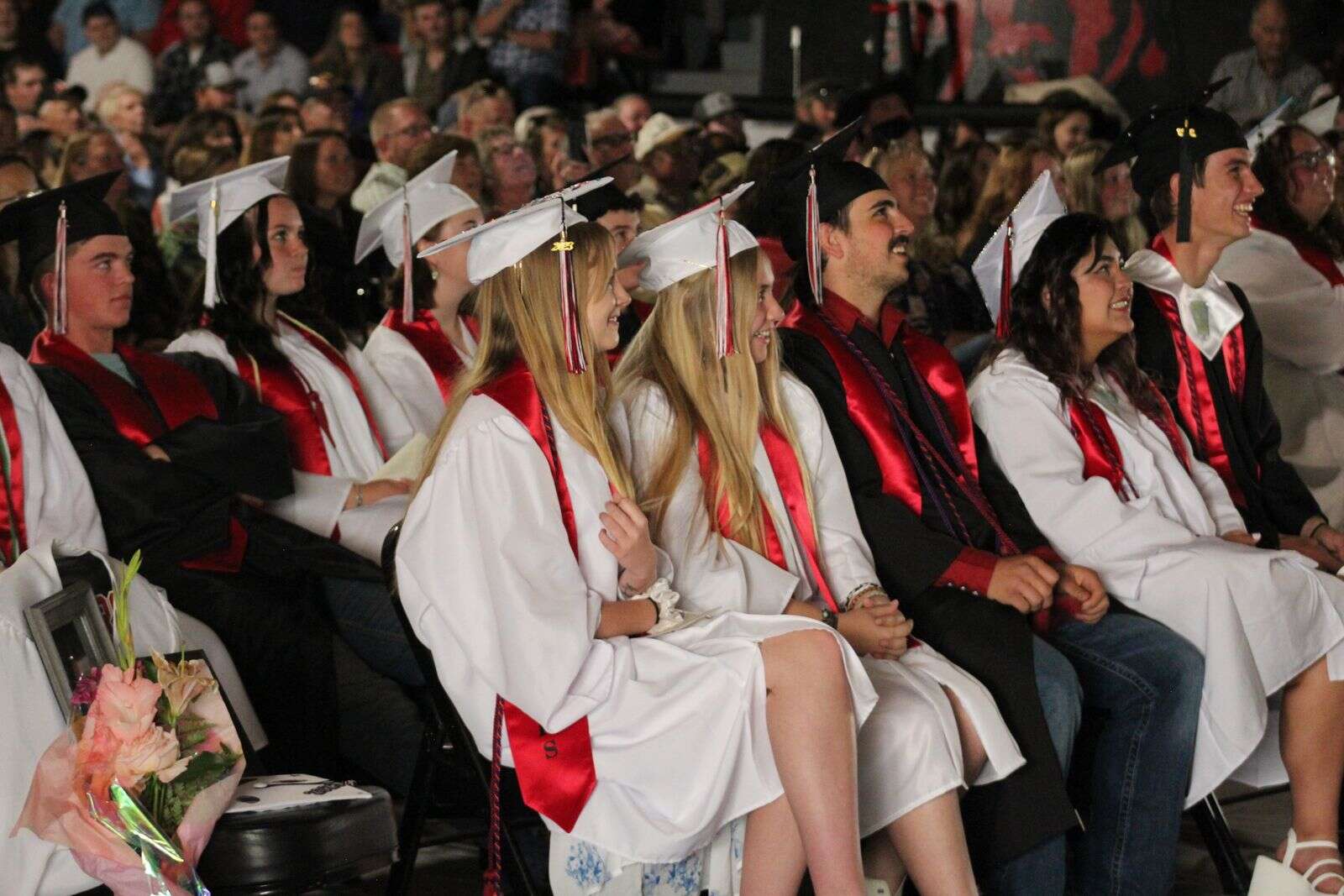 As each student received their diploma, their future plans were read aloud. Some students plan to go to college or cosmetology school, some will enter the workforce and one student said she is going to travel the world before heading to college.
Another student joked that he just wanted to get as far away from Dolores as possible, a statement that was met with laughter from the graduates and others in attendance.
One student showed his excitement by doing a backflip off the stage.
Alana Nowlin and a student named Samuel Armstrong were honored with a chair adorned with a cap and gown and photo of each student. Nowlin and Armstrong would have graduated with the class of 2023, but died before their senior year of high school.