Dolores endurance racer defends her 2022 title; training for bike-packing race in Armenia
Professional endurance cyclist Ashley Carelock of Dolores rode away for the victory in the Silverton Whiteout fat bike race Feb. 4.
Carelock took overall first place, riding the 10.9-mile course eight times, or 87 miles, in 6 hours, 47 minutes.
Brain Lugar of Moab came in second with seven laps, and approximate time of 6 hours. Kammie Schuhmann came in second for the solo woman category about a lap back.
Carelock beat out men and women solo riders, and defended her overall winner title from last year.
She said Lugar held a five-minute lead for much of the race, and he made it under the time limit for one more lap, but could go no farther. Carelock rode on for the final lap and took the win.
"I came in right before the cutoff and got one more lap in. I felt awesome, great training. This is one of my favorite events, just smiling the whole time," she said in a phone interview Wednesday.
The hilly course winds through town, then travels along the Animas River to Arrastra Gulch, with a 732-feet elevation gain. Race support is provided by the town of Silverton and the Avon Hotel, the event's headquarters.
The groomed course held up well for the race, with a few soft spots forming later in the day, Carelock said. Throughout the race she climbed over 5,000 feet in elevation.
"There was a nice decent that I just flew down," she said. "I never stopped, kept trying to gain on (Brian), wear him down. It finally ended up working. The best part is seeing all the families and people having fun, a lot of goodwill. Winning is a nice bonus."
The Silverton Whiteout fat bike race has a special place in Carelock's heart. When she rode it the first time in 2015 on a borrowed bike she placed second overall, and got inspired to pursue a racing career.
"I realized how much I love ultra cycling that race, it was the beginning of my cycling journey," Carelock said.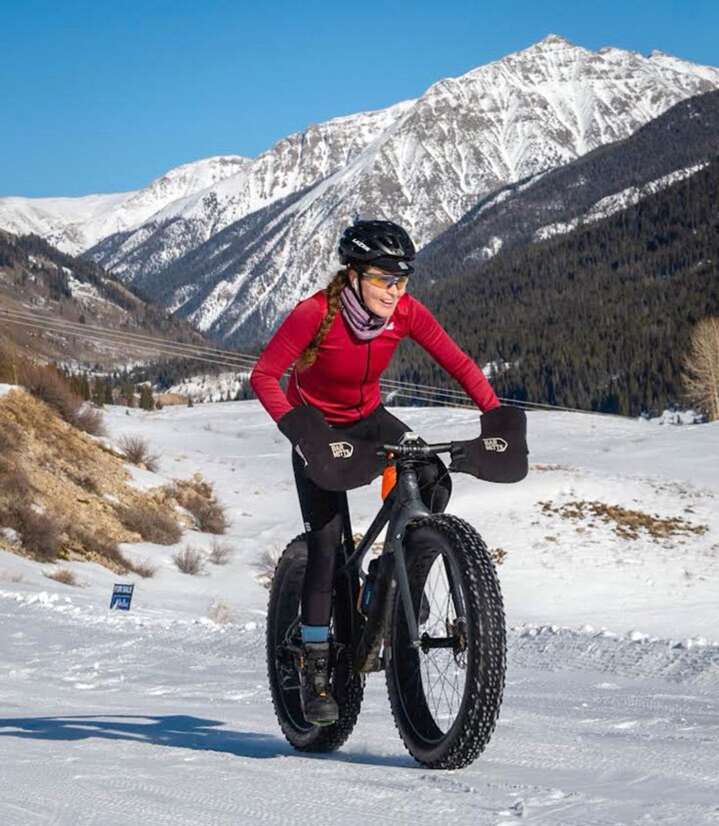 In 2017, she teamed up with Liz Carrington to win the duo category.
The Silverton Whiteout has been going on for nine years, said organizer Joe Hanrahan, new owner of Durango Cyclery.
He took over the race this year, adding with a laugh that the event came with buying the business.
"It's part race, part celebration of biking and bike culture," he said. "It's fun to see all your biking friends in the winter."
There were 140 participants this year, Hanrahan said, many decked out in costumes. One family was all dressed up as Willie Nelson.
The event is winter-fun casual, and record keeping was a little lax, with riders often only known by their team names.
"Half are riding hard, half are just out for a day with friends in the beautiful mountains," Hanrahan said.
At the Arrastra Gulch aid station there was a band, a keg and pizza served.
Carelock and Durango pro Howard Grotts were two of the professional ringers in the race.
Grotts and other Durango biking veterans formed the Gimme Khimmihk team and took first place, winning over Wheel Deal 2.0, a group of Durango Devo riders.
To spice it up, Gimme Khimmihk's first lap was on skate skis, putting them back 15 minutes, but they battled back for the win over the younger rivals, Hanrahan said. Team "Half Trained" came in third.
Carelock to race in Asia
Carelock's specialty is endurance mountain bike races. She is sponsored by Rodeo Adventure Lab bikes and Sportful clothing.
She loves fat biking and has had success in the category, winning the Fat Bike Worlds in 2018 in Crested Butte, and coming in second in 2019.
"It's different than mountain biking, a little slower, heavier," she said. "The big tires and the sound of the crunching snow, I just feel like a big kid out there."
Fat bike racing is less technical compared with mountain biking because the groomed snow course does not have obstacles, but it still requires good bike-handling skills, especially on the downhills and corners, she said. Another difference is that trail conditions matter more in fat biking, which requires a groomed track in cold weather to keep a firm trail.
You may see Carelock riding the groomed snow bike trails at Boggy Draw above Dolores as she trains for her next long-distance bike racing adventure.
She hopes to compete in the Hellenic Mountain Race, a 938-kilometer course through the mountains of Greece.
In June, she will compete for Rodeo Adventure Lab in Ascend Armenia, a 1,100-kilometer, self-support bike-packing race through the mountains and deserts of Armenia.
"Both of these races have a lot of climbing, tons of elevation gain," Carelock said. "I'm very excited about them."
jmimiaga@the-journal.com