Dust affects residents on town's southwest side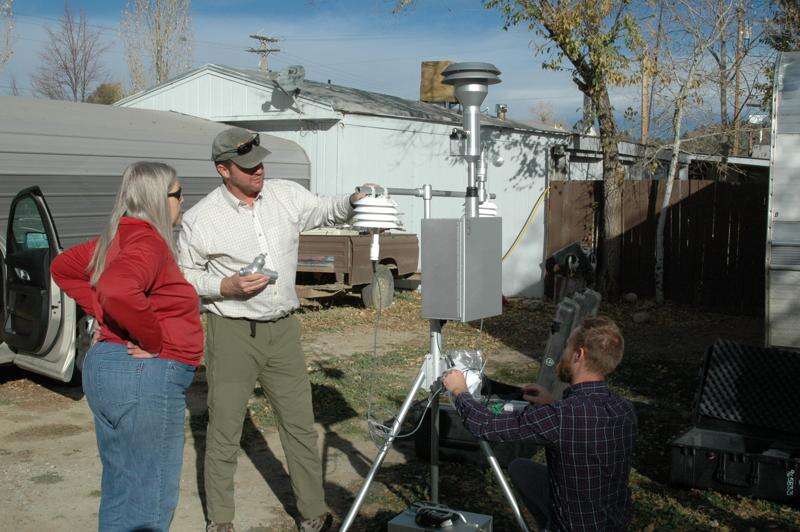 Environmental officials installed an E-BAM air quality monitor near Western Excelsior on the southwest side of Mancos on Wednesday.
The device will collect data for two weeks in order to give town residents more data about the level of particulates in the air in that part of town. A group of residents had already installed a smaller air monitor called a Dylos. Officials will compare data from the E-BAM with the Dylos, in order to determine whether or not the Dylos is giving accurate readings, Environmental Protection Agency representative Kyle Olson said.
"The future will be community monitoring," he said.
E-BAMs are often deployed near forest fire sites to monitor air quality, Olson said. The device in Mancos will detect the amount of particulates that are down to 10 microns in size, which can be detrimental for public health, he said.
Though processing at the Western Excelsior plant might be contributing to dust in the air, it could be coming from other sources, including dirt kicked up from the town's unpaved roads, Town Administrator Andrea Phillips said. The EPA and the federal Agency for Toxic Substances and Disease Registry installed the E-BAM and lent their expertise free of charge, she said.
After two weeks, the EPA will help town officials interpret the data and figure out the next steps, Olson said. Though the EPA monitors air quality, the state government regulates it, and the EPA does not issue permits to facilities such as Western Excelsior, he said. The purpose of installing the device is to provide more information for the community, which could be presented to the state if the town desires further action or regulation.
A committee of town residents and officials has been formed to discuss the ongoing air quality issues in Mancos, but there is no meeting scheduled for that group in November or December.
At the committee's last meeting in September, they discussed that it appears that there fewer particulates in the air and residents have seen some improvement, Phillips said. That's been attributed to the new equipment that Western Excelsior has installed, such as duct work, new structures and other equipment that prevents floating dust from escaping on to neighboring properties, she said.
Olson said the E-BAM could help the community monitor public health.
"If it's just nuisance dust, then it can be kept on the plant, but if it's affecting health that's not fair for anybody," he said.