Bands performed for hours Friday night to a festive crowd
More than 1,000 tickets were sold for an outdoor country music concert that kicked off the Montezuma County Fair Friday night.
Young and old gathered at the outdoor arena under light rain to hear opening band Tim Montana and headliner Logan Mize perform.
The muddy, wet conditions did dampen the crowd's enthusiasm.
Savannah Story of Cortez belted out the national anthem and the covered stands kept the crowd dry.
The more hardy stood in the light rain and mud and kids raced around and wrestled.
The rain stopped as Tim Montana and his band took the stage.
The long-bearded cowboy rose from poverty growing up in Montana, and got his first record deal after fan Charlie Sheen funded his first music video.
"We crashed the car, and video went viral," Montana said.
His upbeat original songs got the attention of the audience, and he peppered his set with tunes from Kid Rock, Eminem and ZZ Top.
"I'm definitely a new fan," said a man in the audience.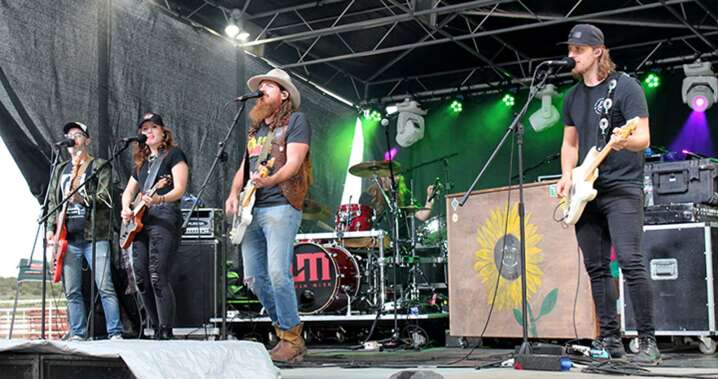 Logan Mize and his band stepped out with a polished and powerful country sound.
Before the show he ran the trail at Phil's World, got a bit lost and was caught in a rainstorm with lightning.
"I was slipping and sliding, and thought I may perish right here in Montezuma County, but I made it back!" he said.
Mize's straight-up country-rock style is inspired from his small-town lifestyle growing up in Kansas and has echoes of John Mellencamp and Tom Petty.
His upbringing and lyrics parallel the rural, agricultural roots of Montezuma County.
"There are so many characters out here that you meet, and everyone's pretty stoic and quiet," Mize states in a bio about small-town America. "But if you pay attention long enough, there's always a story that you'll pick up on. And those stories can be across the spectrum, from light to dark."
After living in Nashville where he recorded his fifth album "Welcome to Prairieville," Mize moved back to his Midwestern roots in Kansas to a family farm where he gets inspiration for his music and songwriting.
"I think that moving back to Kansas gave me perspective. Once I got out here, and I'm actually immersed in this lifestyle, I found it much easier to be myself, to be the heartland rock dude who's singing these songs," he states in a biography. "I farm up here. The whole thing's more believable. You listen to it, and I'm living that lifestyle. I think that's an easier sell for people, and it's easier for me to sell it because it's real."
The county fair continues all next week. This weekend barrel racing takes place on Saturday at noon. On Sunday is Family Gymkhana at 9 a.m., 4-H shooting sports is at 1 p.m., and the 4-H dog show starts at 5 p.m.
jmimiaga@the-journal.com