Power to the Polls rally joins national movement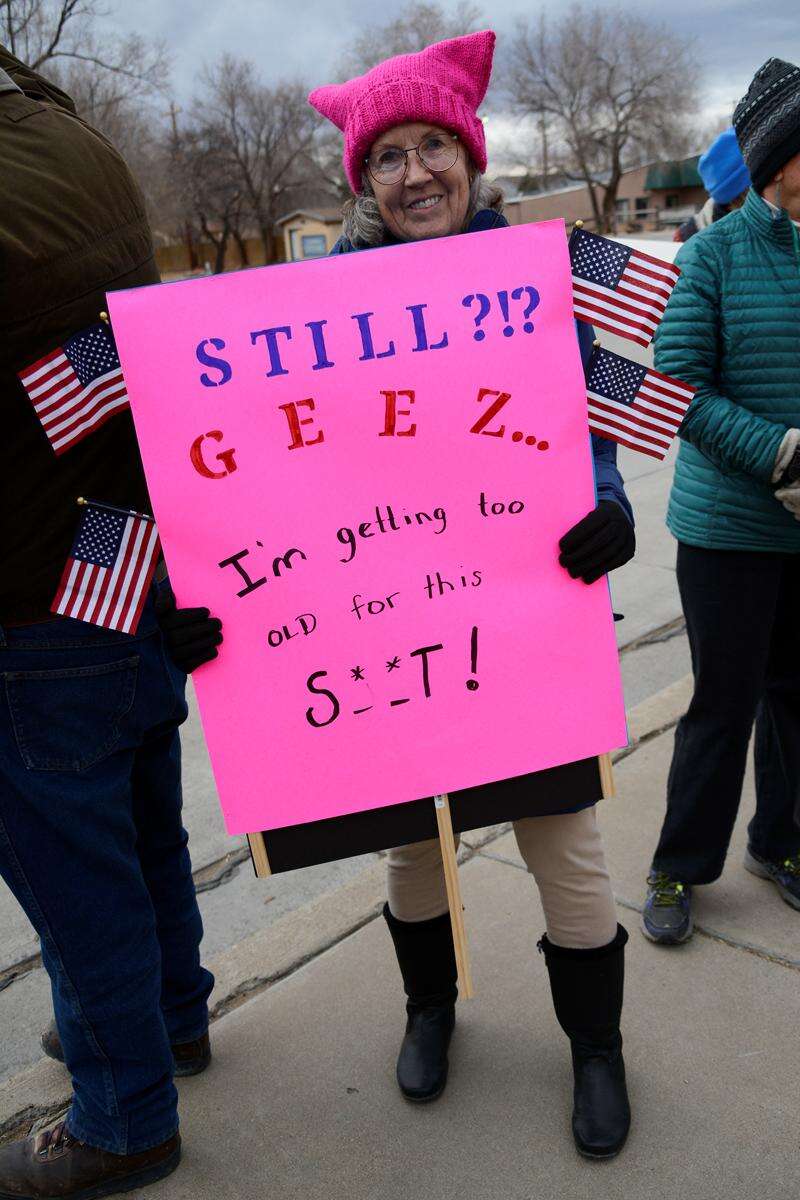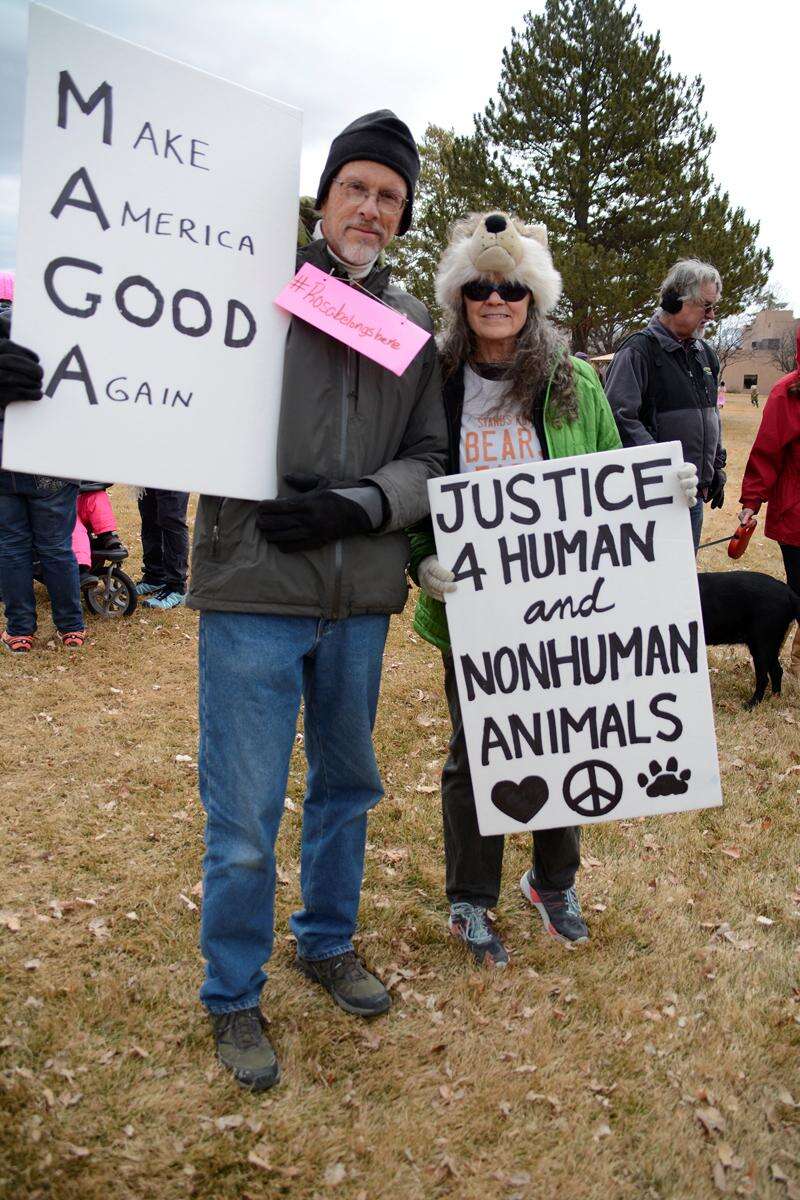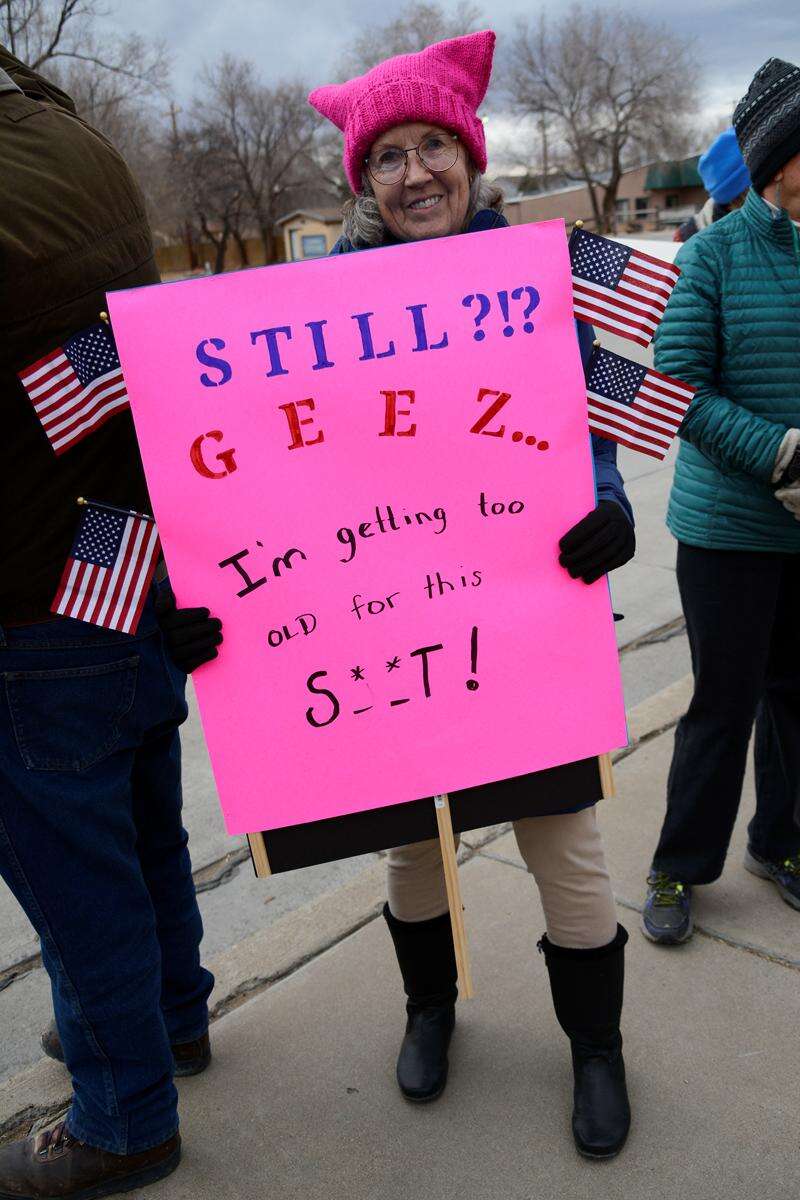 More than 300 people gathered at City Park in Cortez for a women's march on Saturday.
Organized by the Montezuma Alliance for Unity, the event was held in solidarity with other Power to the Polls marches across the nation that advocated for women's rights and attempted to raise awareness of the importance of voting. Several local politicians and people running for office spoke at a rally before the march, including Cortez Mayor Karen Sheek, Montezuma County Commissioner candidate MB McAfee and 58th House District candidate Seth Cagin. The speeches were followed by a march around the park, during which marchers held up signs and chanted slogans in support of immigrants and women.
Despite a chilly wind and cloudy skies, the weather was milder for this year's march than in 2017, when marchers waded through several feet of snow. The crowd was also smaller than it was in 2017, but those who did turn out for the rally were no less enthusiastic about their cause. Several speakers were interrupted by loud cheers and applause as they encouraged their audience to head to the polls this year and to stand up for women's rights.
"(Voting) is a right, but it's a privilege, too, and it's one that, if we want to see it remain, we'll have to exercise it," Sheek told the crowd. "Probably the way you can have the most immediate effect on your quality of life is by electing people to the city and county governments."
She asked Cortez residents to support of the Cortez Recreation Center sales tax extension that will be on the ballot in the April municipal election, and to vote for the people running for five open seats on the City Council.
Cortez City Council candidates Lance McDaniel and Mike Lavey delivered similar messages, as did Melissa Waters, a candidate for the Dolores town board. Laurie Knutson, executive director of the Bridge Emergency Shelter, said Montezuma County residents should work to make the polls more accessible to poor and marginalized people. Cagin said he hoped to represent rural interests in the Colorado House of Representatives, and said Cortez, one of the two largest voting blocs in the 58th District, would be crucial in this year's election.
McAfee called for politeness and civility in this year's political actions. She said she was dismayed by the conflict and division of the 2016 election, and resolved to make Montezuma County's elections different.
"Here, we will be civil," she said, to applause. "Here, we will be transparent. Here, we will simply be nice."
Several cars honked in support as the marchers walked down Main Street, waving signs with slogans like "Immigrants Welcome Here" and chanting slogans like "Gender violence has to go." Many of the signs and chants were critical of President Donald Trump and the Republican party, and several speakers referenced the government shutdown the previous night as an example of why they believed national politics need to change.
Organizations such as Great Old Broads for Wilderness and the League of Women Voters had information booths in City Park, and members of the Montezuma County Democrats offered to help Cortez residents register to vote. Several supporters of Rosa Sabido also participated, carrying signs with Sabido's face and the "Rosa Belongs Here" slogan. One supporter, Annie Seder, helped carry a giant puppet representing Mother Earth carrying a pro-immigration sign.
"We're marching ... to protest the national borders that split families and livelihoods, that are not part of our natural order," Seder said.
Organizer Glynis Verrazzano said a total of 358 people attended Saturday's march. The Alliance for Unity plans to hold other pro-voting events throughout the year. Verrazzano said voting turnout in the county has been low in previous elections, especially primaries, and she hopes to change that.
"Our mission, our goal, is to get people registered to vote," she said. "We want everybody to come out, everybody to be a part, everybody to make their voice heard. That's what we're all about."