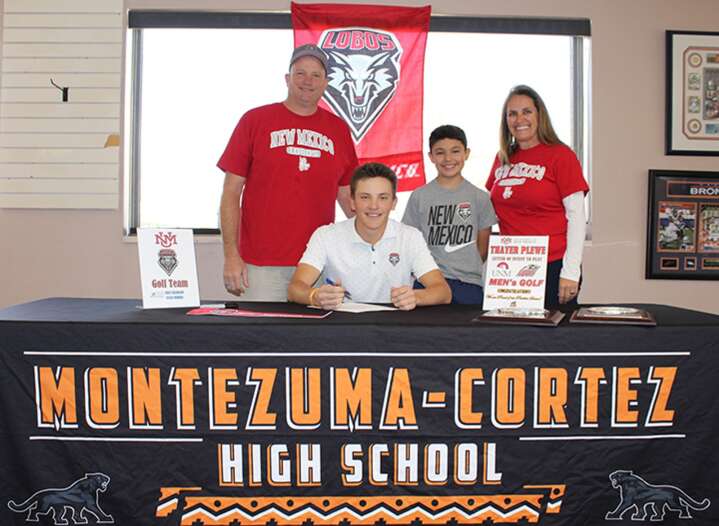 Montezuma-Cortez senior credits family and supportive junior golf programs
Thayer Plewe of Cortez, the 2022 3A state golf tournament champion, officially signed to play for the University of New Mexico Lobos during a ceremony Wednesday at the Conquistador Golf Course.
At the clubhouse signing, the Montezuma-Cortez High School senior was all smiles as he took congratulatory hugs and handshakes from teammates, school officials, coaches and family.
"I'm excited to continue developing and contribute to the team," Plewe said. "Playing for UNM was a top choice, and I can't thank them enough for this opportunity."
The UNM Lobos, a Division 1 school in the Mountain West Conference, boasts one of the best golfing programs in the nation. Many graduates have gone onto play in the LPGA, PGA and European tours.
"The golf course there is amazing, the coaching and academics are amazing. I hope to travel with the squad and contribute some low scores," Plewe said.
To play at the collegiate level is "awesome," he said, and is part of his master plan to eventually play professional.
"It's been my dream since I was 8 years old," Plewe said.
Plewe was recruited on a full scholarship and plans to major in business administration. He'll enroll and join the team in fall 2025 after completing a two-year mission for the Church of Jesus Christ of Latter-day Saints.
Plewe said he was just informed that he will serve his mission in Portugal.
He credits his family and coaches for supporting his passion for golf that took hold at age 5.
"I would not have reached this caliber without the people around me and the junior golf program here," Plewe said. "I'm so thankful for everyone who helped me out. I've been blessed in so many ways, and thank God every day."
Plewe's natural athleticism generates impressive power and accuracy off the tee, coaches said, and he has improved his short game in the past year.
"He has the gift of extremely good coordination. His work ethic is second to none," said swing coach and golf pro Shea Sena.
Controlling his mental game has also gotten better, Plewe said. The skill is essential to remember to enjoy the game even under pressure, especially toward the end of a long tournament when it matters most.
"You can't focus on the big picture, just focus on the one shot right at the moment and don't worry about anything else," Plewe said. "If that is the only thing on your mind, you will shoot a better score."
His love of the game has been inspiring, said his father, Todd Plewe, who is also the M-CHS boys golf coach.
"That is his strength, he shows up every day to play and is self-motivated," Todd Plewe said. "He has worked hard, has fun and competes for the win or to place high. It is great to see him learn to finish strong."
The UNM Lobos are ranked 59th out of 296 teams Division 1 NCAA teams, according to Golf Stat.
In 2019, Golfweek ranked the UNM Championship Golf Course in the top 15 campus golf courses.
Plewe already has a knack for the course. He won Junior PGA National Qualifier tournament there in June, winning by six strokes overall. In the first round, he posted a personal-best tournament score of 64.
The previous week, Plewe shot a 67 to win the Utah State Amateur Qualifier. Before the 2022 regional tournaments, Plewe held an average course score of 68, according to Max Preps.
To win the 3A title in October, Plewe shot a 64 in Round 2 of at Denver's Pinehurst Country Club, winning by five strokes overall. He was runner-up the previous two years.
The last time an M-CHS golfer won the title was in 2002 by Shea Sena, one of Plewe's coaches.
As a parent, Todd Plewe said he will miss his regular golf games with his son.
"What other sport can you spend four to five hours walking and talking with your son – that is awesome," Todd Plewe said. "He has made me a better player."
Father and son credit the strong junior golf program in Cortez and local pro Micah Rudosky for spending lots of his time training young players.
"Micah shows them how the game is played, and he is the reason we have so many collegiate players coming out of Cortez," Todd Plewe said.
Thayer's older siblings also went onto play collegiate level golf. He plays left-handed, a result of mimicking his siblings' golf swing while standing opposite them as a child.
"We could not get him to switch, so off we went," his dad said. "We're very proud of him."
jmimiaga@the-journal.com