Traditional meal will be takeout; delivery offered for the homebound
The 32nd Community Christmas Dinner will be held at the Montezuma County Annex on Christmas Day from 11 a.m. to 1 p.m.
The free meal will be available for takeout or delivery at 107 N. Chestnut St. in downtown Cortez. There will be drive-thru and walk-up stations.
For public safety, the traditional sit-down meal is not possible because of the rise in COVID-19 and flu cases.
The to-go meal is prepared by Hope's Kitchen of the Methodist Church in Cortez and a crew of volunteers, said organizer and pastor Jean Schwien.
On the menu is smoked ham, mashed sweet potatoes, potato wedges, salad, rolls, green beans, cranberry sauce and pie.
The salad and potatoes are sourced locally from Southwest Farm Fresh. The rolls are made by The Farm Bistro, and pies are being provided by the Salvation Army and Dunton Hot Springs.
Everyone will receive a gift of warm clothing from the Cortez Salvation Army.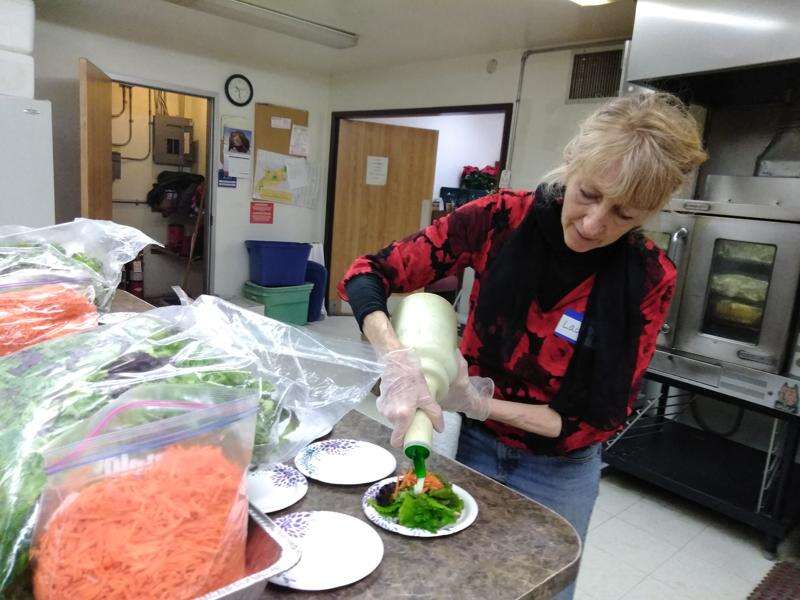 "Everyone is welcome. We see all walks of life," Schwien said.
So far there are 20 volunteers, but more are needed. Volunteers are needed for kitchen help Christmas Eve and Christmas Day. Delivery drivers are needed on Christmas Day.
Food preparation is directed Hope's Kitchen chef Pat Downey. Preparations include 30 hams and 300 pounds of potatoes.
Schwien said they are preparing to serve 375 people, up from last year's 250.
The record 410 Thanksgiving meals served at the annual St. Barnabas Episcopal Church led to the increase for the Christmas dinner.
Inflation is hitting hard in blue-collar areas like Montezuma County, and the free Christmas dinner will provide some relief for people, Shwien said.
"Many people here live on a fixed income. Hopefully we make a difference. We don't want rising food costs to prevent people from a special Christmas meal," she said.
Free delivery is available for homebound residents.
"It's a way our community makes sure everyone has a good meal for Christmas," said said longtime volunteer and past coordinator Sharon King.
The meal serves families, single people, the homeless, students and travelers.
"People are so thankful for it, it really warms the heart," King said.
To volunteer or to donate, call Jean at 801-755-8616. To schedule a home delivery, contact Sharon at 970-529-6036.
The Christmas meal is offered at no charge and is made possible by volunteers and donations.
If you want to donate drop off cash or check with the Onward! A Legacy Foundation, 33 N. Chestnut St., Cortez, 81321, or visit the donation page for the Cortez Christmas Dinner at onwardfoundation.org