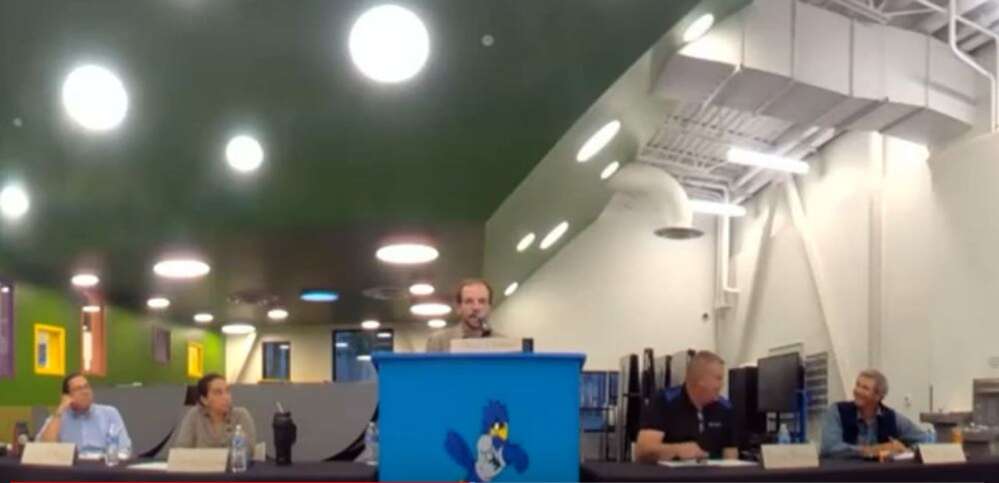 The candidates touch on student achievement, staff retention, issues facing rural schools
On Monday night in the Mancos school cafeteria, the Mancos RE-6 school board hosted a candidate forum to allow the community to hear from the school board member hopefuls on education issues, their vision for the schools, school board and more.
The forum was emceed by KSJD's Chris Clements, and was an hour-and-a-half of questions and answers. Most questions were written beforehand by the current board, but citizens were able to write a question on a piece of paper to be asked of the candidates as well.
The candidates present were Tim Hunter, Blake Mitchell, Adriana Stimax and Craig Benally. Rachel McWhirter was present, but had filled out her questions beforehand, and copies were available to attendees at the event.
Candidates elected in November will fill three open seats and join remaining members Emily Hutcheson-Brown and Victor Figueroa.
The candidates started with a brief introduction and spoke of their roots in the Mancos community, as well as their history in education and involvement with school boards, schools and youths.
Hunter came to the area in 1994, owns a construction company and has been a member of the board for about 18 years.
Mitchell grew up in Dolores and is a former board member. His father also served on the board for eight years while Mitchell was a student. Now, he owns a Dodge and used-car dealership in the Four Corners.
Stimax is from Maryland, where she said the school system had failed her.
"I went from a straight-A student to a high school dropout," she said. "In that time, not one of my teachers or counselors or anyone at this school community mentioned or cared about my slipping grades or declining attendance."
Stimax finished her studies at a local community college before heading to a four-year university.
"I sought to become a teacher to help remedy the system that failed me," she said. "I wanted to become the person that if only I'd had a teacher who had cared for and believed in me."
She now works as an education director at the San Juan Mountains Association.
Benally is also a lifelong resident of Southwest Colorado, graduating from Montezuma-Cortez High School. He was a firefighter and worked at the Cortez Middle School as a prep professional working with ESL students and an ESL paraprofessional at an elementary school. Now he works for Alpacka Raft.
Each candidate was given two minutes to answer each question, and the questions ranged from their reason for running for the school board, ideal qualities in a school board candidate, vision for the boards and schools, censorship, inclusivity and safety and more.
When asked about the driving force behind their motivation to run for the school board, Benally, who is Diné, said his drive is focused on representation.
"I can use that ability to be a representative of the community that I come from, and the community that I live in," he said.
Stimax said she wanted to serve on the board as a way of serving her community.
"I want to give a voice to my community which I often work very closely with, and I'm very passionate about continuing the educational foundation that we have already set in place," she said.
Mitchell spoke of the school's innovation status and four-day week that was achieved while he was on the board, and said the new status boosted attendance and grades.
"There's a lot of work that needs to be done, and I want to continue to do that and continue to make this the best district in that state because it's the center of our community," he said.
Hunter noted how his goal was for all local children to be educated so when they leave Mancos schools they can achieve their goals and dreams.
"I really want our kids to get the education they need so they can do the things they want to do in life and take care of their own affairs whether that's college or the military or the workforce," he said.
They also discussed important characteristics of school board members, conflict resolution and issues facing school districts today, such as teacher recruitment, achievement and pay as well as student achievement before addressing student safety.
The candidates agreed and echoed each other's statements, saying school should be a place where students and teachers alike feel safe, and not somewhere they have to escape from. They spoke of physical safety and making sure "our teachers and administration and our kiddos go home every night" as well as promoting the social and emotional well-being of students in the community, emphasizing that prioritizing prevention, closing gaps and offering mental health and trauma services help create a safe environment for all students.
They also spoke of issues facing rural districts in the nation. Board members took turns talking about teacher retention and recruitment in a small district, finances and being largely overlooked by the Colorado Board of Education who cater to larger school districts near Denver.
"Obviously, finances are an issue facing all districts, but I think that in rural schools, I've seen a disproportionate access to not only funding, because, as we know, a lot of funding for schools comes from property taxes, which is not a fair system that affects rural areas in a way that is really inequitable," Stimax said.
At the end of the forum, candidates stayed to meet community members and answer any other question that may not have been asked.