City of Durango puts $60,000 toward expansion of secure trash containers
La Plata County, the city of Durango, The Good Food Collective and other organizations received a $200,000 grant from Colorado Parks and Wildlife for electric fencing, secure food and trash storage, the hiring of a county bear enforcement officer, and other measures to reduce human-bear conflicts.
The grant funds just a chunk of a broader five-year initiative called the Greater Durango Human-Bear Challenge, Bryan Peterson, executive director of Bear Smart Durango, said on Tuesday.
The program includes participation from a wide range of government, nonprofit and private entities such as the city and county, the U.S. Forest Service, Durango School District 9-R, law enforcement, real estate agents and more parties, he said.
Increased human development and a bountiful fruit season are just two factors that contributed to confrontations between residents and native bears this year, Peterson said.
According to data from CPW, there were 96 reported bear sightings in the city of Durango in 2022 as of Nov. 1. Sixty-four reports involved food source property damage, of which 42 reports were for trash. There were just four reports of aggressive bear behavior in Durango and zero reports of actual bear attacks.
In 2019, there were 84 trash-related reports to CPW in Durango and 59 reports in 2021, data shows.
John Livingston, spokesman for CPW, said in an email to The Durango Herald that the wildlife department launched its bear activity tracking app in 2019. He said although he doesn't have stats on bear reports from years before 2019, it used to be common to see every trash can in an alleyway off north Main Avenue tipped over with trash strewed about as a result of bears.
These days, the majority of trash-related bear reports from Durango-area addresses come from outside of town – the Durango West subdivisions, north of town and on various county roads, he said. The use of automatic locking bear-resistant containers has reduced the number of in-town incidents, and the expanded use of containers in the city and county should continue to push those numbers down.
"Durango has done a great job with providing bear-resistant containers in our in-town residential neighborhoods and it is greatly helping reduce that conflict when it comes to trash conflicts in town," he said. "Further expansion of more bear-resistant containers and the public's vigilance in using them properly will help Durango continue to be one of the state's leaders in reducing trash related human-bear conflict."
Peterson said the west side of town is nearly all secured with bear-resistant containers. But the northeast side of town needs work, including SkyRidge, Florida Road, Three Springs and Twin Buttes.
This year, a "fair amount of damage" to property in town is from bears breaking fences and barriers to get to apples, Peterson said.
The Good Food Collective received a slice of the grant funding to hire additional fruit gleaners this season in efforts to collect fruit such as apples before bears discovered it, he said.
"We wanted to be able to respond to bears causing property damage due to fruit, causing tree damage or fence damage to get at fruit," he said. "This allows The Good Food Collective to more quickly respond to specific bear and fruit issues."
An abundance of fruit attracts bears, but by far the most common occurrence of human-bear conflict is bears getting into trash containers, Peterson said. Unsecure trash containers are easy food sources for bears, which get accustomed to getting into human food.
Peterson said the Bear Working Group learned of CPW's grant award in June, but it has taken time to get moving on some projects.
The city of Durango received $60,000 from the CPW grant to expand its inventory of bear-resistant trash containers, Marty Pool, sustainability manager for the city, said at a Durango City Council meeting last month.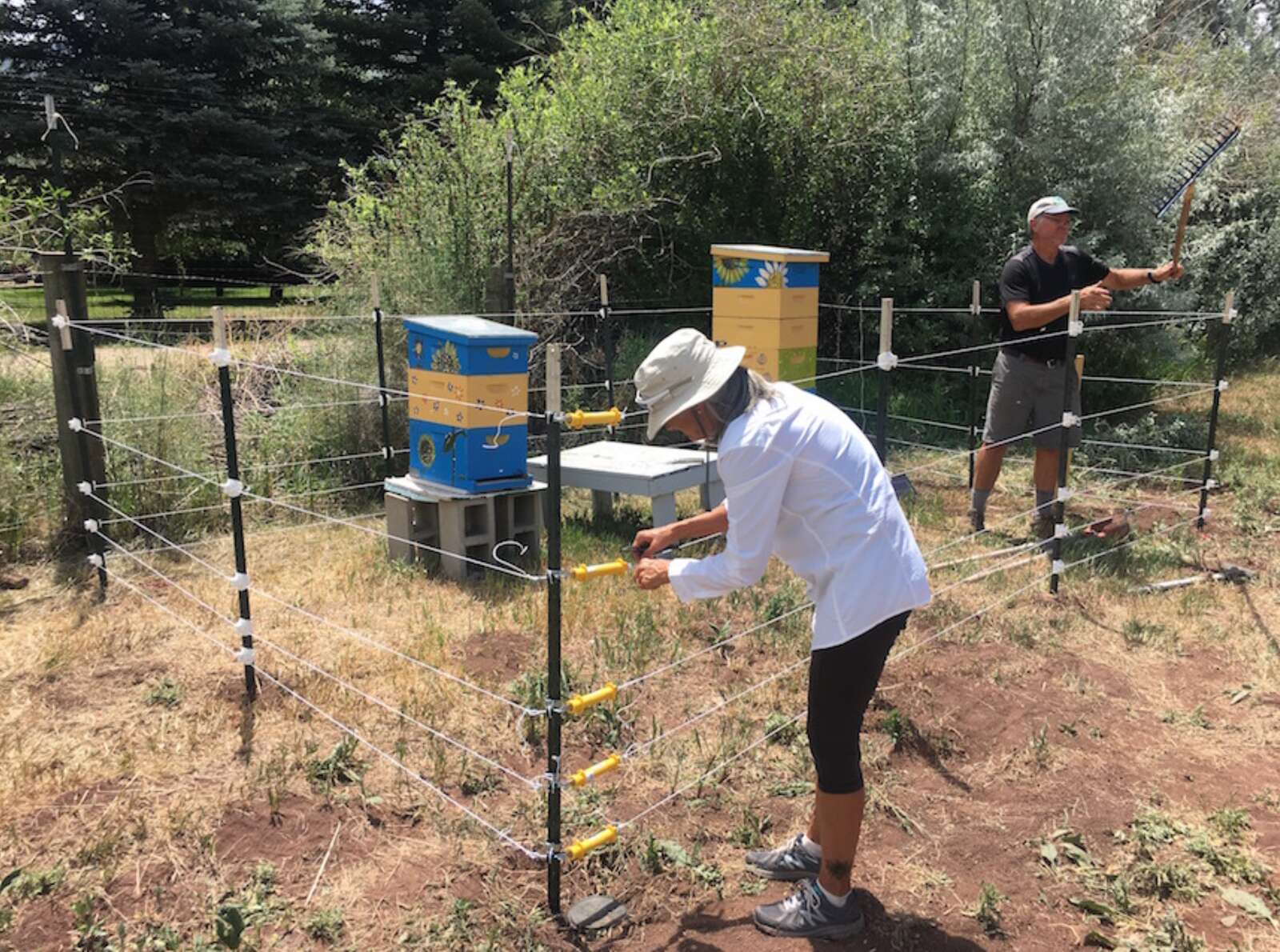 The funding will allow the city to purchase 474 residential bear-resistant trash containers around Durango, Peterson said. Thirty-seven all-metal trash containers will also be distributed among Durango School District 9-R facilities, the Southern Ute Indian Tribe and Vallecito Lake and Lake Nighthorse.
Twenty food storage lockers will be obtained for San Juan National Forest campgrounds in the La Plata County area, he said.
"The Forest Service campgrounds are finally going to have some food storage lockers for people to put their coolers in. There were none existing before this effort," he said.
Other bear mitigation materials the grant is funding include "unwelcome" mats and electric fencing, motion-activated scare devices and alarms, and secure food storage lockers for use at campgrounds.
An unwelcome mat is an electrified mat to be placed underneath a window or beside a door to dissuade bears from entering a home or building by delivering a light shock.
"They step on it and get a little zap. And they respond really well to electricity," Peterson said.
Bear Smart Durango is stockpiling the mitigation materials to be loaned to residents. Livestock owners can request electric fencing kits, for example. CPW or La Plata County Animal Protection will be responsible for loaning out the materials, he said.
The electric fencing, unwelcome mats and other materials are expected to be ready by next spring – it's late in the bear season to start fortifying properties now, he said. Sixty electric fences are planned for installation over the next three years.
"And we've actually been doing electric fencing for six years now," he added. "Right now we're electric fencing the new facility at Table to Farm Compost to keep bears from getting at compost."
The grant will also allow La Plata County to hire a bear enforcement officer whose responsibility is to enforce county bear and trash law.
cburney@durangoherald.com