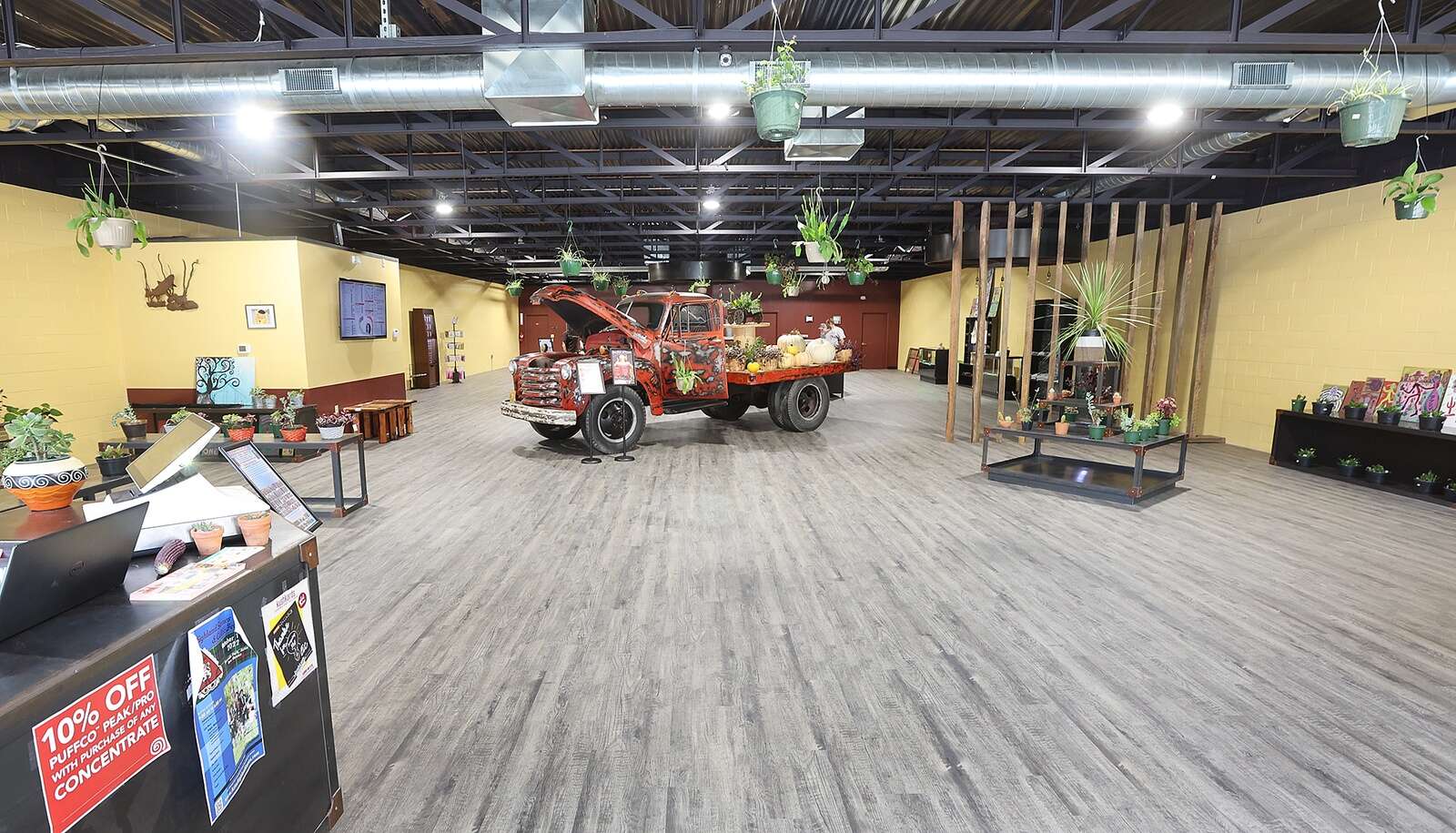 Sixteen dispensaries will participate in inaugural Farmington Cannabis Crawl
This year there is a new way to celebrate the green in the Four Corners. The first annual Farmington Cannabis Crawl kicks off on St. Patrick's Day, Friday, March 17, and will run through Sunday, March 19.
The three-day event sends participants to dispensaries in Kirtland, Aztec and Farmington on a quest to fill up their crawl passport for a chance to win the grand prize of $1,000 or the runner-up prize of $500, both of which are provided by Grady's Dispensary in Aztec.
Crawlers have to play by the rules in order to win. All participants must be 21 years old or older and show a valid ID at Dreamz Dispensary, 3501 E. Main St., to receive a map and a Cannabis Crawl Passport. The first 300 crawlers will also receive a free swag bag of merchandise donated by participating dispensaries.
In no particular order, crawlers must run the gauntlet of the 16 participating dispensaries, collecting stamps or stickers from each location to complete their passport. Completed passports must be turned in by 7 p.m. Sunday, March 19, at The Grass Station Dispensary, 928 E. Main St. The grand prize drawing will be held at The Grass Station at 7 p.m. Thursday, March 23.
As participants visit dispensaries to fill up their passports, they can take advantage of discounts, raffles and free samples offered at participating dispensaries. Some locations will feature educational speakers who can answer cannabis-related questions.
The Kannabis Klub is one of the newest dispensaries in Farmington, at 1930 San Juan Blvd. It is owned by siblings Marlyn and Benjamin Nunez. The dispensary will give away prepackaged snack bags to customers to celebrate both the crawl and their grand opening.
Participating dispensary Dreamz is owned by the father-and-son team John and Cody Fisher of Texas. The store is open seven days a week and features a variety of prepackaged flower, prerolls, oils, waxes, gummies, CBD products and CBD pet treats that help soothe joint pain and anxiety.
Assistant Manager Chantell Hadden said Dreamz sources product from "all over the place. We like to share the love." According to Manager Kristopher Each, Dreamz is developing a relationship with Enchanted Pharms to stock their product. Enchanted Pharms is New Mexican company located in Deming.
Dreamz employs six full-time "cannabanerds" and is hiring additional staff.
The Grass Station, owned by life-long Farmington residents Jason Martindale and Ryan LeFebre, opened in June 2022. "We were the very first licensed cannabis retail outlet in Farmington," LeFebre said. Before opening the store, Lefebre owned RCL Trucking for 20 years, which leased trucks in support of the oil and gas industry. Martindale was a salesman, selling mechanical parts used in the oil and gas industry.
Though The Grass Station may appear unassuming on the outside, the store's interior was designed to be inviting. "We try to make it a comfortable experience for everyone," said manager Farrell Charlie. Charlie is a former iron worker in the oil and gas industry and an aspiring artist.
The Grass Station employs nine people and offers "deli-style" service. When a customer makes a selection, the budtender weighs and packages the order at the counter. "I like to use the chopsticks. It's just a little more personal," said Charlie.
Customers may choose from around 35 different strains of indica, sativa and hybrid flower, as well as a variety of wax, oil cartridges, gummies and edibles. During the Cannabis Crawl, The Grass Station will offer $1 pre-rolls of select strains.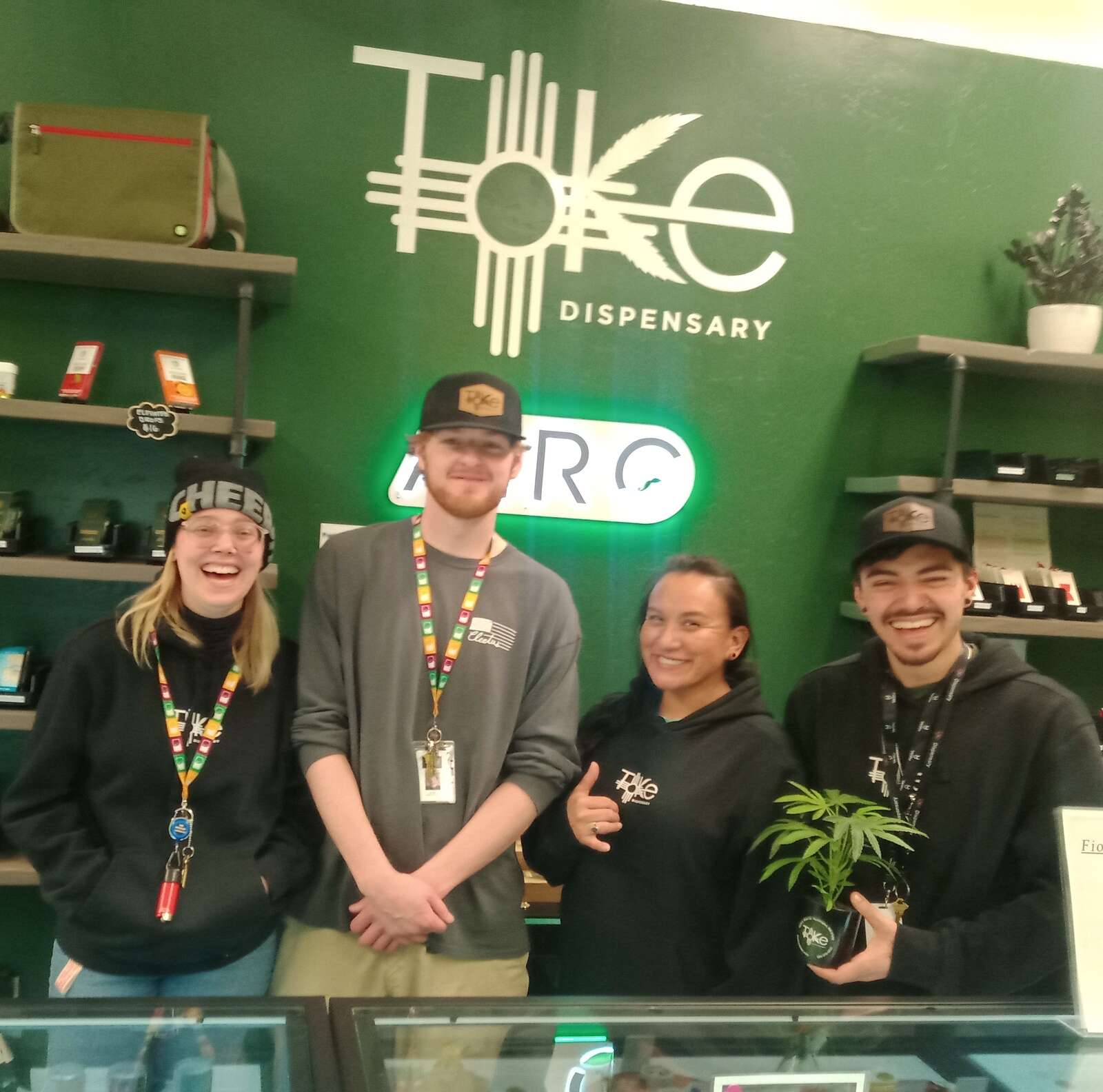 Toke dispensary's staff of six focuses on customer service and unique products. "We have got the stuff you haven't seen before," said shift leader Trenton Trujillo. "We ask questions and listen. At Toke it's all about customer service. We take the time to get to know you and what your cannabis needs are."
According to Trujillo, Toke is locally owned and offers locally sourced product.
"We go as local as we can, a lot of Farmington and Aztec all-organic grows," Trujillo said, "All of our cartridges and wax are really clean, CO2-based. Right now, we have a live hash resin that is the really cream of the crop."
Some of Toke's unique items are the New Mexico Bonbons. Each bonbon contains 10 milligrams of live THC resin and come in flavors such as red chile raspberry, green chile pistachio and biscochito. During the Cannabis Crawl, Toke will offer a deal on a four-bonbon gift box – buy one, get a second one 50% off.
The Farmington Cannabis Crawl is free to participate in and purchase is not necessary in order to win a prize. The crawl map and a full list of deals, discounts and special events is available online.
DGO is the host of Farmington Cannabis Crawl and is a division of Ballantine Communications Inc.
DGO does not endorse consumption of cannabis products in public spaces or before operating vehicles or heavy machinery, and encourages safe consumption practices. Participants must abide by state law of 1-ounce purchase per day.