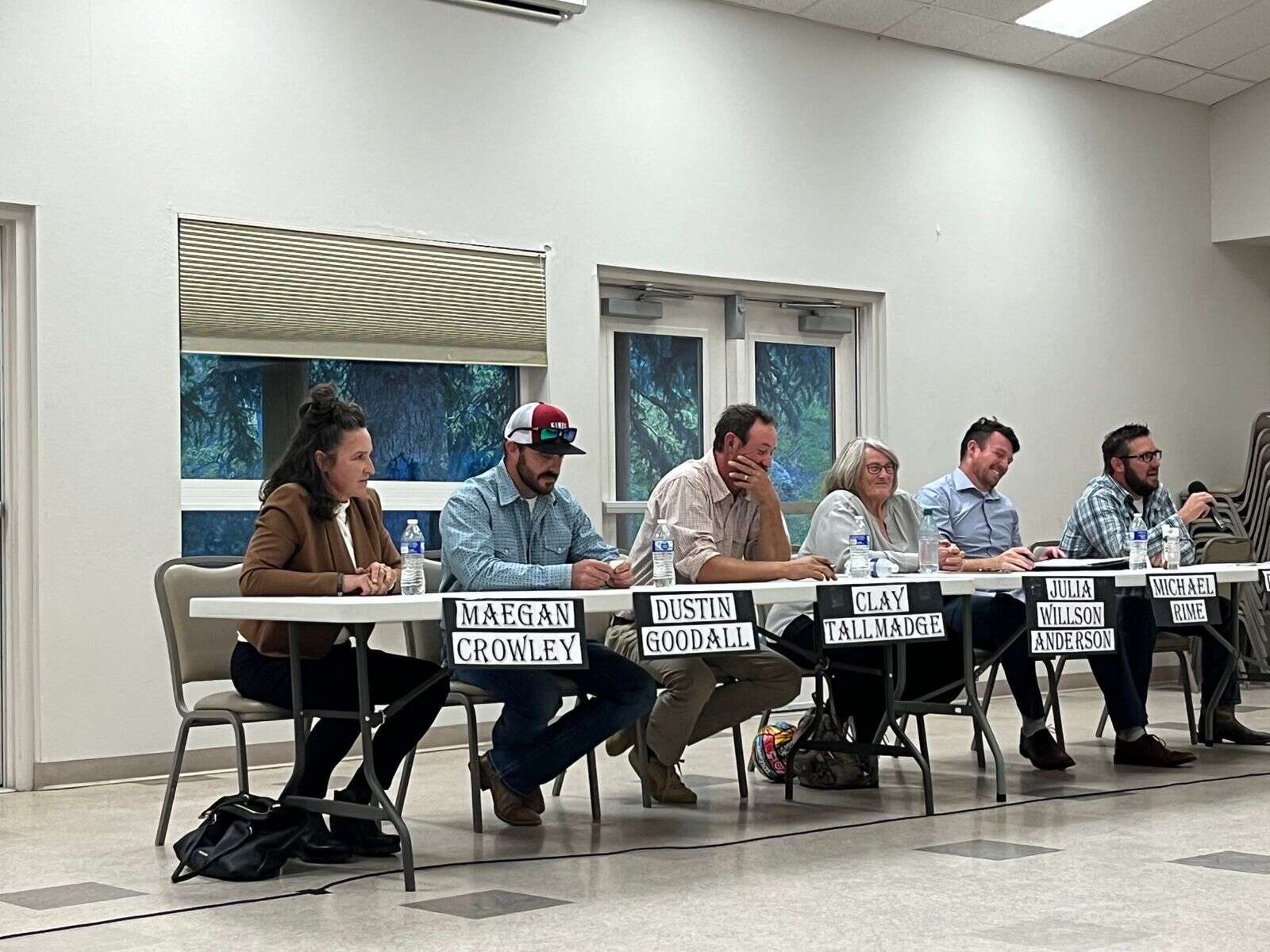 Meeting gives community a chance to learn about candidates
The Dolores RE-4A school board on Tuesday hosted a candidate forum, giving the six candidates an opportunity to answer questions and take positions on issues such as arming teachers and teaching critical race theory.
The six candidates vying for the four open seats on the board are Board of Education President Maegan Crowley, Directors Clay Tallmadge and Michael Rime and candidates Dustin Goodall, Julia Wilson-Anderson and Doug Elder.
Board vice president Casey McClellan moderated the forum. Each candidate had two minutes to answer the first and last question, and one minute for other questions.
In the 90-minute forum, candidates touched on topics such as attendance, arming teachers, critical race theory and challenges facing the school district.
To start, each member introduced themselves.
Crowley has a daughter who is in seventh grade at Dolores Middle School, and she is a business owner who specializes in ironwork. She has been on the board for four years, three of them as president.
Goodall graduated from Dolores High School in 2011, and he volunteers and coaches for the school. His children now attend Dolores schools.
Tallmadge, who is from Durango, taught 14 years in the Dolores Elementary and Middle School and has been on the school board for four years. He hopes to be reelected and see the building project and policy revisions through.
Wilson-Anderson has been a coach, tutor, teacher, administrator and board member, and said she's worn "almost every hat" except for superintendent. She has lived in Dolores for more than a decade.
Rime is a veteran of the U.S. Army and a human resources consultant. After dropping out of Montezuma-Cortez High School in 2007, he earned a bachelor's degree in general studies in 2018, then a master's degree in public administration from the University of Southern California in 2020. He said he wants to ensure that students receive the high school experience that he missed and would want to work on curriculum, administrative oversight and the building project.
Elder and his family moved to Dolores three years ago from the Chicago area works as a remote software technician in health care startups. His three children attend the middle school.
Goals and priorities
The candidates had similar answers to questions about their priorities, emphasizing supporting staff, growing communication and parent engagement and building the new school.
Tallmadge repeated his goal of updating policies and seeing the bond passed. He would hope to continue raising teacher salaries to ensure they are competitive with other districts in the region and the state as a whole.
Wilson-Anderson also spoke of updating policies and seeing the bond passed while also emphasizing improving communication with parents and the community.
Rime said he would like to make sure discipline standards are ethical, fair and held up on a consistent basis. He also noted that he would love to see Dolores schools become a place where people say, "I want my kids to go there."
Elder said he would love to see more collaboration and trust with the school, staff and community and would plan on working to grow teacher retention.
"If teachers stay, students stay," Elder said.
Crowley said she continue to update policies, like Tallmadge, see the bond pass and work on the new building after the school receives the BEST grant.
Goodall echoed policies, bond and communication, adding he'd love to see team spirit fostered in the schools among students, staff, administration and board.
Candidates also were asked about critical race theory and whether they thought that should be an important aspect of the Dolores schools.
Elder said while schools should be aware of history, he didn't believe CRT should be priority in high school and younger. He said the schools should focus on core classes.
"Are we getting our kids ready for their next steps?" he asked.
Crowley said CRT is more of a "higher ed discussion" and the role of these schools is to focus on student goals, asking, "What do we want our kids to be when they walk across the graduation stage?"
Goodall said that it's important that students know current events, but it's more important that students become prepared for life after graduation.
Tallmadge and Rime agreed with Crowley about CRT being more appropriate for secondary education but acknowledged it is important for kids to understand current events.
Both Tallmadge and Wilson-Anderson said CRT is not part of Dolores' curriculum.
When asked about issues facing the district, candidates spoke of parent engagement, communication, accountability, teacher retention, preparing students for life after graduation, day-to-day expectations and talent recruitment.
They also touched on parental rights in education before moving into the last question, which asked candidates what their views are on arming teachers.
All the candidates agreed that safety was a top priority.
Elder said arming teachers should be decided case by case after lengthy discussions, and noted that the district already has an armed guard.
Crowley, Goodall, Tallmadge and Wilson-Anderson agreed that teachers shouldn't bear the responsibility of carrying a gun and responding while armed to an emergency.
"Our teachers have enough stress as it is," Crowley said. "They are there to teach."
Rime, noting that there were good pros and cons, said multiple armed guards could make students uneasy.
Rime, who conducted research regarding the "efficacy of school resource officers" as part of his master's project with the California Department of Education, said properly trained teachers could be paid more and carry concealed guns anonymously. Anonymously armed teachers would deter a school shooter because they wouldn't know who was armed, he said.
The school board election is Nov. 7.
This article was updated on Oct. 13 to correctly identify board Director Michael Rime and to add that he has a bachelor's degree in general studies and master's degree in public administration.