Air quality advisory issued in wake of Burro, 416 fires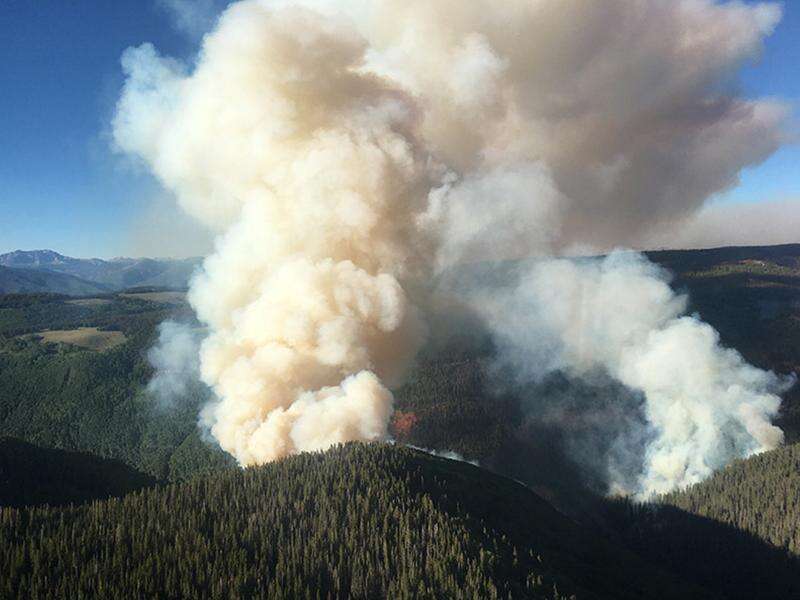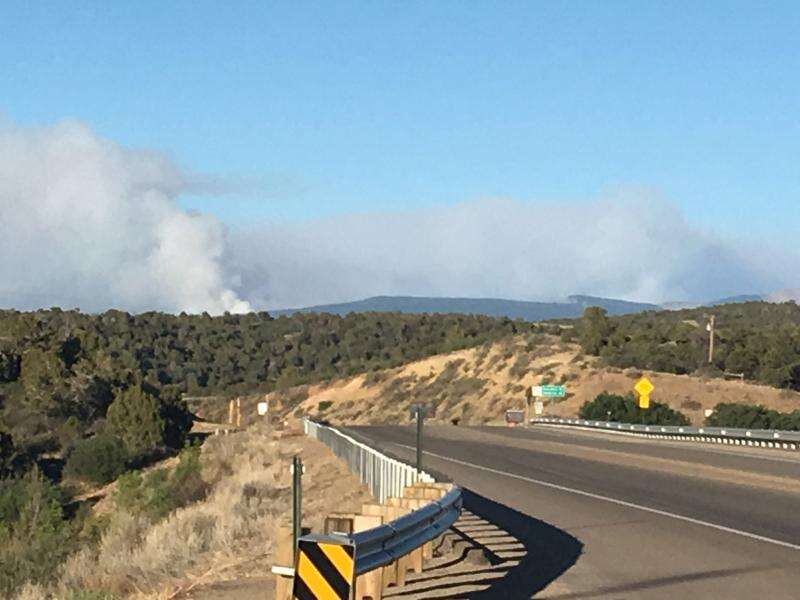 The U.S. Forest Service and several local fire departments responded about 4 p.m. Friday to a wildfire near the Bear Creek trailhead off Colorado Highway 145.
Steve Orr, a public information officer for the San Juan National Forest, said the fire scorched 3-5 acres by 5 p.m. By 6:30 p.m., the fire grew to 40 acres, according to Dolores District Ranger Derek Padilla, who was at the scene.
Saturday morning, the San Juan National Forest stated in a Twitter post that the fire remained at 100 acres.
Campers were being evacuated, forest officials tweeted on Friday, but no structures or private land were threatened. The fire was burning on public land near Burro Mountain in the Dolores Ranger District of the San Juan National Forest. Containment is zero percent.
Dubbed the Burro Fire by responders, the fire was burning in spruce and fir about 5 miles up the Bear Creek trail on a northeast-facing slope. It was rapidly moving downslope and southward into Bear Creek drainage, Padilla said.
The Roaring Fork, Gold Run and Bear Creek trails, as well as Forest Road 435 and Hillside Road (FS 436) have been closed, Padilla said.
In addition to U.S. Forest Service firefighters, Padilla said firefighters from Cortez, Dolores, Rico and the Bureau of Land Management responded to the fire. Patrick Seekins, Forest Service fire management officer, was assigned as the incident commander.
Padilla told a Journal reporter at the scene that 30 to 40 firefighters were involved with the blaze, including seven or eight smokejumpers, two helicopters and two fire engines.
A San Juan National Forest press release at 8 p.m. said that no resources were diverted from the 416 Fire north of Durango, 13 miles away.
"The resources were available from local and pre-positioned out-of-the-area resources," the press release from Cam Hooley said. Hooley added that fire retardant has been ordered. By sundown, it had been applied to the fire.
The 416 Fire reached 8,691 acres on Saturday, up 1,511 acres from Friday. No structures have been lost, and it remained at 10 percent containment. All evacuations and pre-evacuations remain in effect, which includes 1,625 evacuated homes and 1,272 homes on pre-evacuation. A community meeting is scheduled for 6 p.m. Saturday at the La Plata County Fairgrounds.
On Saturday morning, the Colorado Department of Health and Environment issued an air quality advisory for portions of Southwest Colorado, including northeast Montezuma County, because of the smoke from the Burro and 416 fires. If visibility is less than 5 miles in your area, smoke has reached levels that are unhealthy, the press release said. Residents with heart disease or respiratory illnesses as well as the very young and the elderly, are most vulnerable.
The National Weather Service forecast for Saturday called for 8-13 percent humidity, 40 mph wind gusts, 8-13 percent relative humidity and high temperatures in the mid-80s. A red flag alert was in effect because of the heightened risk of fires.
Orr said he didn't expect the fire, near Colorado 145 mile marker 34, would cause major road closures or ruin anyone's travel plans.
"It's in a fairly remote area," he said.
The cause of the fire has not been determined, but Padilla said the area had seen some lightning earlier in the week. The fire was reported by a medical helicopter.
Orr said he wanted to remind Montezuma and Dolores County residents to observe the fire ban across Southwest Colorado. The National Weather Service has issued a red flag warning for the entire region over the weekend, and Stage 2 fire restrictions are in effect throughout the San Juan National Forest.
Stage 2 fire restrictions are in place throughout Southwest Colorado.
Prohibited acts include:
No campfires, including in developed campgrounds and recreation areas. No charcoal or coal barbecues or wood-burning stoves. Gas, pressurized cannister powered stoves with shut-off valves are allowed if they are at least 3 feet away from flammable material such as grass.
No open burning, burn barrels or agricultural burns without prior approval.
No smoking, except for in a building or vehicle.
No welding, use of open-flame torches, pipe-fitting, or metal grinding without a fire-watch official present with proper mitigation tools.
Oil and gas welding and cutting operations can be done only in an area with a radius of at least 20 feet from all flammable materials.
No use of equipment with an internal combustion engine without a properly installed spark arresting device, including chain saws, ATVs and generators.
No use of chain saws without a spark-arresting device and a readily accessible fire extinguisher and shovel.
No explosives such as fireworks and tracer round bullets.
Note that agencies such as the Forest Service may have different restrictions.
San Juan National Forest
No traveling off marked roads, trails and parking areas in cars or off-road vehicles.
Discharging a firearm, air rifle or gas gun is prohibited on all land in the San Juan National Forest.