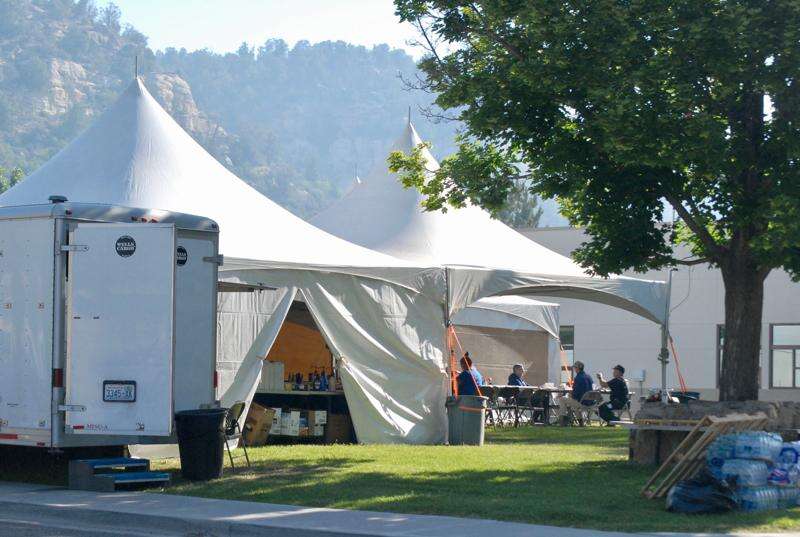 The Type 1 crew battling the growing Burro Fire in the San Juan National Forest has transformed the Dolores school campus into a temporary headquarters and supply center.
Monday morning, a National Interagency Incident Management team set up a small tent city on the campus, complete with a cafeteria, showers and a refrigeration truck. The school cafeteria has been converted into a command center and a place to distribute public information. The team plans to stay in Dolores at least two weeks.
Public information officer John Bearer, of Camp Hill, Pennsylvania, said about 40 personnel were stationed at the Dolores center, some from as far away as New York City. Their mission is to provide food, supplies and medical care for the roughly 100 firefighters camped near the Burro Fire.
On Tuesday morning, Incident Catering Services, a national contractor, was setting up a refrigeration truck to store food. Boxes of supplies including chain saws and ready-to-eat meals were stacked outside Dolores High School, waiting to be transported to the fire line. Squad and crew leaders were briefed on the latest fire updates in the school library, while medical personnel set up shop in the computer room.
"We pretty much bring our own self-sufficient city with us," Bearer said.
The team was getting most of its water from fire hydrants, but it also has several tanker loads of potable water.
In addition to supplying fire crews, the team also distributes public information. Bearer said the western door to the cafeteria will remain open from 8 a.m. to 8 p.m., so staff can answer questions.
Daily printed updates on the fire and cards listing informational websites and phone numbers are also available. Bearer said he plans to schedule some public information events in the next few days.
Firefighters qualify for the 15 federally funded Type 1 Incident Management Teams through a series of tests and trainings. Each team commits to spending two weeks per fire, although Bearer said they sometimes stay for an extra week. He said the Type 1 teams typically respond to 10 to 20 wildfires per year.
"We're all afraid it may be a busy year," he said. "We're hoping it's not, but we're afraid it will be."
Fire crews don't expect the Burro Fire to die down soon. Although rain is forecast for the weekend, Bearer said he doesn't expect the fire to go out until a "nice, slow rain" comes. Monsoonal rains aren't expected for at least a month.
Bearer said people often try to show appreciation with food or financial donations, but he said the firefighters prefer thank-you notes.
"If you want to make a money donation, that should go to your local fire company or shelter," he said. "We're your tax dollars at work, and you don't have to pay us twice."
He said people wanting to thank a firefighter can bring a stamped letter to the command center in Dolores, with the address left blank so the recipient can fill in their mailing address and send it to their family.
The Burro Fire grew to 2,684 acres by 8 p.m. Monday evening, and was at zero percent containment. The San Juan National Forest was closed to public access Tuesday morning due to Stage 3 fire restrictions.
Burro Fire forest closures (PDF)